---
Overview: WP Engine vs. Liquid Web
Are you looking for the best-managed WordPress hosting provider? Trying to decide between Liquid Web and WP Engine? Well, let me tell you that you are in the right place. Liquid Web and WP Engine are the two world's leading managed WordPress hosting providers right now.
While WP Engine is a WordPress-centric managed hosting solution, Liquid Web provides you with a wide variety of hosting options, including managed WordPress hosting. In this WordPress hosting comparison between Liquid Web and WP Engine, we'll explain how they differ from each other. We'll also help you decide which one is best suited for your budget and needs.
Introducing: WP Engine
Founded in 2010, WP Engine is headquartered in Austin, Texas, and has offices in Brisbane, Australia; Limerick, Ireland; London, England; Omaha, Nebraska; San Antonio, Texas and San Francisco, Calif.
WP Engine is the WordPress Digital Experience Platform that gives companies of all sizes the agility, performance, intelligence, and integrations they need to drive their business forward faster. WP Engine's combination of tech innovation and an award-winning team of WordPress experts are trusted by more than 120,000 customers across 150 countries.
The company's premium managed hosting platform provides the performance and reliability required by the biggest brands in the world while remaining affordable and intuitive.
Introducing: Liquid Web
Founded in 1997, Liquid Web has over 30,000 clients in over 150 countries and the company has received the INC. 5000 Fastest Growing Companies award for 9 years in a row. They serve many recognizable big-name brands including Motorola, Red Bull, ESPN, and United Way.
They are famous for their fast and high-quality support, known as 'Heroic Support'. All Liquid Web hosting servers are highly tuned for speed, performance, and security making it a completely hassle-free hosting solution. Their WordPress hosting option includes staging sites, automatic updates, and an intuitive dashboard to manage all your sites in one place.
1. Features and Pricing
As you can see, getting onto the WP Engine bandwagon is from $25 a month when paid annually (billed at $300 for the whole year) or 30$ a month if you choose to pay on a monthly basis.
But let's start from the top. Here are the main plans that you can choose from:
First of all, let's see what you can expect once you take one of their plans:
Even if you go for the entry-level plan that allows just one website, you can still take full advantage of WP Engine's multi-environment setup with a Production, Staging, and Development version of your site.
You get access to 35+ premium WordPress themes by StudioPress, including the popular Genesis Framework.
There are automatic updates for WordPress core.
There's a functional site migration solution available for free.
There are some useful pro-level tools that we'll talk about later on in this WP Engine review.
Apart from that, the list of extras available across different price points with WP Engine is quite impressive. Even the entry-level plan gives you access to all of the following:
PHP 7.4 support.
Transferable sites – an option for developers to create websites for clients without making those websites count against the developer's site limits.
Evercache – a proprietary front-end cache by WP Engine.
LargeFS – Large Files System to let you store and transfer large amounts of data.
Global CDN provided to WP Engine by MaxCDN.
Page Performance – performance analysis and improvement tool.
Automated and manual backup features, plus one-click restore.
Automated SSL certificates.
SSH gateway – access to command-line tools for the pros.
Git version control.
On higher tiers, you also get perks such as 24/7 phone support, WordPress multisite, or even the option to include geographically customized content via WP Engine's GeoTarget feature.
In the end, WP Engine might be the one that gives you the most bang for your buck – especially once you start doing the math on all the additional stuff you'd need to run your site.
Regarding the payment method, they accept Mastercard, Visa, American Express, and Discover. I also want to highlight that they offer a generous 60-day money-back guarantee for their clients.
For instance, if you've been planning on using the Genesis Framework anyway (a popular option), plus you want access to staging sites for development, then WP Engine might just be the budget-conscious choice after all.
35+ Premium WordPress Themes
WP Engine recently acquired the popular premium WordPress theme company StudioPress.
Now all 35+ premium StudioPress themes and the famous Genesis framework is available to all WP Engine customers for free.
Yes, you get all these great-looking and well-coded themes at no additional costs – this is over $2000 in additional value for free!
How easy to use is WP Engine?
Upon signing up and logging in to your account for the first time, you'll be able to get a WordPress website spun up right away.

There's an Add site button in the top right corner. When you click it, it triggers a pop-up form that lets you install a new instance of WordPress in a really simplified manner (no need to deal with any database settings or anything like that):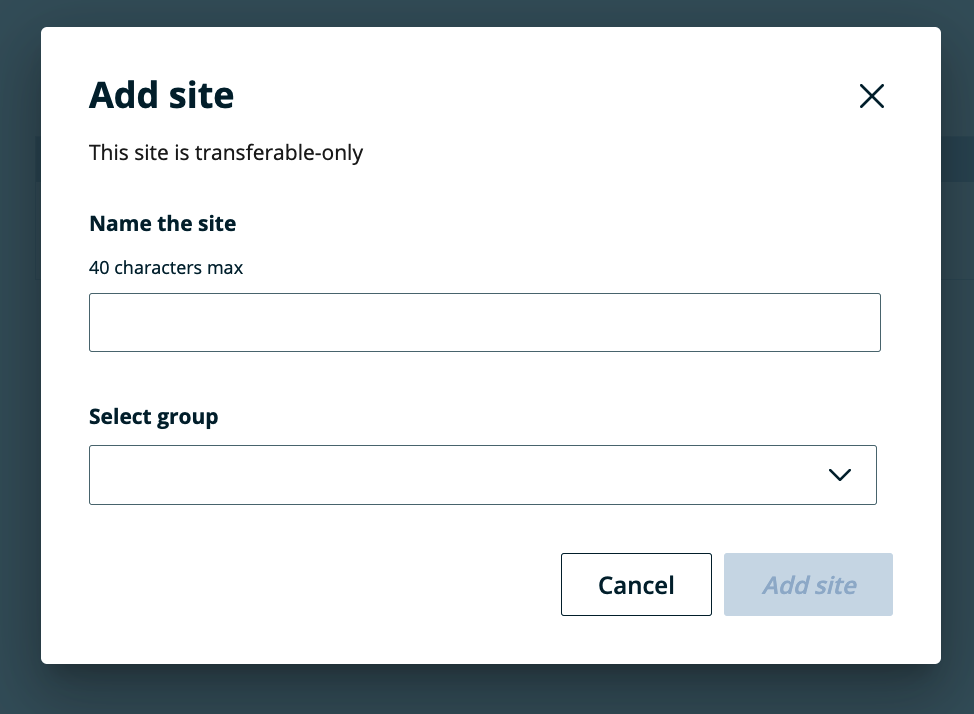 Right up front, it's also quite apparent that WP Engine is a professional-level tool when it comes to WordPress hosting. For instance, you are encouraged to set up three environments for your site – Production, Staging, and Development – instead of just a single one.
This helps greatly if you have a team of people working on the site and gradually rolling out changes. The idea is that you can work on building new elements of your site on Development, then roll them out to Staging for testing, and then move everything to Production for the world to see.
WP Engine lets you create a new environment very easily just by clicking a single button and then providing some parameters of the environment.
No matter if you're creating your initial instance of Production or a new Staging environment, the process looks the same. You get to choose from a couple of options: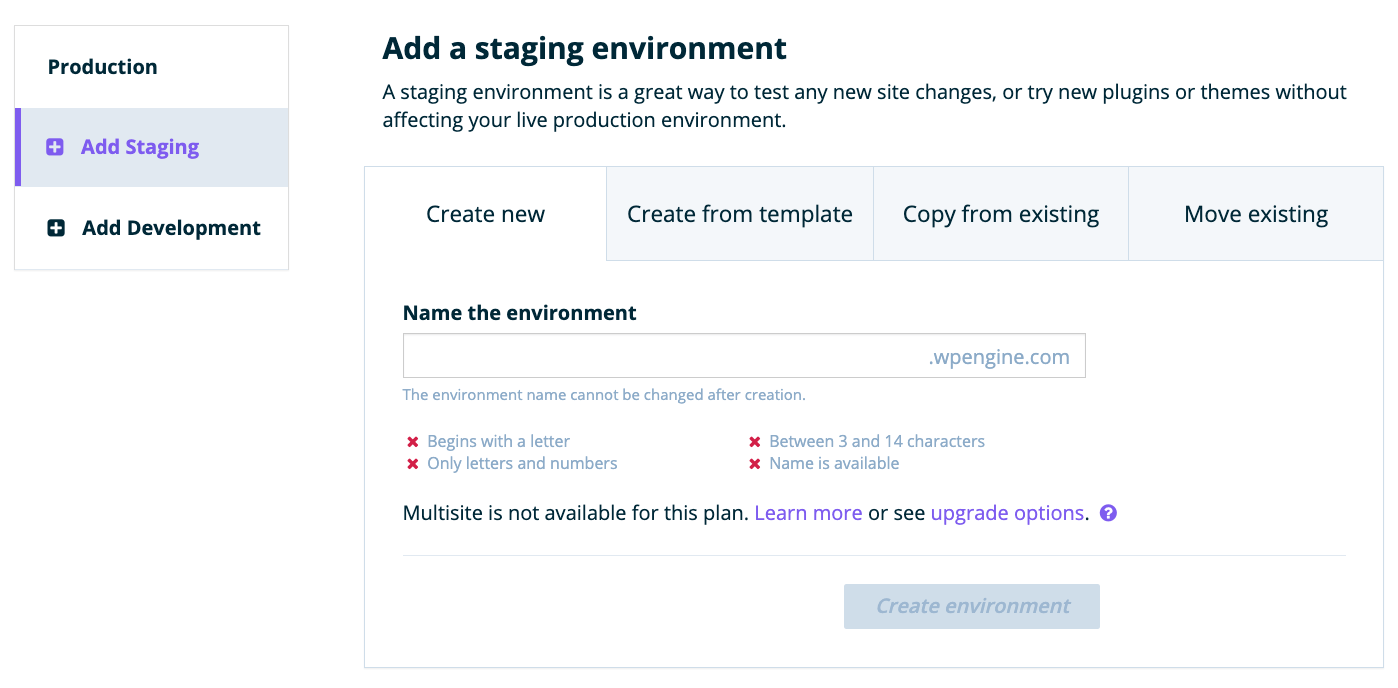 As you can see in the image above, you can:
create a fresh instance of WordPress
create a WordPress instance from a site template
create from an existing site – by copying another environment that you have in your panel already
move an existing environment
When you make your choice and provide the necessary details, your environment will be ready to use. At this stage, you'll be able to log in to your wp-admin and start working on the site normally.
Your WP Engine dashboard will also start displaying a bit more information: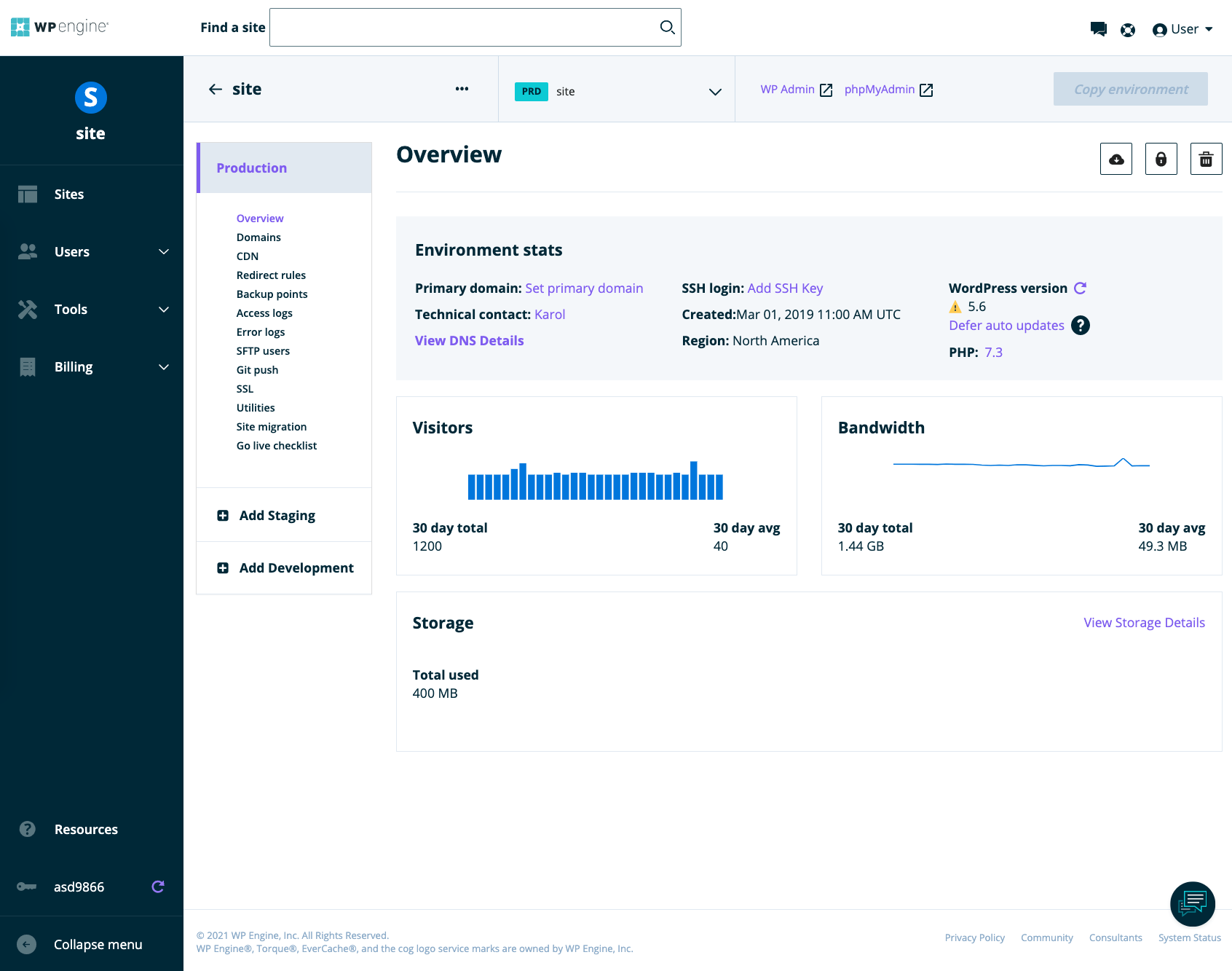 On the far left, there's the main sidebar where you can access your individual sites and view your profile info.
On the not-so-far left, you can switch between the environments and access the individual options of a given environment.
In the center, you can see important stats about your site plus any other notifications that WP Engine might have for you.
The types of options that are available in the sidebar are a pretty clear indication that WP Engine is a tool for professionals. Things like CDN, redirect rules, access logs, or backup points are not things that a beginner will know the purpose of or will want to check out. However, for the pro, these options provide a very granular level of control and can be invaluable.
Still, what's great here is that none of the sections are mandatory for you to go through. In other words, if you just want to get a WordPress site running, then all you have to do is add a new site to the panel and install a production environment for it (as described above). That's it!
Alternatively, if you're moving to WP Engine from another host, you can migrate your website in a semi-automated way. WP Engine has its official migration plugin that handles the heavy lifting. However, you do have to set it up and provide all the required access info.
Luckily, if you're having trouble with any of this, WP Engine's support team will help you out. But more on that later.
---
With slightly more affordable prices, Liquid Web's basic plan (Spark) is priced at $19 per month.
Price-wise, Liquid Web is the fairest company I've had the pleasure of testing. There are so many ways web hosts can manipulate you into paying an extra dollar (or much, much more), and I was delighted to see that Liquid Web takes the honest approach; not a single upsell attempt or hidden setup fee was noted.
Another thing that differentiates Liquid Web from the competition is the company's Price Lock Guarantee. Many other hosts lure you in with a low entry price, but charge up to four times more when it's time for renewal. With Liquid Web, you simply never have to worry about that. The price you sign up for is the price you'll continue paying.
If you do decide to sign up for a year or longer, you will be presented with the option to purchase a heavily discounted domain name.
You can pay using Mastercard, Visa, American Express, Discover, and PayPal. There's a 30-day money-back guarantee available for all plans.
What can I expect from Liquid Web?
WordPress is one of the most popular content management systems, and it's estimated that it powers at least 25% of the web. As such, web hosting companies have been increasingly offering hosting solutions that are catered specifically for this platform. One of the brands offering such hosting plans is Liquid Web.
WordPress-Specific Hosting
Although this company has been around since 1997, it wasn't until 2015 that they rolled out their managed WordPress hosting packages at the Word Camp US convention.
Although a late entrant into the managed WordPress hosting niche, Liquid Web has raised the bar for other service providers who want to offer a similar service. Find out what to expect from their services by reading this Liquid Web managed WordPress hosting overview.
Do You Use WooCommerce?
Moreover, if you are a WooCommerce user, you will definitely want to check out Liquid Web. While many hosts offer WordPress-specific hosting, Liquid Web offers hosted WooCommerce packages designed to optimize the performance of online stores built on this platform.
Specialized Hosting
If you are a Microsoft user in need of specialized hosting (such as a web application that runs on ASP.NET), you will find support for these with Liquid Web.
When comparing Liquid Web managed WordPress hosting plans, there are five options from which to choose. These plans include:
Personal
Professional
Agency
Enterprise
Agency Plus
Commerce
Depending on the selected plan, you can host between 10 and 200 WordPress sites while storage space ranges from 100GB to 1TB.
Free SSL Certificate
Plesk Panel
Plesk also comes with an Android and iOS app so you can manage administrative tasks on the fly. That's a plus for busy small business owners.
What can you do with Plesk? Here are just 10 of the hundreds of things you can use it for:
Add functionality to your website
Build websites
Onboard new customers
Improve your SEO (search engine optimization) which is key for increasing conversions, and sales
Install any third-party app you want
Set up various forms of authentication for your website(s)
Back up your website
Connect domain names to your web hosting
Set up email for your site
Check your bandwidth usage
Also, Plesk gives you access to Softaculous, a tool that enables you to, with a few clicks, add hundreds of features to your website, like:
Blogs and microblogs

Discussion forums and customer services forums

Live chat apps and other customer service tools

Project management

A wide range of E-Commerce features 

Ad management

ERP

Image galleries

Wikis

Social networking tools

Polls and surveys (Good for capturing the voice of your customer.)
VPS Server Environment

It's common knowledge that VPS servers provide better performance than shared hosting. Liquid Web decided to offer managed WordPress hosting on VPS servers in a bid to ensure fast site performance.
Their managed WordPress Hosting is powered by HipHop VM, also known as HHVM. This virtual machine platform is specifically designed as an execution engine for PHP, the backbone of WordPress. Once PHP becomes faster, so does WordPress.
Fully Managed WordPress Hosting
---
Keeping WordPress and its plug-ins updated can be a hassle when hosting your website on a shared server. Fortunately, automatic updates are enabled for WordPress and its plug-ins when hosting your website with Liquid Web.
Thanks to this feature, your website stays secure plus you get time to focus on the more important aspects of running a website such as creating great content and driving traffic.
Site Speed Optimized for WordPress Sites
A fast-performing website is critical in today's competitive online marketplace. Fast page load times lead to better browsing experiences, meaning more conversions and success for your online business. To ensure fast site performance, Liquid Web optimizes all servers meant for hosting managed WordPress sites with technologies such as Memcached and Mod_PageSpeed.
Additionally, Liquid Web offers a server-side CDN (content delivery network), which is designed to bolster speed and decrease load times. The company also uses fast-performing SSDs solid-state drives on all their servers.
Free Site Transfers
If you already have a WordPress website, it can be easily moved to Liquid Web servers at no cost thanks to this company's free migration service.
---
2. Speed Tests and Uptime Guarantee
Without a doubt, speed and uptime are the most important factors you need to consider when choosing a web host.
To test whether Liquid Web and WP Engine actually live up to their hype, we decided to analyze their page speed and uptime guarantees by signing up with each of them and creating 2 test sites.
To mirror the live environment on our test sites, we installed a WordPress theme and published dummy content along with some images.
Then, we conducted a few different experiments on these test sites with the following tools:
Pingdom: To analyze the website speed.
Load Impact: To monitor how these hosting servers handled a traffic surge during a peak load time.
Bitcatcha: To determine how these hosting servers perform from 8 different geographical locations.
WP Engine's Pingdom Speed Test
---
According to Pingdom's website speed test, our WP Engine test site only took 301 milliseconds to load, which is faster than 99% of all tested sites.
Liquid Web's Pingdom Speed Test
---
However, our Liquid Web site took 318 milliseconds to load, meaning the site was only faster than 98% of all tested sites.
Then we conducted a test on each hosting server with Load Impact. WP Engine performed consistently throughout the test. The number of live visitors on the site didn't have an impact on the server's performance.
WP Engine's Load Impact Results
Liquid Web's Load Impact Results
On the other hand, our Liquid Web test site performed consistently until there were around 40 visitors on the site. The website slowed down for a few seconds and then reverted to its normal state.
We also used Bitcatcha to record server response time for our hosting servers from 8 different geographical locations: New York, Los Angeles, London, Brazil, India, Singapore, Japan, and Australia. The speed for each location was measured 3 separate times and then the results were averaged.
WP Engine's Response Times on different locations
Liquid Web's Response Times on different locations
As you can see, while our WP Engine site was rated A by Bitcatcha, our WP Engine site was rated A+. Again, a very close result for both parts.
---
4. Security and Backups
WP Engine knows how important site security is, especially for websites that are scaling. That's why they offer their customers a number of premium security features designed to protect your site's data:
WP Engine runs daily malware/virus scans in partnership with Sucuri.
They monitor an updated firewall to block the latest threats.
All plans come with automated SSL certificates included. (If you prefer to import an SSL certificate, you can do that on any plan above the Startup level. )
All sites are backed up daily
You get a one-click restore function that can help you recover your website in case of an attack.
The WP Engine site provides a guide on "Tips to Protect Your WordPress Site From Being Hacked."
You'll have access to 24/7/365 technical support for any questions regarding security.
They provide webinars on security.
They publish security guidelines and checklists for developers and engineers.
If your site gets hacked, WPE will clean it for free.
In addition to all of this, WP Engine offers prevention against DDoS attacks, brute force attempts, and JavaScript/SQL-injection attacks. Plus, they are known for working with third-party security firms to perform routine code reviews and security audits to make sure everything is up to speed.
Advanced Security Features
WP Engine also offers a number of premium security features. The WordPress core is automatically updated to the latest version for you.
WP Engine thoroughly tests any major core updates before upgrading its customers. They have a proprietary intrusion detection and prevention system to block any DDoS attacks, brute force attacks, JavaScript/SQL-injection attacks, and more.
They also partner with third-party security firms to conduct regular code reviews and security audits.
So worry none, with WP Engine your security is guaranteed.
CDN for Even Faster Loading
WP Engine offers a CDN (content delivery network) in partnership with MaxCDN, making their hosting even faster.
CDN is included for free with all WP Engine hosting plans which is a huge benefit and cost-saving.
Securing data stored on servers is one of the features that any reliable web host should offer. When hosting a website at an offsite location, there are many threats that can compromise the safety and availability of your data.
Website Security
Liquid Web doesn't disappoint when it comes to website security since they try to address almost every threat that might compromise the privacy and safety of data stored on their servers.
For starters, all the datacenter locations are under strict security 24/7/365. Server control rooms can only be accessed by authorized technical staff. To mitigate break-ins and server theft, Liquid Web deploys on-site security guards and their facilities are under camera surveillance at all times.
Firewall Protection
If hackers are a concern, you should be glad to know that Liquid Web activates a CSF firewall by default on all servers. An added benefit of the managed WordPress hosting plans is that SSL site encryption comes as a standard feature.
Nightly Backups
With your website encrypted, you offer a secure checkout that will not leak customer credit card numbers. Liquid Web schedules free automatic nightly site backups as well, which will help you recover your website in case of any incident that involves loss of data.
---
5. Support and Customer Service
---
On the other hand, WP Engine has a dedicated support team of WordPress experts. They boast over 97% customer satisfaction with thousands of customer interactions per day.
Support is available 24/7 via live chat for all customers. Phone support is available 24/7 with all plans except for the Startup plan. If an issue can't be immediately resolved via chat or phone, the support staff will create an internal support ticket for you.
Enterprise customers get access to 24/7 ticket support via email. Premium and Enterprise customers receive a consultative one-on-one onboarding experience as well.
WP Engine also has a dedicated Customer Experience Operations team. They work to continually improve their customer experience.
Apart from that, they have an extensive library of articles, how-to guides, and tutorials for users who want to fix things on their own.
If there's one area where Liquid Web has made an effort to stand out from the crowd, it's their customer service, which is dubbed as "Heroic Support." Both paying customers and individuals interested in setting up a hosting account can contact the customer support team via phone or live chat.
---
Liquid Web operates a ticket support system as well that allows paying customers to seek assistance via email. The company promises to offer excellent support from a group of more than 100 Red Hat Certified experts, which means that customers won't be attended to by inexperienced or unskilled agents.
Best of all, you don't have to pay more to access their premium Heroic Support since most of the WordPress managed hosting plans run on fully managed VPS servers except for the Enterprise plan.
Liquid Web Support Promise
Under their Heroic Support promise, Liquid Web has committed to deliver fast response times whenever you are in need of assistance. This includes wait times of only 59 seconds for phone and live chat support and responses from help desk tickets within 30 minutes.
Extensive Knowledgebase
For webmasters experiencing problems that can be fixed without the need to contact support, Liquid Web has a comprehensive knowledge base on their online support center. The knowledge base is easy to navigate and even has a search box for quickly and easily finding troubleshooting materials on your specific topic.
Help resources range from FAQs, and "how-to" help articles, to tutorials and "getting started guides". These resources make it easy to learn more about hosting solutions and ways to solve common problems.
---
Frequently Asked Questions about WP Engine & Liquid Web:
– What does "Managed WordPress Hosting" mean?
In short, it means your web host takes care of things like site security, speed, updates, and backups so you don't have to.
– What makes Managed WordPress Hosting better than ordinary Shared or VPS Hosting?
When hosting a WordPress site on an ordinary shared or VPS server, you have to do all the grunt work on your own. With WP Engine's and Liquid Web's hosting plans, there's no need to worry about core WordPress upgrades, backups, site performance optimization, or server security since all of these aspects are already taken care of for you.
– Do WP Engine and Liquid Web provide free WordPress website transfers?
Yes, they provide an automated migration plugin that will move an existing site to their servers within 48 hours.
– What kind of guarantees do I have with them?
They both have a 99.99% network and power uptime guarantee. This is above the industry standard of 98.93% uptime.
It's also good to know that you are protected with their 60-Day (WP Engine) and 30-day (Liquid Web) money-back guarantee respectively.
– What measures do they take to keep my WordPress Site Secure?
To keep your WordPress site secure, they take a proactive approach when it comes to WordPress core updates and security patches. They also run malware scans and inform account holders of outdated plug-ins or any other security risk that may be detected.
– What Payment Options do WP Engine and Liquid Web provide?
Currently, WP Engine accepts debit and credit card payments. On the other hand, Liquid Web accepts debit and credit cards, PayPal, Check & Wire Transfers.
– On a scale of 1 to 100, how much would you recommend these hosting providers?
100 without even blink! Both WP Engine and Liquid Web are the best-managed WordPress hosting services in the industry. All of their plans are built on the same infrastructure, which means that even if you opt for an entry-level plan, you can expect top-notch performance.
In addition, both services include an impressive kit of WordPress features on all plans.
---
WP Engine vs Liquid Web: Our Pick
"Liquid Web is cheap and reliable, but WP Engine is better value for money"
With a slight advantage in features, WP Engine is the winner of this matchup. Keep in mind, however, that this is only the case if you compare the two services from the point of view of managed WordPress hosting, rather than a cloud hosting in general.
If you don't necessarily want to use WordPress or you work with several different frameworks, Liquid Web is actually an amazing option. You can even publish multiple projects using different frameworks on the same server, without having to provision a separate virtual machine for each.
With that being said, I'm absolutely convinced that you will love working with either of the two hosting services. Now my question is, which one will you choose?
It's Your Turn Now!
Click on the Blue Button below and Get Started:
*swipe to the side if you are on a mobile device ↑