---
Overview: WP Engine vs. GoDaddy
If you're comparing GoDaddy to WP Engine, you're comparing apples to oranges.
GoDaddy is all about discount pricing, at scale.
WP Engine is a much higher quality, WordPress-specific service.
Yes, GoDaddy now offers their Managed WordPress Hosting, but it's more of a marketing name than it is anything that competes with what WP Engine is offering.
1. Pricing
Usually, most people will make a decision based on the initial cost, rather than the overall value.
We understand that price points can be a make-or-break situation for many users, which is why we make sure to present that information before anything else. That being said, we do have to mention that the price is only one component of the service you get, so if you can spend a little more and get a better value, we strongly suggest going that route.
In the end, the mantra of "you get what you pay for" is as true with hosting services as it is with anything else.
Also, to make sure that this comparison is as equal as possible, we are looking at GoDaddy's WordPress hosting packages rather than their standard hosting plans. This way you can see how they stack up based on similar factors.
GoDaddy Hosting Pricing at a Glance
Basic Plan: $3.99 per month to start, $7.99 a month to renew
Deluxe Plan: $4.49 per month to start, $9.99 to renew
Ultimate Plan: $7.99 per month to start, $14.99 to renew
Developer Plan: $13.99 to start, $24.99 to renew
WP Engine Pricing
Personal: $30 per month
Professional: $59 per month
Growth: $115 per month
Scale:$290 per month
As you can see WP Engine is a lot more than GoDaddy, which can be enough for some people to avoid it altogether. However, as we mentioned above, value can be a much better indicator of which option you should pick, so don't assume that GoDaddy is the smarter choice because it costs less.
Round Winner: GoDaddy
---
2. Speed
WordPress is known for affecting page loading speeds, so WP Engine has taken action to reduce that impact – with some great results. The secret to WP Engine's performance lies in its bespoke EverCache system.
EverCache includes a built-in CDN (content delivery network), which means your website will be loaded from virtual servers closest to your visitors – no matter where in the world they are. WP Engine has also developed more effective communication between the WordPress platform and WP Engine's NGINX servers, which allows for EverCache's "aggressive" caching.
What this means for you: Both dynamic content (i.e., content that's regularly updated) and static content (such as images) are cached. Combined, the features in EverCache result in some really impressive speeds: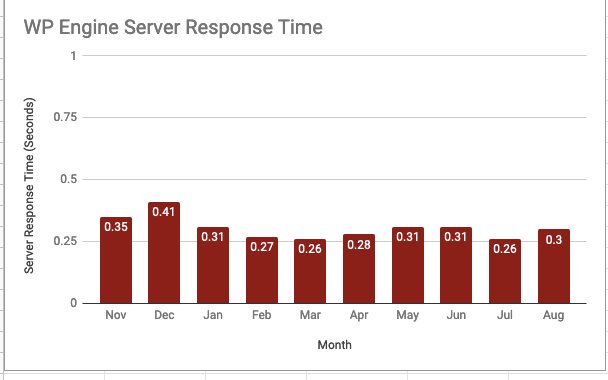 By contrast, GoDaddy hasn't really put much effort into boosting speeds on its managed WordPress plans. It uses load-balanced servers and SSD storage and offers PHP 7 (which is much faster than the PHP 5 many budget shared hosting companies use) – but these features are fairly standard and don't do much for page loading speeds.
You can use Cloudflare's free (or paid) CDN plan with GoDaddy – but it's not integrated, so you have to set it up yourself or get some expert help to get you started.
Instead of offering speed-enhancing features on its regular Managed WordPress plans, GoDaddy prefers to encourage you to upgrade to one of its Pro plans – which are aimed at web designers and freelancers who build and manage websites for clients. Pro plans include a CDN that can boost speeds by up to 75%.
On managed WordPress hosting plans, your website could take up to twice as long to load with GoDaddy compared to WP Engine: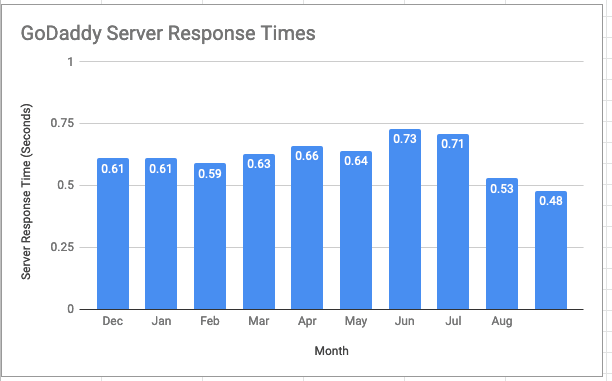 WP Engine has an impressive uptime average of 99.99% – which means only around three and a half minutes of downtime a month. GoDaddy is less reliable – with an average uptime of 99.97%, or 12 minutes of downtime a month.
As you can see, WP Engine is much more reliable and consistent, whereas GoDaddy has a substantially wide margin of error. Since you don't want to have to worry about whether or not people will have a hard time loading your site, it seems like WP Engine is the better option. The reason for the better results seems to be that WP Engine is dedicated to one service, whereas GoDaddy does more than just WordPress hosting, so its servers have to respond to different types of data.
Round Winner: WP Engine
---
3. Money-Back Guarantee
When it comes to building a website, you have to take your time to figure out how to program everything and make sure that it all comes together. As such, you may choose a plan only to find out that you need something different after a few days of trying it out. Fortunately, many hosting services offer a guarantee that means that if you have to cancel your service within a particular time frame, they will refund you without any hassle. In this case, WP Engine gives you up to sixty days to change your mind, while GoDaddy offers forty-five.
4. Customer Support:
Before we break down the various features and benefits you get with each host, we first want to look at how well their support systems are. No matter how good you are at website building, you will eventually have to talk to someone in tech support, so it's imperative that you have access to them at all times and can get rapid responses. With that in mind, there are four primary methods that hosts use to provide support, so let's see how each host stacks up.
5. Phone Support
When it comes to calling a support hotline, you don't want to have to wait on hold forever before you reach a live person. Also, it's best if you can call at any time day or night so that if you're working on your site in the middle of the evening, you can still get help if something goes wrong. Both services offer 24/7 phone support, and both of them don't put you on hold for too long.
Round Winner: a tie
6. Live Chat
For most people, waiting on hold is one of the worst things to do, which is why having a live chat function is usually a much better way to go. This way you can still get your issue resolved in real-time, but you don't have to worry about awkward silences or bad elevator music. Both sites have reliable live chat functions, although GoDaddy is not always online, so you do have to make sure that you're trying to reach them during regular business hours. Considering that plenty of people work on their websites at all hours of the night, this is kind of a significant disadvantage.
7. Email
As far as support systems go, you can't be any more basic than having email. This is for when you have an issue that doesn't need to get resolved immediately. Nonetheless, you don't want to wait days on end for a response, either, so it's imperative that the service gets back to you promptly. Again, WP Engine has a decent email service, but for whatever reason, GoDaddy does not have an email function. While you can call at all hours of the day and chat during regular business times, it seems kind of odd that you cannot send an email to get your issue resolved.
Round Winner: WP Engine
8. Forums
The final method for hosts to provide support to their clientele is to have a plethora of tutorials and other information regarding common issues so that people can look up the solution to their problem without having to talk to anyone or wait for a response. Both WP Engine and GoDaddy have such systems in place, but GoDaddy has a much more comprehensive set of FAQs and instructional information at your disposal.
Round Winner: GoDaddy
9. Uptime
Along with loading times, you also want to make sure that your site doesn't crash, which is why most hosts offer what's called an uptime guarantee. This is to give you peace of mind that your page will always be available and won't be subject to network connection issues, regardless of where in the world people access your site. With that in mind, WP Engine does offer a guarantee while GoDaddy does not. This means that if you ever experience downtime on GoDaddy's servers, they will not compensate you, so that can be a deal-breaker for some.
When comparing the two services, they are both excellent at providing high uptime percentages, but the edge goes to WP Engine. Not only does that site have more consistent 100% uptime ratings but the fact that you get a guarantee is a nice touch.
10. Value
Now that we've seen what you can expect as far as performance and reliability, let's go over the basic packages that you get with each hosting service. Again, to keep things fair and balanced, we are going to compare the two sites on WordPress hosting only. So that means that if you opt for standard shared hosting on GoDaddy, you can get slightly different packages depending on your needs.
GoDaddy
Basic: One website, 25K visitors per month, 10 GB storage, free domain, SFTP package
Deluxe: One website, 100K visitors per month, 15 GB storage, free domain, SEO plugin
Ultimate: Two websites, 400K visitors per month, 30 GB storage, free domain, one SSL certificate
Developer: Five websites, 800K visitors per month, 50 GB storage, free domain, one SSL certificate
WP Engine
Personal: One website, 25K visitors per month, 10 GB storage, free data transfer, free SSL certificates
Professional: Ten websites, 100K visitors per month, 20 GB storage, free data transfer, free SSL certificates
Business: Twenty-five websites, 400K visitors per month, 30 GB storage, free data transfer, free SSL certificates
Premium: 150 websites, one million visitors per month, 100-300 GB storage, free data transfer, and SSL certificates
Enterprise: 150 websites, five million visitors per month, 400 GB-1 TB storage, free data transfer, and SSL certificates
As you can see, WP Engine provides a lot more value than GoDaddy.
However, as we saw above, the price points are much higher, so it makes sense that you can do more. Nonetheless, once you go beyond the basic packages with each program, it's easy to see that WP Engine has a lot more to offer. Also, the fact that you get unlimited data transfer and free SSL certificates for your sites regardless of your plan setup means that WP Engine is already a better choice. The only major advantage that GoDaddy has is the fact that you can get a free domain with each plan.
Otherwise, you are limiting yourself severely by choosing GoDaddy as your WordPress host.
The Overall Winner: WP Engine
WP Engine may cost you more, but it's still a better choice. For WordPress hosting, WP Engine is really hard to beat. Sure, you have to pay more for it, but the benefits are long-term and you get a great set of themes for your new website. Personally, I recommend WP Engine if you're a business owner looking for fast, reliable WordPress hosting that takes care of security, backups, and updates, leaving you free to manage your business.
It's Your Turn Now!
Click on the Blue Button below and Get Started:
---
Our Top 5 Hosting Providers:
| | | |
| --- | --- | --- |
| | | |
| | | |
| | | |
| | | |
| | | |
*swipe to the side if you are on a mobile device ↑