---
Squarespace — Overview
The website builder market seems to be getting larger by the day, with a huge number of web apps now available promising to make creating a 'beautiful' website or online store a breeze.
This ever-growing list of website builders includes Squarespace, Wix, BigCommerce, Shopify, Weebly, and WordPress…with the sheer quantity of platforms now available making deciding which one to use rather difficult.
In this review, we're going to take an in-depth look at one of the more established website builders, Squarespace, and zoom in on the key pros and cons of the product.
So, read on to get:
what Squarespace is and how it works
an evaluation of its templates and key features
the key reasons you might want to use Squarespace
a good idea of the best Squarespace plan for you
a list of strong alternatives
Let's start with an important question…what exactly is Squarespace?
What is Squarespace?
Squarespace is a website builder tool that is aimed mainly at small business owners.
Founded in 2004 as a solution to let people without development skills build and manage their own website, Squarespace now powers 2.6 million sites and online stores (source: Builtwith.com) and along with Wix and Shopify is one of the best-known website building/eCommerce products available.
How does Squarespace Work?
Squarespace is a 'hosted' solution. This means that it runs on its own servers and you don't have to install software on your own computer to use the product.
It lets you create a professional site in a web browser without coding, and edit it easily thanks to a user-friendly content management system (CMS).
In other words, rather than loading Dreamweaver or a similar web design package and churning out lines of code to construct a site, you do it all online using Squarespace's templates and style editor. All you need to work on your site is access to a web browser and the internet.
You pick a template, click on the bits of the design you want to tweak, and then adjust controllers in the style editor to change them. For example, you can click on some text and apply a new typeface; click on a background and change its color; and so on.
But in general, Squarespace is a website builder that is not designed for those who want to tinker too much — it is a platform that encourages you to pick a template, add some content and hit the 'go' button.
Squarespace is a 'software as a service' (SaaS) tool — this means that you don't own a copy of the product, but instead pay a monthly fee to use it.
And speaking of fees…
---
1. Plans & Pricing
There are four Squarespace plans available:
Personal — $16 per month

Business — $26 per month

Basic Commerce — $30 per month

Advanced Commerce — $46 per month
If you pay upfront for a year, then you're looking at monthly costs of $12, $18, $26 and $40 respectively for the above four plans.
If you want to try the product out before buying, you can avail of a two-week free trial (you will find the link at the end of this review)
A new plan from Squarespace — 'Squarespace Select'
In addition to the four main plans outlined above, there's also a new Squarespace plan to consider: 'Squarespace Select.'
Currently in 'early access,' this is geared towards enterprise users and comes with an account manager, priority support and consultations on SEO and website design.
Pricing for this is negotiable and based on requirements. For now, this Squarespace review is going to focus on the existing four plans, but when Squarespace Select becomes more established, we'll feature it more in this post.
Key differences between the Squarespace plans
When it comes to the key differences between Squarespace plans, some of the main things to look out for are:
E-commerce features
The 'Personal' Squarespace plan is the only one which doesn't allow you to sell products — e-commerce functionality is not provided on this plan at all.
All the other plans allow you to sell an unlimited number of products on your online store and accept donations via your website, but the commerce functionality you get depends on the plan.
For example, a key e-commerce feature, abandoned cart auto-recovery — a way of identifying and automatically emailing users who put items in their carts but don't complete a purchase — is only available on the most expensive plan, 'Advanced Commerce.'
(I have found on my own e-commerce projects, however, that this feature tends to pay for itself).
Other important online store features, including advanced discounts, subscriptions, real-time carrier shipping and access to the Squarespace API are restricted to the 'Advanced Commerce' plan too.
Transaction fees
You can avoid transaction fees on the 'Basic Commerce' and 'Advanced Commerce' plans. If you opt for the 'Business' plan, however, Squarespace will take a 3% cut of all the transactions made via your online store.
Depending on the volume of sales involved, this may make the 'Basic Commerce' or 'Advanced Commerce' plans more cost-effective than the 'Business' one quite quickly.
Whether or not you can add CSS or scripts to your site
The 'Personal' Squarespace plan doesn't let you style your website with your own CSS (the code used to style a template — it can be useful to have access to this if you want to have 100% control over the design of your site).
The 'Personal' plan also prevents you from adding scripts to your website (to the header or footer sections — you can add code blocks to individual pages, however). Scripts are useful for integrating other apps and services with your site.
Theoretically, the lack of access to CSS or the ability to add scripts shouldn't be an issue for many users — the idea being after all that Squarespace is a code-free solution — but if you plan on integrating certain third-party services into your site via code injection, you may encounter some headaches if you're on the 'Personal' plan.
The number of website contributors you can have
The 'Personal' plan restricts the number of contributors to your website to 2 (there's no cap on contributors on the other plans).
Google Workspace
Squarespace offers you a year's free Google Workspace account on the 'Business' plans and up. This lets you create '[email protected]' email address.
Google Adwords credit
You'll get a Google Adwords credit if you're on the $26 per month 'Business' plans or higher. This allows you to try out Google's PPC advertising options (note however that how much credit you receive will depend on the country you live in).
Third-party integrations
You can only make use of Squarespace's 'premium blocks and integrations' if you're on a 'Business' plan or higher. These allow you to connect your website to third-party apps and services like OpenTable, Amazon, Mailchimp and Chownow.
If you're a Google Workspace user, you can also manage quite a few features of your account directly within the Squarespace interface.
Promotional pop-ups / mobile information bars
On the $26 per month 'Business' plan or higher, you can use Squarespace's promotional pop-ups. These allow you to highlight particular offers on your website or ask users to sign up to mailing lists.
You can also add 'mobile information bars' on these plans (pictured below). These make it easier for mobile users to call, email or locate your business quickly.
Buying a domain name with Squarespace
To incentivize you to pay upfront for a year's service, Squarespace gives anyone taking out an annual plan a free domain name — i.e., you can avail of your own custom domain, www.yoursite.com, etc.
Not every custom domain is catered for — several extensions will only be available with a dedicated domain name provider, but the main ones are catered for (.com, .net, .info, etc.), as are some country extensions.
The only thing to remember here is that by using Squarespace to purchase your domain name, you are placing both your website AND your domain name in the same basket — i.e., if you ever lost access to your Squarespace account, you'd lose access to your domain name too.
Consequently, some users will prefer to keep their domain name account and their Squarespace account separate. But for those users who like to keep everything in one place, this is a neat, good value solution.
---
2. Squarespace Templates and Design Features
Quality of templates
You can choose from around 115 Squarespace templates; all are very attractive and have a slick, contemporary look and feel — in my view outclassing the offering from many other similar hosted website building tools.
In terms of how this selection stacks up against the free template offering from other website builders, it makes Squarespace more generous than Shopify and BigCommerce (which only offer a few free templates), but less generous than Wix (which offers 500+) and WordPress (for which thousands are available).
One thing I'd say about Squarespace templates is that the majority of them work best if professional, eye-catching photography is used. If you are considering using Squarespace, it makes sense to invest some thought and time in getting some great pictures for your site before you start building it.
And speaking of which…
Stock images in Squarespace
One of the really great things about Squarespace is that it provides you with access to all of Unsplash's image library out of the box — meaning that you get access to a large number of royalty-free images that you can add directly to your website.
When adding an image to a page, you just click a 'search for image' option and you can choose a picture from Unsplash to insert into it.
And, if the quality of the Unsplash library doesn't quite appeal, Squarespace offers you the option to buy images directly from Getty — these images cost $10 each, which is not unreasonable.
As with the Unsplash integration, it's really easy to purchase and insert Getty images into your site.
I've found both the Unsplash and Getty options extremely useful when building Squarespace websites for clients who don't have any pictures to hand. In some cases, the stock photography feature has contributed positively to the overall corporate design of my clients' sites — and has been particularly helpful when a client has not given any thought to the branding or imagery end of things (something that happens rather more than I'd like!).
Typeface selection
A huge range of web fonts — 1000 from Adobe and over 600 from Google — is included with Squarespace. This is far more than provided by competing website building platforms and usually makes it easier to match your website's branding with those used in your offline marketing materials.
How do Squarespace websites look on a mobile?
All Squarespace templates are fully responsive, meaning that your site design will adjust itself automatically so that it appears correctly on tablets, mobile devices and desktop computers.
Not only does this make your site more accessible to a wider range of users, it can provide some SEO benefits too.
Additionally, you can enable AMP — Accelerated Mobile Pages — on Squarespace websites. AMP is a Google-backed project which aims to speed up the delivery of content on mobile devices through the use of stripped-down code known as AMP HTML.
This creates a much faster version of your pages for mobile users and reduces the number of visitors who abandon your website due to lengthy loading times and a poor user experience. AMP can also provide some SEO benefits because Google prioritizes some AMP content in carousels displayed above search results.
Enabling AMP in Squarespace is extremely easy (it's just a case of ticking a box in your site settings), but it's important to note that currently, you can only use it with blog posts. It would be nice if you could enable AMP for products too; this is something you can do with competing products like Shopify (via an add-on app) and WooCommerce.
Editing the template design
It's generally easy to configure a Squarespace template design to your liking. You can use a menu of styling options on the left-hand side of the screen to adjust how components — displayed on the right — appear. You can adjust things like fonts, colors, website width and so on with a minimum of fuss.
One thing worth noting about the latest version of Squarespace (7.1) is that it doesn't allow you to switch templates once you've selected one.
This is less of a big deal than it sounds, as all templates work the same way, and you can achieve the same look and feel as another template by tweaking your site fonts and colors. However, it would nonetheless be better to offer the option to switch to another template design with the click of a button, rather than forcing users to manually change a load of settings.
So long as you're on the 'Business' or higher plan, you can add your own custom CSS to your website — code that allows you to change the appearance of it (this is useful when you really want to make a change to your website's appearance that Squarespace's design controls just don't permit).
You won't be able to see the full CSS stylesheet in Squarespace, but you can add your own CSS rules to change the appearance of certain items on your website. However, it's important to note that if you do add your own CSS, Squarespace's customer support team reserves the right to limit the kind of support they give you.
Many competing products are better than Squarespace when it comes to providing full control over the templates — WooCommerce and Shopify, for example, provide you with complete access to your site's CSS and HTML on all plans.
Video backgrounds
One particularly good thing that Squarespace offers is a cool video backgrounds feature — this can turn an already nice-looking Squarespace template into a stunning one.
This feature lets you use a Youtube or Vimeo URL to create a looped video background for your Squarespace site; you can also apply a range of filters to this, and speed up or slow it down. (If using Vimeo, note that you'll need to be on a Vimeo Plus plan). The results can be eye-poppingly good!
Some minor improvements could be made to Squarespace video backgrounds however: first, it would be good to be able to set start and endpoints for your video loop, so that certain parts of the video which might not work as a background (for example, logo-heavy introductions to a corporate video) can be bypassed easily.
Second, it would be great to be able to upload the video background directly to Squarespace itself (like you can do in Wix). This would do away with having to create unlisted (but still publicly available) videos on Youtube, or fork out for a Vimeo Plus plan.
Third, it would be good to be able to display videos with sound — or give visitors an option to do this. (There's a nice but paid-for workaround available for this however — check out this background video controls plugin).
Squarespace 7.0 vs Squarespace 7.1
There are actually two versions of Squarespace available at the moment: 7.0 and 7.1. This review is focussing on the default version, Squarespace 7.1, but technically you can opt to build a site on Squarespace 7.0 if you prefer. Doing so will give you access to a different set of templates, and a few features that were removed in Squarespace 7.1, including:
parallax scrolling
cover pages (landing or 'intro' pages for your site)
the ability to tweak the mobile version of your site more extensively
access to a Squarespace developer platform (which can be used to code bespoke Squarespace sites)
Using Squarespace 7.1 gives you a more sophisticated layout engine that provides access to more page layouts and lets you make use of both 'content blocks' and 'content sections' — so ultimately I think you will end up with a more attractive website if you build your site in 7.1.
Squarespace 7.1 is also likely to be better supported by Squarespace going forward, and it's the version of the platform into which new features will be introduced.
Designing logos with Squarespace
A useful feature included with Squarespace is a logo designing app.
A selection of symbols and typefaces are provided in the app which you can use to create a simple logo. As the video below highlights, you drop your text and symbols onto a grid, move things about a bit and, when you're happy with the results, you can download a hi-res version of your logo which can be used either on your site or on printed material.
The video below shows how the logo maker works.
---
3. Content Management in Squarespace
There is a LOT to like about Squarespace's approach to content management. Let's go through some of the good stuff first.
Content sections
Squarespace's 'layout engine' is very simple to use and lets you drag and drop 'content sections' anywhere on your site (images, text, forms, videos, code snippets etc.).
This makes a very flexible, attractive presentation of content — in my view, it's one of the best website builder interfaces available.
When you set up a page, you can choose from a range of pre-defined page layouts — for example, contact pages, about pages, team pages, etc. — which can further speed things up. These are extremely helpful to website-building novices who are not terribly familiar with the best ways to lay out content.
Once you've got your page, you can add 'content sections' to it. These include:
text

images

audio

galleries (in a slideshow, grid, carousel, or stack format)

restaurant menus

event listings

content summaries

calendars

maps

code

markdown
…and that's just a few examples really.
It's also really easy to tweak the position of your content sections; it's just a case of grabbing an element and dragging it to another location on the page. It's also really easy to add elements within content sections — you simply add 'content blocks' (pictured below).
Content blocks are really easy to insert, and as with Squarespace's content sections, can be positioned around the page easily.
All in all the content management system is excellent, gives you a great range of design options, and is one of the strongest arguments for using Squarespace over a competing tool.
(Interestingly, key competitor WordPress recently introduced a new drag and drop editor, Gutenberg, that bears more than a passing resemblance to Squarespace's drag-and-drop builder — this says a lot about how good Squarespace's content block system is for laying out website elements!).
Images
Working with images in Squarespace is also fantastic — its image manipulation and management tools are amongst the platform's strongest features.
You can resize, crop or rotate any image you add to your website with ease in Squarespace. You can also pick a 'focal point' in images; this helps ensure that no matter which device a user is viewing your site on, the part of the image you care the most about is always on display.
In this day and age of responsive websites, where images are resized according to the device, this can be a bit of a design lifesaver, ensuring that your images always 'make sense' regardless of the device you're using.
In terms of using galleries and slideshows, Squarespace offers you several different presentation options (including slideshows, carousels and grids) and all look excellent. This makes Squarespace a particularly attractive option for photographers who need a website to showcase their portfolio.
As discussed earlier, another nice aspect of working with images in Squarespace is that you can browse Unsplash and Getty images directly within Squarespace and insert them really easily into your website.
So all in all, a really big thumbs-up for how Squarespace handles images.
Blogging features
What is Squarespace like as a blogging platform?
Well, first the good stuff:
Unlike some competing platforms, you can have as many blogs as you like on your Squarespace website. This is useful because you can create different blogs for different types of content (news, reviews, tutorials and so on). Or, alternatively, you can stick with one blog and use categories and tags to split out your posts in various ways.

You can create really stylish summary blocks of your blog and drop them into any page of your website, and filter these so that the most relevant posts for a particular context are displayed. Anyone who is interested in creating a magazine-style layout for their site will love this.

Whereas many competing website builder tools restrict you to using tags only, you can use categories and tags in Squarespace — this means you can present your content in a more flexible way (and gives your readers more options on how they filter it).

As discussed earlier, you can enable AMP on your blog posts, which means that they will load super-fast for your users (something that may provide you with a slight bump in search results).

You can schedule posts to be published at a future date.

It's easy to add share buttons to your blog content.
There are, however, some flaws in Squarespace's blogging setup that do need to be pointed out:
There's no autosave. This is a pretty big omission and it can lead to lost content (for example if your browser crashes mid-sentence, or you accidentally delete part of a blog post).

There's no archive of older versions of posts.

If you want to update an existing blog post, you can't work on a draft version and publish it when you're ready; you have to update the live version. You can create a duplicate of an existing post, update the content and disable the older one, thus sort of solving the problem. But if your original post has blog comments, these aren't carried over to the new post.
The bottom line with blogging in Squarespace is that it's fine for most users — but if you're a professional blogger, there are better options available to you, not least WordPress.
Importing and exporting content and products
Imports
It's easy enough to get content and products into Squarespace. Helpful 'wizards' are provided to help you import pages, blog posts and other content from WordPress, Blogger and Tumblr.
One thing to note however is that you need to be on one of the more expensive 'Commerce' plans in order to import products. These plans let you import up to 10,000 products via CSV or, using an import tool, from Shopify, Etsy or Big Cartel.
(If you're using Squarespace 7.0 however, note that an import limit of 200 products per product page applies.)
Exports
You can export certain content from Squarespace into a WordPress format XML file — not everything exports, but the type of content that you can get out of the platform includes key items like pages, posts and galleries.
There are limitations to watch out for when it comes to products, however, only physical products can be exported, and you can only export up to 10,000 products (with each variant counting as a product). To be honest, though, this is probably sufficient for most users.
Charts — but no tables
An unusual but potentially useful feature in Squarespace is its 'charting' functionality. This lets you drop some data into Squarespace and use it to create a pie chart, line chart or bar chart. These look good and are a handy way to include a visualization of your data in your site content.
A related feature that's missing however is the ability to insert tables into Squarespace pages and posts. I routinely get requests from clients to add tables into Squarespace websites and it's always a pain to do; it involves either coding and styling something manually, or creating JPG versions of tables.
Navigation limitations
As things stand Squarespace is not really a suitable tool for creating really large websites.
Yes, most plans allow you to create an unlimited number of pages — but you can't use Squarespace to create a navigation system to organize them properly. In practice, the platform only permits you to create very flat websites, with a maximum of two levels of navigation.
In a way this is a good thing because your site will end up being easy to navigate; but some businesses — particularly those offering a wide or complex range of services — may require a deeper website hierarchy and a suitable navigation system to facilitate this.
Content versioning
Unlike WordPress, Squarespace doesn't automatically keep a history of changes to your website. This means that if you accidentally mess up a page (or worse, permanently delete it), you can't restore an earlier version.
That's not to say that Squarespace doesn't back up your website — the company says that it keeps copies of its customers' content in multiple locations and that your data is safe with the company.
But the fact that the Squarespace help page on troubleshooting lost content encourages you to try to retrieve accidentally deleted content by using the Wayback Machine or visiting a cached version of a page does not really inspire confidence…
File management
If you're expecting Squarespace to provide a WordPress-style media library that lets you access, manage, sort, edit or update your files easily and all in one place, you'll be a bit disappointed. Finding the URL of a particular file involves a bit of a convoluted process, as does replace it with an updated version.
Squarespace's new image re-use feature goes some way towards providing a media library of sorts, in that it allows you to locate and re-use images you've already imported to the platform — but it's not currently searchable, and if you have a lot of images uploaded to your website, is a bit of a pain to use.
So there's room for improvement in how Squarespace approaches file management.
---
4. Integrations With Other Apps
Built-in integrations
Squarespace offers several built-in integrations with key web applications — you can incorporate apps like Mailchimp, Dropbox, Google Drive, Pinterest (and quite a few others) into your website in various useful ways. You will need to be on a 'Business' plan or higher though to get full access to these, however.
Squarespace extensions
Recently, Squarespace introduced 'extensions' — a range of paid-for add-ons that add functionality to your website.
The number of extensions is currently small — there are only around 20 add-ons available — but you can use them to hook your site up to several key admin apps including Quickbooks and Xero, or print shipping labels.
Squarespace-Zapier integration
If a built-in integration or extension isn't available to help you get Squarespace talking to a particular app, then you might find the Squarespace-Zapier integration a good option.
This allows you to send data captured via forms in Squarespace to a wide range of third-party applications. Zapier is a sort of 'if this, then that' (IFTT) tool which allows you to create rules as to what should happen with data from one application when it's sent to another.
You will usually need a premium Zapier plan to get the most out of this though ($20+ per month).
Squarespace plugins
There's also the option of buying 'code snippets' to enhance the functionality of your Squarespace website from various providers. These snippets are increasingly referred to as 'Squarespace plugins' — and although these add-ons are not quite as easy to install as WordPress equivalents, they nonetheless allow you to significantly extend the functionality of your Squarespace site.
Plugins exist for a variety of applications — for example, enhancing video backgrounds, adding sidebars, creating bespoke lightboxes…and much else besides.
Integration with social media
Connecting Squarespace to social media accounts is very straightforward — you simply add your accounts in your website settings, and Squarespace takes care of the relevant icons and feeds (pushing content automatically to selected social networks if requested).
All the most popular social media networks are catered for in Squarespace, including Facebook, Twitter, LinkedIn and Instagram.
---
5. Data Capture and Forms
Data capture is one of the most important features of any website, especially in this era of inbound marketing.
A robust approach to data capture is absolutely vital to generating leads and clients, and if you don't get it right, you will hamper the growth of your online business.
Accordingly, I'm going to drill down into this area in quite a lot of depth.
So how does Squarespace stack up in the data capture department?
Well, there are two ways to approach data capture in Squarespace. The first is to simply use code blocks to integrate an email marketing service of your choice (Getresponse, Keap, Constant Contact, etc.) This gives you a lot of flexibility but means adding HTML forms to your Squarespace website and styling them using CSS so that they look as aesthetically pleasing as the rest of it. This is perfectly doable, but won't be for everyone.
The other way to capture data is via Squarespace's built-in data capture options: the 'form block' or the 'newsletter block'. These both allow you to construct bespoke forms easily.
Both the form block and the newsletter block allow you to send the data captured to
The form block also lets you forward the information captured to an email address.
The good news first: the forms are really easy to set up and use and they look great — if you are happy to send your data to Google Sheets and Mailchimp, or set up a 'zap' to another application via Zapier, you'll love them.
There are some improvements that I'd love to see being made, however.
First, although the Zapier integration is very useful, opening up Squarespace's data capture functionality to users of well-known email marketing products such as Getresponse, Constant Contact and Sendinblue, still makes life more complicated (and expensive) for these users than it should be. It would be better if direct integrations were available for users of other email marketing products.
Another improvement I'd like to see to Squarespace forms would be file uploading functionality – as things stand, you can't let users attach any files to form submissions in Squarespace.
The other thing I'd love to see is conditional logic being added to Squarespace forms so that you can display additional fields based on user action, or send data to particular people (or storage options) based on what the user submitted.
And finally, you can't create one form in Squarespace that you then drop into pages as you please — you have to create a new form for every page.
If your needs are simple, you'll be absolutely fine; but if you need to use conditional logic or facilitate file uploads as part of your data capture process, you will probably end up having to invest in a third-party forms app like Wufoo Forms or Jotform, or using custom code to connect your forms to your email marketing software.
Squarespace Email Campaigns
Squarespace recently added significant new functionality to its platform with the introduction of its 'Email Campaigns' feature.
For an extra monthly fee, this allows you to capture email addresses and send newsletters to them directly within the Squarespace user interface. This brings it into line with key competitor Wix, which has offered this sort of functionality for some time, via its 'Shoutout' feature.
Squarespace offers you four email marketing options:
Starter — $7 per month to send up to 3 e-newsletters and 500 messages per month

Core — $14 per month for 5 e-newsletters / 5,000 messages

Pro — $34 per month for 20 e-newsletters / 50,000 messages

Max — $68 per month for an unlimited number of newsletters / 250,000 messages
In terms of how this pricing stacks up against other email marketing products, the Starter and Core plans are cheap by comparison to the entry-level plans available from the likes of Constant Contact and Getresponse; they allow you to start capturing data and creating newsletters without spending too much.
In fact, you can host an unlimited number of email addresses with Squarespace Email campaigns, which is very generous.
Another important benefit of using Squarespace's Email Campaigns is that you can manage your website AND mailing list — probably the two most important online assets of any business — in one place, and keep the branding reasonably consistent across both.
On top of that, the email templates — as you'd expect from Squarespace — are very attractive and mobile-friendly. They are easy to edit too, as the Email Campaigns feature provides a drag-and-drop user interface that is quite similar to Squarespace's web page editor.
Basic autoresponder functionality is included with Email Campaigns — however, the automation provided is currently very basic by comparison to that provided by dedicated email marketing tools like Sendinblue or Getresponse.
You should note that you can't segment data or split test your mailouts either using Squarespace Email Campaigns — so power users of email marketing will probably better off using a dedicated app like Keap, Getresponse or Sendinblue.
---
6. Editing HTML and CSS on a Squarespace Website
HTML — adding widgets and code blocks
Unlike competing platforms like WordPress or Shopify, in Squarespace, you can't really toggle between a WYSIWYG ('what you see is what you get') and HTML mode on pages and posts.
It is, however, possible to add 'HTML code blocks' to a Squarespace website, so you can incorporate third-party forms, widgets and so on into proceedings easily.
CSS — styling your website
You can add custom CSS to your Squarespace website (if you're on the 'Business' plan or higher), but it's not entirely encouraged: you are warned when doing so that 1) adding lines of CSS can break your design, and 2) you might not be able to avail of full support if you add CSS.
Code injection
If you'd like to add scripts to the header section of a Squarespace website, you can do this via a code injection section (on the 'Business' plan or higher).
---
7. Squarespace SEO: How do Squarespace Sites Perform on Google and Other Search Engines?
Squarespace websites do a lot of things that Google likes — they
are secure
automatically generate a sitemap.xml file
create clean HTML markup
are mobile-friendly (Google prioritizes websites that appear quickly and display correctly on mobile devices)
provide some AMP features.
Squarespace lets you tweak most of the key SEO elements easily enough — website title, page title tags, headings, meta descriptions, etc.
Recent research on page speed by Brian Dean also indicates that Squarespace pages load pretty quickly too. This is important, as Google can give preferential treatment to fast-loading pages in search results.
Additionally, Squarespace allows users to enable SSL on their sites for free (and very easily too). This is important because sites using SSL certificates can be treated preferentially by Google in search.
However, there are a few things Squarespace could do better when it comes to SEO:
Alt text — adding it involves a quite fiddly process of creating and then hiding image captions.
301 URL redirects — creating them is a bit of a manual process (and unlike some competing products, you are not automatically prompted to do so whenever you change a page URL).
Rich snippets — if you want to add rich snippets to your content, you'll have to manually add the relevant 'Schema markup' code to your website.
Clean URLs — whilst not a major issue, if you write a blog post on Squarespace, you can't change the URL so that it doesn't include a prefix ('/blog/' etc.). There are SEO arguments for keeping URLs 'clean' — made by Google no less — by avoiding unnecessary parameters like this.
8. E-commerce in Squarespace
The e-commerce functionality in Squarespace is pretty strong. It's easy to create, edit and manage products and product catalogs. You can definitely create an attractive online store with the platform — and one that's easy to manage.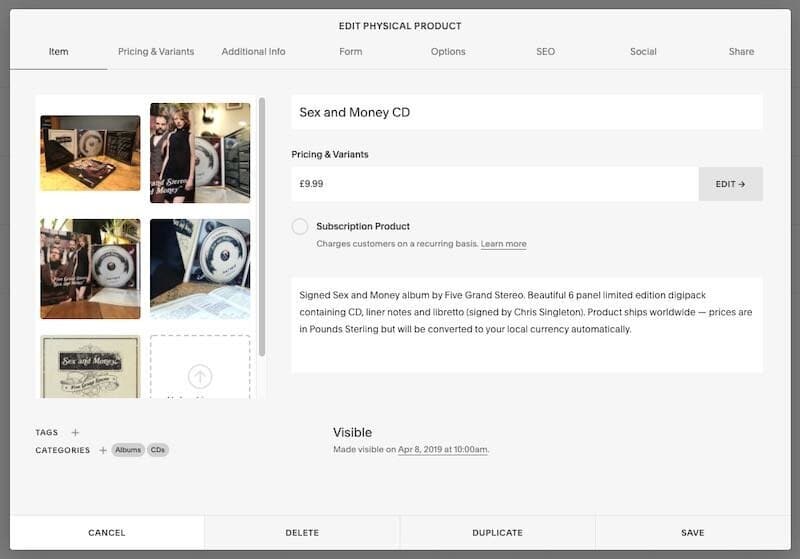 Key features include
a user-friendly shopping cart system

the ability to sell an unlimited number of products

the ability to sell physical goods, digital goods, services and subscriptions

a 0% transaction fee (on 'Commerce' plans)

automatic abandoned cart recovery (on 'Commerce Advanced' plan)

gift cards and discount codes

point-of-sale functionality
I particularly like the way Squarespace handles product images. Unlike some competing platforms, Squarespace allows you to automatically apply image ratios to all the products in your online store — a huge timesaver for larger e-commerce projects.
It's worth flagging up the subscription functionality as another strong feature of Squarespace — the platform makes it really easy for you to accept recurring payments for goods or services.
A really interesting aspect of Squarespace e-commerce is its new 'members area' feature. This lets you charge users for access to a private area of your website, allowing you to sell courses, exclusive content and more to your audience. Although this requires an additional fee, it's a great way to monetize your website and your site traffic. Check out the video below for more information about this new feature.
There are a couple of areas in the e-commerce department where Squarespace needs some improvement, however.
It doesn't facilitate multi-currency transactions. This won't be a showstopper for anyone who wants to use the platform to sell products locally, but if your sights are set on selling goods all over the world, then platforms like WooCommerce or Shopify are a better bet, as they allow you to show product prices and facilitate checkout in local currencies (WooCommerce being a particularly good option for this).

Point-of-sale functionality — which allows you to sell your products in physical locations using your online store to process payment and track inventory — could be a bit better too; it's currently limited to the USA, only iPhones are supported, and the hardware you can use is limited to a card reader (i.e., no barcode scanners or cash registers can be used).

The dropshipping options are a bit limited too — you can use Printful to sell print-on-demand products from your Squarespace site, but that's it. If dropshipping is going to be a key part of your business, you are better off with WooCommerce.

Currently, automatic tax calculations are restricted to the US.

Payment gateway options are restricted to Stripe and Paypal. Granted, these will let you accept major credit cards and Apple Pay — but Stripe is not yet available in all countries, so some Squarespace users will be limited to using Paypal as their payment processor. And oddly, Google Pay is not supported by Squarespace.
Overall, I really like the Squarespace e-commerce features, and they're great for any small business that needs a simple online store and doesn't mind selling in just one currency.
Merchants who have more advanced requirements however would be better off looking at a more dedicated e-commerce platform like WooCommerce or Shopify.
9. Interface and Ease-of-use
Squarespace is undeniably a very user-friendly product.
As mentioned before, the layout options are extensive and can provide you with a gorgeous, 'magazine-style presentation of content. In fact, I've yet to use a hosted website building platform that feels as slick and as straightforward to use as Squarespace.
Whenever I build a website in Squarespace and hand it over to a client for them to edit themselves, there are rarely any problems — we are not talking about a steep learning curve here at all.
If I had a criticism of Squarespace in the ease-of-use department, it's that in the latest version of the product (7.1), you can't switch templates at all — if you want to recreate the look and feel of another template, you'll have to manually rejig all your design settings. Doable, but time-consuming!
Otherwise, I think Squarespace provides one of the easiest-to-use and most intuitive content management systems out there, and the quality of the interface is probably one of the strongest arguments for using it.
10. Customer Support
Squarespace provides customer support via email or live chat only: no phone support is available.
In terms of the customer service that is available, whilst the staff on Squarespace's support desk are very friendly and provide reasonably quick answers to queries (with the live chat option being quickest), they tend to only deal effectively with pretty simple issues.
In essence, if you want to add some functionality or design aspects to your Squarespace website that are not provided 'out of the box' you won't always get much help from Squarespace.
Often you will just be told that what you are trying to achieve is not possible (even if actually, with a bit of perseverance, research or simple coding it actually is) and directed to read the Squarespace blog religiously in case the functionality you're trying to add to your website gets added as an official feature down the line.
And, as mentioned briefly above, if you add custom CSS to your site, you may not be able to get full support from Squarespace.
All that said, I have had some very positive experiences with the Squarespace support team — it's just that it has sometimes required a bit more perseverance from my side than I might like.
The Squarespace knowledge base
In addition to phone and live chat support, you can also make use of Squarespace's 'knowledge base' to help you solve problems.
The knowledge base is a searchable online manual containing videos and articles to help you understand how Squarespace works. It's usually pretty good for getting a sense of the basics, but there will still be the odd occasion when you'll need to get in touch with Squarespace's customer service team for help.
---
11. Pros & Cons
Pros of using Squarespace
Its templates are contemporary, and beautifully designed — and thanks to a responsive design, websites and online stores created using the platform will look great not just on desktop computers but on tablets and mobile devices too.

Its user interface is fantastic — I'd argue that Squarespace has one of the most user-friendly content management systems available.

Its image management options are excellent.

It provides a good range of import tools for importing content from other platforms.

It offers a 0% transaction fee (so long as you are on one of its 'Commerce' plans).

It allows you to work with a huge range of web fonts.

Its video backgrounds feature is great and allows you to create a big wow factor.

It provides a lot of design options for laying out content in an attractive manner.

It integrates nicely out of the box with many well-known third-party tools, including Google Apps, Opentable and Mailchimp; it also lets you push content to social media networks easily.

Zapier integration is available, which allows you to connect your Squarespace website to a large number of other web applications.

It comes with a built-in email marketing tool.

You can use its logo designing app to create a simple but professional-looking logo.

Depending on the plan you choose, you can avail of some useful free Google features — a free G Suite account for one year and $100 credit for Google Ads.

A two-week free trial is available.
Cons of using Squarespace
Payment gateway options are limited to just Stripe and Paypal.

Although support for Apple Pay is provided via an integration with Stripe, there's no equivalent support for Google Pay.

No content versioning is available.
---
Squarespace Review: Summary
Overall, Squarespace is a very strong website builder for individuals and small businesses. It's particularly good for two applications: running a simple brochure website or hosting a portfolio site – you can set yourself up with a very contemporary-looking site or image-focused website really quickly with it.
If you are an artist, photographer or musician — or building a website for a one-off event like a wedding — Squarespace is also a very good, mobile-friendly platform for you (and one that is very easy to use on an ongoing basis). It's also a great platform for businesses that sell food — pictures of dishes and restaurant menus can look fantastic in the context of a well-chosen Squarespace template.
Thanks to the e-commerce features, businesses needing a simple online store or shopping cart system may also find Squarespace a good solution; and because it's a hosted solution, using Squarespace doesn't require you to worry about things like server updates or, other than taking the usual precautions around passwords, security. This brings a LOT of peace of mind to proceedings.
The good thing is that — as with a lot of hosted solutions — you can try Squarespace out before committing to it. Accordingly, I'd strongly advise making the most of its free trial; check every feature out thoroughly to ensure the platform meets your requirements.
Click on the blue button to get started or check out our Top 5 eCommerce Platforms below:
---
Our Top 5 eCommerce Platforms:
| | | |
| --- | --- | --- |
| | | |
| | | |
| | | |
| | | |
| | | |
*swipe to the side if you are on a mobile device ↑