---
Overview: Moz vs. Semrush
SEO is morphing every single minute. You can bet that by the end of this week, Google will have updated its ranking algorithm about 10-15 times. That translates to an overwhelming 500-600 times a year.
Ok, this is both good and bad news- depending on how you look at it.
Well, pessimists would pretty much say 500 is an insane number of updates to keep up with by the end of the year. It significantly complicates the whole digital marketing front.
Optimists, on the other hand, bank on the resultant difficulty. The more SEO evolves, the harder it becomes for regular sites to maintain a good SERP ranking. Come to think of it, only websites that strategically leverage premium SEO tools stand to benefit the most.
So, which tools are capable of keeping up with the increasingly complex SEO framework? More specifically, which one do you think would perform better between the Semrush and Moz SEO tool suite?
1. Main Differences Between Semrush vs Moz
The main differences between Semrush and Moz are:
Semrush allows tracks up to 5 sites and 500 keywords on the base plan, whereas Moz only tracks two sites and 300 keywords
Semrush develops and updates features more frequently, whereas Moz doesn't do this as frequently
Semrush is more user-friendly, whereas Moz is a bit more difficult to work with
Semrush is better suited for typical internet business, whereas Moz has more in-depth local SEO features
Semrush
The history of Semrush can be traced as far back as 2008 when it was launched as a tool for regulating online competition. IT and SEO experts came together to create something that would essentially transform how websites rivaled each other over the web. Their main goal was to make everything transparent and fair.
Now, make no mistake. Semrush is not only about search engine marketing competition. It's much more than that. In essence, it's has morphed to become a digital marketing management suite with multiple tools for tracking, auditing (site audit), research, and insights.
---
The main goal here is monitoring and analyzing various marketing channels across search engines plus social media- to provide valuable information about your site and its primary competitors. Consequently, you'll be able to adjust your strategies accordingly to stay ahead of your rivals.
And how does Semrush manage to facilitate that as an SEO tool?
Well, all things considered, the tools on Semrush can be grouped into five functions- competitive intelligence, social media tracking, content optimization, paid ads insight, and SEO research.
Competitive intelligence, for starters, simply entails spying on your store's rivals. You get to know their organic keywords, ranking positions, SEO tactics, social media engagement strategies, plus their traffic numbers.
Social media tracking, on the other hand, helps you keep tabs on your marketing efforts across Facebook, Twitter, and Google+. Apart from automating the posting procedures, you get to discover stuff that your target audiences are responding to, plus track the overall progress of your posts.
Then content marketing optimization functions are built to enhance your content's value and engagement. Semrush provides tools for researching trending topics plus their corresponding keywords.
That said, SEO tracking and analysis is undoubtedly the most critical function here. And yes, Semrush features both paid and organic channels. It seeks to help users discover relevant strategies, build ads, monitor their search engine ranking, plus audit their sites' SEO structure (technical SEO).
Moz Marketing Tools
Technically, the Moz tool has been around longer than the Semrush tool, considering it started back in 2004. At that time, however, it was known as SEOmoz, and it only existed as a blog for sharing search engine optimization tips and keyword ideas.
Interestingly, the first SEO software product by Moz was introduced around the same time that Semrush was launched. So, I bet we could say that both companies have dealt with SEO software solutions for pretty much the same amount of time.
And what solutions are we talking about?
Well, just like Semrush, Moz also happens to be a couple of things in one system. It's a platform that basically provides a wide range of digital tools for SEO and local marketing (Moz Local is really marketed as a separate product to Moz Pro)- rank tracking (keyword tracking), keyword research, link building analysis, website auditing (site audit tool), on-page optimization, and performance reporting.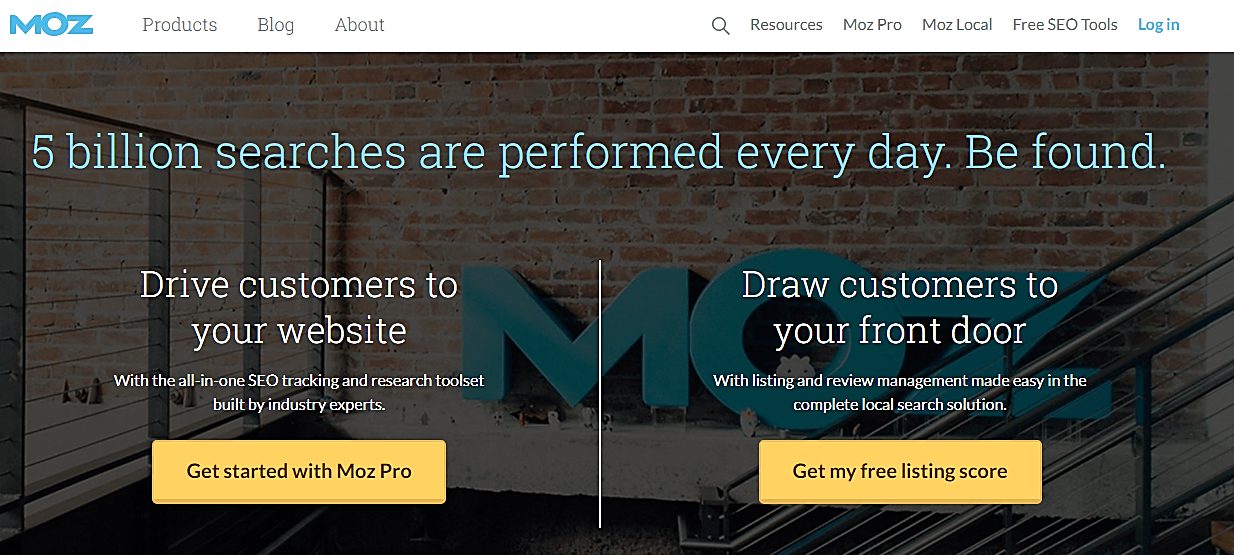 ---
On the ranking front, Moz can track your site and its rivals' weekly ranking on Yahoo, Bing, plus Google. Combined, you get to view positions according to various keywords across more than 200 countries. As a matter of fact, you can segment that further to monitor keywords by labels, marketing campaigns, and locations.
Speaking of keywords, Moz provides several notable keyword research functionalities. Its keyword explorer can evaluate a wide range of factors to generate informative insights on possible opportunities (related keyword targets). You get to capitalize on metrics like search volume to vet keywords accordingly.
Closely related to thank is the Link Explorer – also called Open Site Explorer -, which is built to boost the scope of your site's backlinks as a backlink analysis tool. It assesses your competitors' backlinks and then goes ahead to keep an eye out for developing linking opportunities (link building). based on their changing number of backlinks over time
When it comes to page optimization, Moz has been engineered to maximize your web page's potential for ranking well on search engines. It audits your content, then generates relevant suggestions on how you can improve it accordingly.
Now, to complement everything all together, the Moz suite also features a site crawler. It scans every corner of your web pages to identify possible issues that might be affecting your overall SEO performance.
Verdict
At first, Semrush and Moz might seem like one and the same thing. They are all dynamic suites that come with an array of tools for tracking, enhancing, auditing and managing your site's digital marketing strategies, as well as gaining insights about your competitors' progress.
More specifically, Semrush and Moz have both been developed to offer in-depth reporting, webpage optimization, site crawling and diagnostics, link analysis tool, SERP rank tracker, and keyword research.
All in all, each of them seems like a robust well-provisioned SEO software. It'd be difficult to make an informed judgment at this level. So, let's go deeper into their primary functions to compare them comprehensively.
---
2. Dashboard Features
Semrush
Semrush doesn't waste time forcing you to navigate through its tabs if you want to view the primary metrics. It goes straight to the point immediately you log in.
From its dashboard overview, you can get a good feel of how your overall search engine optimization efforts are performing. This is shown through its KPIs for organic search, paid search, monitor backlinks (backlink analysis), and display advertising- which are organized into panels.
---
The upper panel deals with the figures. The rounded traffic numbers for both paid and organic search are exceptionally bold, with smaller percentage indicators in their side showing the fraction of visitors you've gained. Then below them are metrics for their individual keyword count plus the corresponding costs.
Over to the left of the upper panel, you get the figures for your backlink data (backlink analysis and link building change detection) and display ads.
The backlink profile part indicates the total amount of your site's backlinks, then proceeds to let you know how many domains and pages are redirecting traffic to your pages. The display ad part, on the other hand, reveals the sum of the ads you're running and the percentage that has directed traffic. In addition to that, you also get to view the number of publishers and advertisers.
So far so good. From that alone, you should be able to judge how your site is progressing. And to make it even easier, the mid-panel features indicative visuals for quick interpretation.
On the left are charts that display countries where your paid and organic keyword traffic is coming from, along with their respective relative shares. Then next to that is a graph that combines both paid and organic metrics on a single plane. You can switch between various time periods to compare them holistically.
And that's not all. The subsequent panels supplement that with additional information like branded search traffic trend line, brand vs. non-brand breakdown, a competitive positioning map, main organic competitors, organic position distribution, and top organic keywords.
ALL of this is extremely helpful for developing a thorough site audit and keyword planner strategy.
Right off the bat, you'll notice Moz takes quite a similar approach as Semrush. It generates a collection of the principal KPIs as soon as you log into the system.
Now, don't get me wrong. Although they are admittedly performance analytics (Moz analytics), the actual metrics displayed are somewhat different compared to what we've seen on Semrush.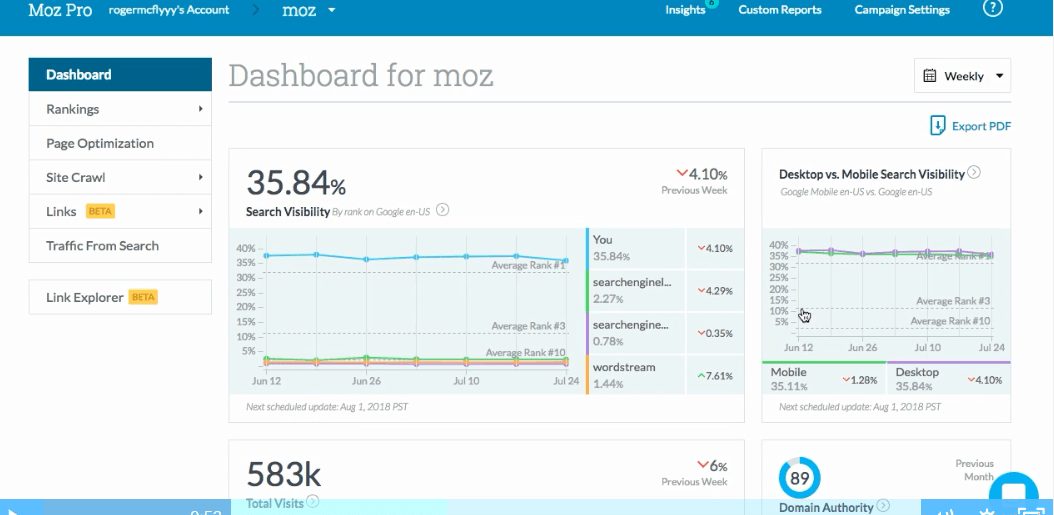 ---
Two exceptionally outstanding indicators here are Domain Authority and Page Authority, which are both proprietary to Moz. They are basically 1-100 values that are used to gauge your site's and pages' ranking on SERPs.
On the same upper panel, you also get a Search Visibility graph plus a section that compares your traffic numbers against your competitors'. Search visibility is simply a visual indicator of the site's organic ranking over time.
Below that panel are more sections for top-performing local and national keywords, along with their respective rankings plus external links. You can also view brief insights about your competitors' keyword ranking. All this information is displayed in either monthly or weekly time frames.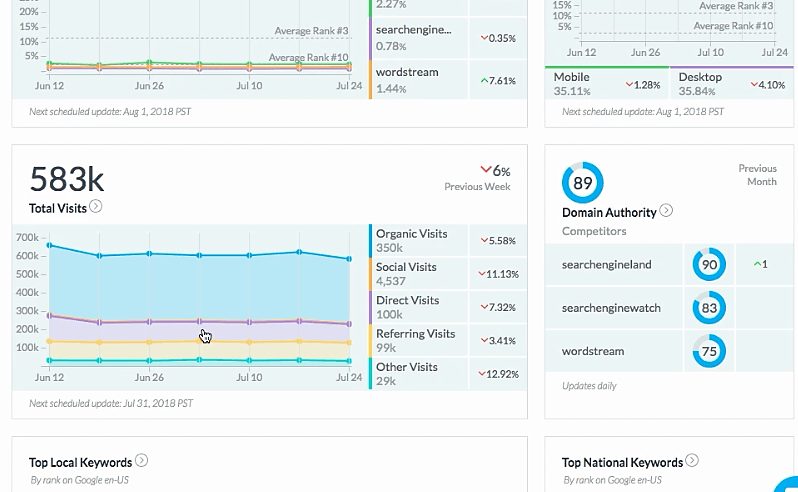 ---
My favorite part, however, has got to be the Total Visits section, which displays a comparative graph with various traffic sources. Apart from tracking the cumulative traffic hits, you'll be able to tell the relative share of organic visits, social visits, direct visits, referring visits, as well as other miscellaneous sources.
Verdict
It's admirable that Semrush and Moz will provide you with critical KPIs immediately you land on the dashboard. Although the actual metrics come with different labels on each of the platforms, they provide more or less the same insights. You get to assess the general performance of your website based on its traffic numbers, traffic sources, backlink checker, ranking by various keywords, and the competitors' trends.
It's also worth noting that Semrush and Moz feature graphs alongside the figures to simplify interpretation.
When we compare them by the amount of information, however, you find that Semrush's dashboard provides richer insights than its counterpart and that alone is enough to make Semrush the winner of this round.
---
3. Site and Competitor Analytics
Semrush
Although Semrush is a lot of things combined, the bulk of it is essentially made up of SEO analytics features. As a matter of fact, you'll notice its Domain Analytics function is listed as a principal tab right next to the Dashboard tab.
So, what does it offer here?
First off, we have the Organic Research section. This is the mother of all SEO metrics functionalities because it provides all the necessary details about your organic keywords.
---
When you hit the Positions subsection, for instance, you'll access search engine metrics for your website's keywords. You'll be able to tell the ranking positions of various keywords, plus the corresponding amount of traffic they've been generating.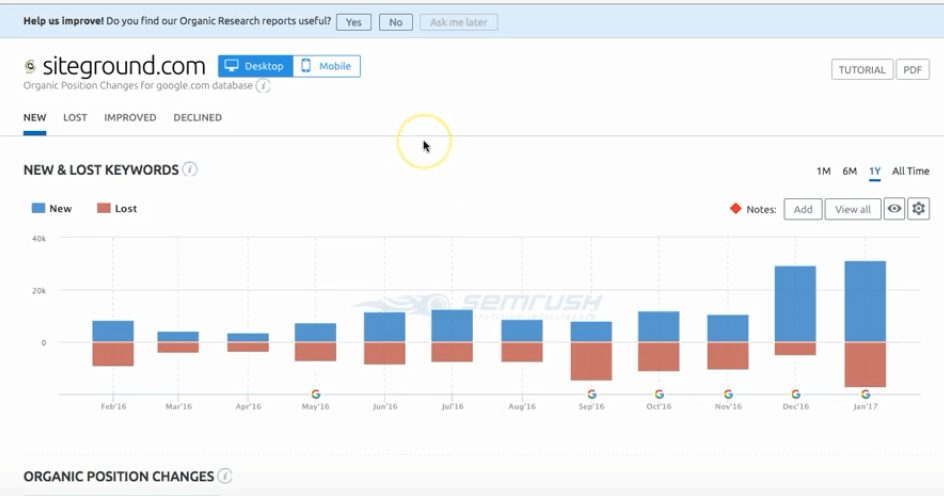 ---
Now, it's understandable that this list might be long. So, to help you organize the information, Semrush provides a decent array of keyword filters. You can tweak different options to zero-in on the chief keywords you'd like to focus on. It's also possible to export them in a suitable format when you need offline copies.
And if you want to follow up on how the keywords positions have been shifting on SERPs, there's the Position Changes option right below the Positions subsection. Semrush tracks all your keywords' performances then reports about how they've been changing their ranking positions over time. And yes, you can adjust the periods to assess them dynamically.
Sounds good. But, this part doesn't tell you who's winning on the SERPs. So, to reveal such information, Semrush goes ahead to do the dirty work for you by tracking other websites ranking on the same keywords. Consequently, you get to identify your primary rivals right from the Competitors subsection. Quite simply, the higher the number of ranking keywords you share with another site, the more it qualifies as a competitor.
Now, moving on, it turns out that Semrush supplements organic research with paid ad research. Its Advertising Research section dives deep into all the crucial details about Google Ads. In essence, it helps you track not only your AdWords campaigns but also keywords that your rival sites are running their paid ads on.
Ok, that sounds enticing. However, you know what's even better for online stores?
Well, Semrush goes beyond that to feature even Google's product listing ads. And the PLA Research section is where it all goes down. This function essentially uncovers keywords your competitors are using for their Google shopping ads.
Closely related to that is the Display Advertising feature, which you'll also find on Semrush. This usually generates intelligence concerning your competitors' displays and banners on third-party sites, as listed by Google AdSense.
And that's not all. Interestingly, Semrush also focuses on videos through its Video Advertising section. It provides valuable insights about video ads and channels your rival sites are leveraging on Youtube.
Well, that sounds good overall. But, guess what? You can also take another approach to assess the whole competition scene more holistically. Semrush comes with a Domain vs. Domain tool for comparing sites based on the performance of their shared keywords.
Now, apart from keywords, Semrush has also invested heavily in tracking the resultant traffic. It seeks to provide complete visibility into all your visitor numbers through its Traffic Analytics. You can capitalize on that to establish not only your total traffic quantity, but also break it down further to find out what individual channel accounts for. In a nutshell, you get to follow up on direct and organic traffic, plus clicks from social media platforms and referrals.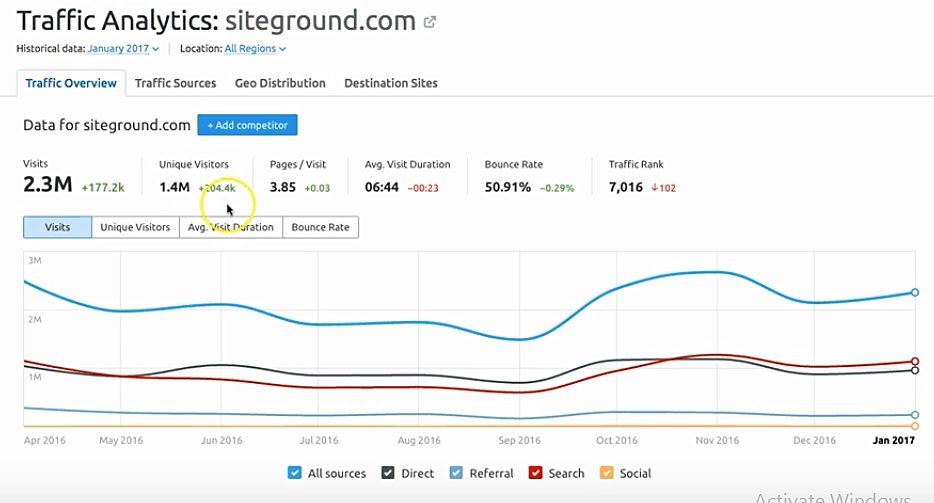 ---
Moz
When we cross over to the other side, you can almost tell right off the bat that Moz is no pushover. It steps up to the challenge and counters Semrush with numerous functions for assessing your site plus its competition.
One of the most crucial metrics here is Search Visibility. It pretty much sums up data about your organic rankings across all your primary keywords, and then it awards a percentage score. Consequently, you'll be able to tell how well your SEO strategy is doing before you proceed to the specifics.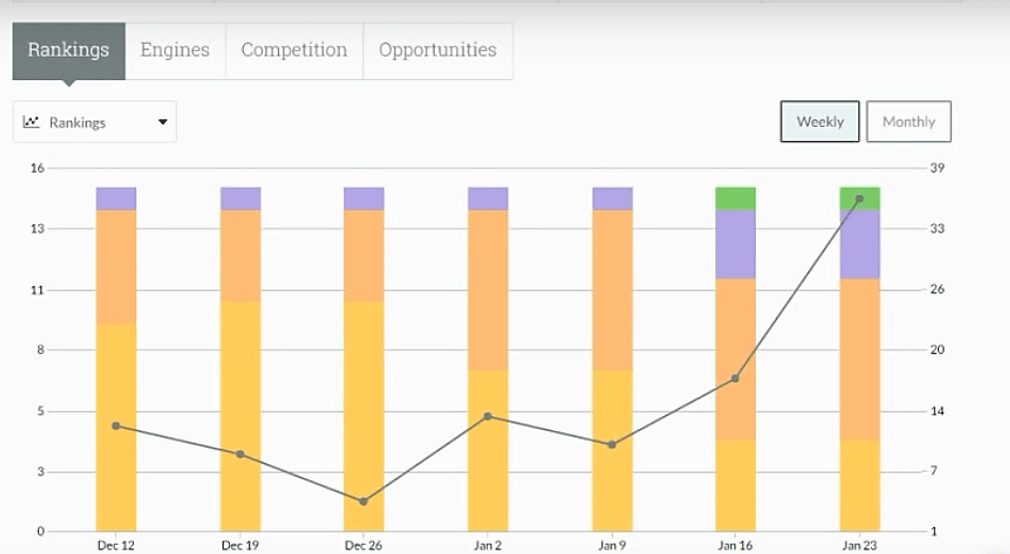 ---
Fair enough. And what does it have in store when we dive deep into the actual analytics?
Well, right below the Dashboard tab is the Rankings option, which is loaded with all the important SERP details. The first thing you'll see is a brief report summary that helps you swiftly digest the main insights.
Apart from the Search Visibility score, it basically shows the number of featured snippets for tracked keywords, the number of keyword rankings that have moved up and down their respective SERPs, plus an overview of the keyword ranking positions.
Now, below all that is the Rankings Chart. This is a visual graph that essentially overlays your organic traffic analytics over the keyword ranking data. You can identify the number of keywords your site has been ranking on, plus their corresponding SERP positions.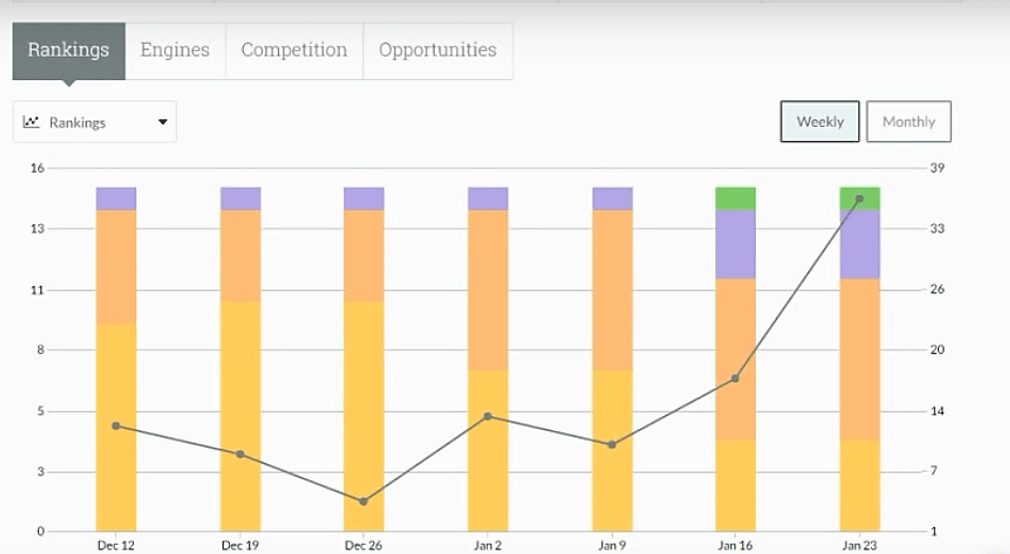 ---
The good thing here is that everything is laid out visually. You can track how your organic traffic has progressed over time through a line graph, while keyword ranking is displayed in bars. It's also possible to filter the keywords to assess various keyword ranking ranges individually
If you'd like to analyze each keyword, simply scroll down past the graph to land on the Tracked Keywords Overview section. It features all your tracked keywords, then proceeds to give info about their respective ranks, monthly volume, the location of focus, and URL.
While Moz can follow up on both national and local ranking, it just so happens that it also handles multiple search engines. You can view ranking metrics for your keywords on up to four search engines.
Speaking of which, Moz also allows you to assess keyword ranking fluctuations between desktop and mobile search engine versions. Comparing them is as simple as accessing the Engines tab positioned right next to the Rankings tab.
And as you continue scrolling around, another prominent tab you'll notice is one labeled Competition. This is where you go to find out how your site stacks up against its competitors. Apart from the keywords, you'll be able to view whether their tracking is national or local, your ranking positions, plus your competitors' ranking.
The Search Visibility graph is particularly handy when it comes to this since it compares your site's organic search visibility with your rivals'.
Verdict
Semrush and Moz are quite dependable when it comes to site analytics. They can track numerous keywords across various search engines, then generate critical insights about their respective ranks. They also follow up on the resultant clicks to help you establish your organic traffic numbers.
Apart from that, both tools come with robust competitor intelligence capabilities. You can identify your main rivals from the number of common keywords, then proceed to keep tabs on their performance over the long haul.
Although Moz is considerably accurate, it's Semrush that wins this round. It has supplemented its organic analytics with details about paid campaigns and videos. You can even identify keywords that your competitors are using on Adwords, AdSense, and so forth.
---
4. Keyword Research and Content Optimization
Semrush
In addition to Domain Analytics, Semrush also comes with a Keyword Analytics tab. This is where you go to research the most appropriate keywords to feature on your website.
From my experience, I'd say the most powerful keyword tool here is what Semrush calls its Keyword Magic Tool. It combines multiple relevant analytics to help you brainstorm high-performing keywords from your seed keyword, including relevant long-tail keywords to add to your keyword list.
The results are subsequently displayed based on keyword factors like search volume, SERP features, CPC, density, and so forth. You can even filter everything by specifying these parameters in addition to word count, excluded keywords, and included keywords.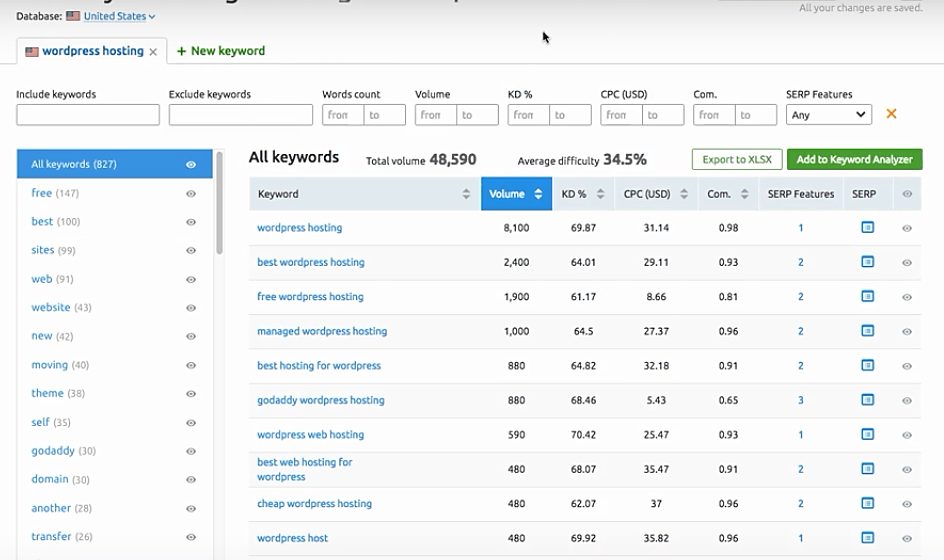 ---
One particularly critical element as you review the resultant suggestions is the keyword difficulty score. This basically indicates the overall competitiveness scale of a specific keyword based on how rival sites are ranking on it.
You'll be able to view all the Keyword Difficulty values right from the Keyword Magic Tool. Otherwise, you can take advantage of the separate Keyword Difficulty tool to directly establish the score for a specific word or phrase.
That said, another powerful tool you'll find on Semrush is the Keyword Overview. By running a keyword through it, you get to find out its trend on search engines, CPC distribution, organic search volume, paid search competitiveness, related keywords, phrase match keywords, and ad history. Such information is quite handy when you're looking for the best LSI keywords to optimize the content on your site.
As you work on that, you can complement your efforts by leveraging Semrush's SEO Content Template. And it's pretty straightforward. Just specify your seed keyword, and the system will immediately come up with an appropriate SEO structure to adopt in your article.
But, how does Semrush even manage to do that?
Well, quite simply, it assesses pieces that rank among the top 10 positions on your seed keyword. From the data, therefore, Semrush recommends the ideal text length, readability score, backlink structure, and semantically related keywords you should focus on (beyond just the anchor text).
Moz
Moz is also a formidable keyword research tool. And just like Semrush offers a magic tool, Moz comes with its own Keyword Explorer. It generates keyword suggestions from the seed word based on metrics like monthly search volume, difficulty, organic CTR, and priority.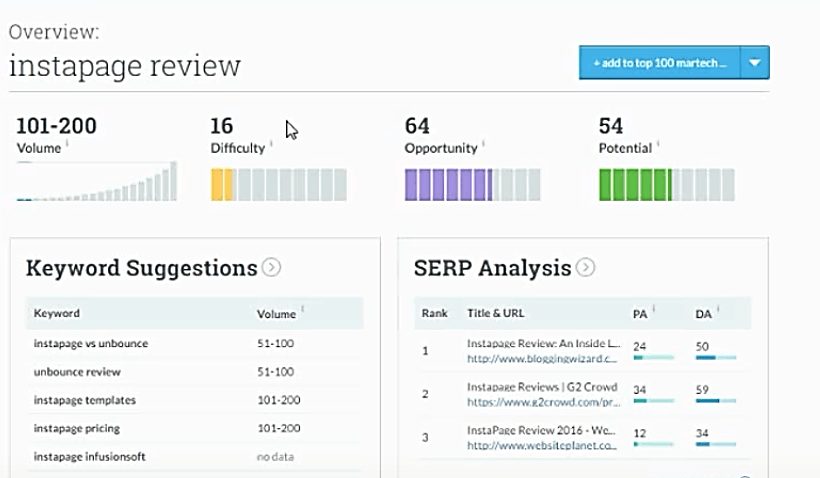 ---
Now, I bet you can guess what volume means. It simply refers to the number of monthly searches conducted on a specific keyword. Thankfully, Moz's analysis has a 90-95% accuracy rate.
That parameter, along with the keyword difficulty value applies to both Semrush and Moz. And yes, the difficulty score here still reflects a keyword's overall competitiveness.
The Organic CTR metric, however, is seemingly unique to Moz. It analyzes various keywords based on the share of organic clicks from the SERPs.
But what does that mean?
Well, if you haven't noticed already, Google doesn't use a constant format for its search results. While some are displayed with numerous distractions like ads, others come with much cleaner SERP display. Consequently, the latter typically attracts higher organic CTR compared to the former.
Now, Moz cumulatively assesses that along with the two other metrics to award a Priority Score for each keyword. Therefore, the higher the score, the better you stand to rank when you adopt a specific keyword.
If you have a hard time organizing the keyword suggestions, you'll be pleased that Moz provides a powerful array of filters. You can set it to factor "a mix of sources", "only include keywords with all query items", "broadly related topics", "closely related topics", etc. You can also create your own score system to sort out the results.
After you've done your research, you can group your chosen suggestions by creating a new list, or adding them to an existing one. This is particularly critical when you need to run multiple campaigns that can be tracked separately.
And speaking of campaigns, you'll probably find the Moz On-Page Grader to be very helpful when it comes to optimizing your site's content. You can run a URL through it to generate the page's optimization report based on 27 different SEO factors. Hence, you'll be able to find out what's hurting its SEO structure, then subsequently tweak the content accordingly.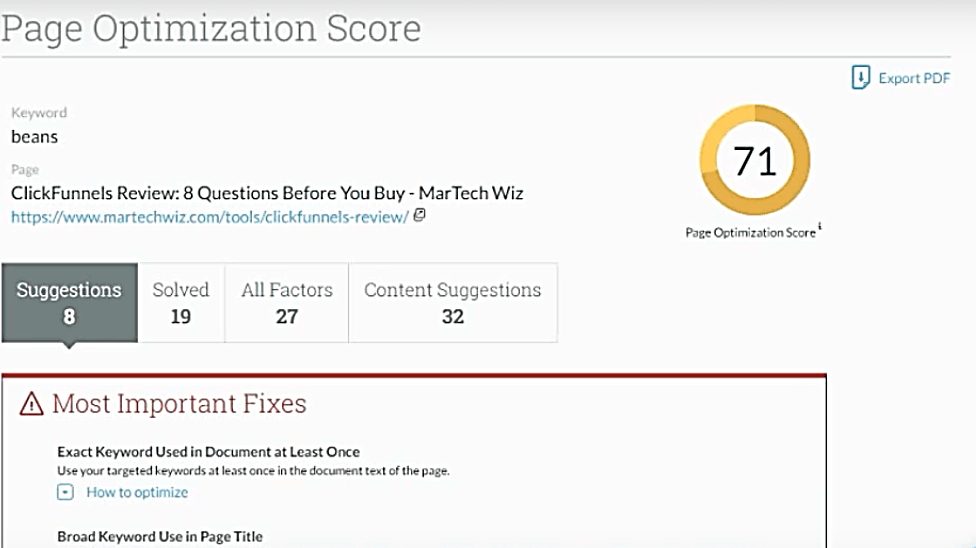 ---
Verdict
Both Semrush and Moz provide powerful keyword research features. While Semrush comes with the dynamic Keyword Magic tool, Moz facilitates extensive research through its Keyword Explorer. Each of them is capable of generating a solid list of keyword suggestions, complete with relevant metrics like search volume and general keyword difficulty. It's also possible to filter the results by such parameters.
Although each has its own distinct methodology, we can also agree that Semrush and Moz have effective content optimization features.
All things considered, therefore, it's a tie between the two when it comes to keyword research (pros and cons to each).
---
5. Pricing
Semrush Pricing
There are four different optional packages for Semrush users:
---
Semrush Pro – $99.95/month.
5 scheduled PDF reports
Standard features
Crawls through 100,000 web pages
Tracks up to 500 keywords
5 projects
3,000 daily reports
10,000 results per report
Semrush Guru – $191.62/month for annual prepay subscribers.
Branded PDF reports
All-Pro features
Standard features
Historical data
20 scheduled PDF reports
Crawls through 300,000 web pages
Tracks up to 1500 keywords
50 projects
5,000 daily reports
30,000 results per report
Semrush Business – $375.95/month.
Product listing ads
All Guru features
Standard features
Historical data
Branded PDF reports
50 scheduled PDF reports
Crawls through 1,000,000 web pages
Tracks up to 5,000 keywords
200 projects
10,000 daily reports
50,000 results per report
Semrush Enterprise – Custom package
Unlimited site crawling
Standard features
On-site training
Custom keyword databases
Custom limits
---
Semrush has generously offered our readers a double extended fully featured FREE TRIAL. Play around with the suite for 2 full weeks to see if it's what you need!
We earn a commission if you click this link and make a purchase at no additional cost to you.
Moz
Moz Pro users also get four different subscription plans: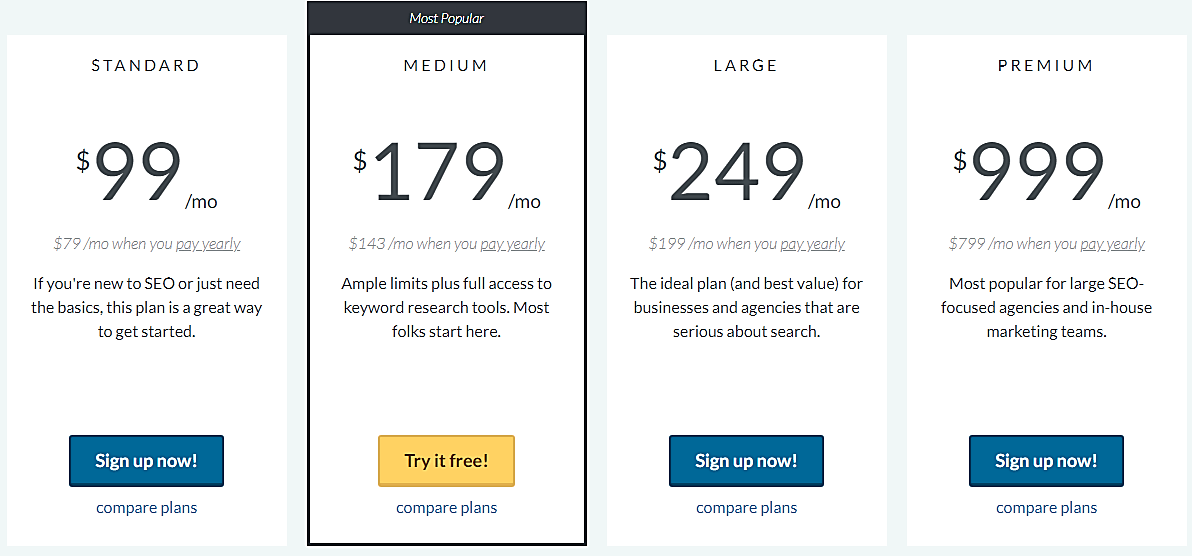 Standard- $99/month, or $79/month for annual subscribers
24/7 online help
One-on-one product walkthrough
2 users
5 keyword reports per day
100,000 crawled page per week
300 tracked keyword rankings
5 campaigns
Medium– $179/month, or $143/month for annual subscribers
24/7 online help
One-on-one product walkthrough
10 users
30 keyword lists
5,000 keyword reports per month
Branded reports
Instant site recrawl
500,000 crawled page per week
750 tracked keyword rankings
10 campaigns
Large– $249/month, or $199/month for annual subscribers
24/7 online help
One-on-one product walkthrough
25 users
60 keyword lists
15,000 keyword reports per month
Branded reports
Instant site recrawl
1,250,000 crawled page per week
1900 tracked keyword rankings
25 campaigns
Premium– $999/month, or $799/month for annual subscribers
Dedicated account manager
24/7 online help
One-on-one product walkthrough
Unlimited users
100 keyword lists
30,000 keyword reports per month
Branded reports
Speed crawl
Instant site recrawl
5,000,000 crawled page per week
7,500 tracked keyword rankings
100 campaigns
Semrush vs Moz: Summary
Overview

Semrush is a digital marketing management toolkit developed for insights, research, auditing, and tracking. Combined, its tools seek to facilitate competitive intelligence, social media tracking, content optimization, paid ads insight, and SEO research.

Moz is a software suite that offers an array of functionalities for enhancing and managing local marketing and SEO. Its tools have been engineered for rank tracking, keyword research, link analysis, website auditing, page optimization, and performance reporting.

Compared, they are both toolkits with provisions for monitoring, optimizing, examining and organizing your site's digital marketing framework, plus generating valuable competitive intelligence.

Dashboard

Both Semrush and Moz's dashboards show the primary KPIs to grant visibility into your website's overall advancement in terms of its visitor numbers, traffic sources, backlinks, keyword ranking, and competitors' progress.

Both Semrush and Moz display multi-colored figures and graphs for easy interpretation.

Semrush's dashboard generates more info than Moz, consequently making it the winner.

Site and Competitor Analytics

Semrush and Moz are can analyze the ranking and organic traffic performance of various keywords on multiple search engines.

Both tools provide a wide array of insights about rival sites. They reveal competitors then track their organic performance.

While Moz is admirably accurate, Semrush wins the Analytics contest owing to its additional paid ad tracking features.

Keyword Research and Content Optimization

Semrush provides the Keyword Magic tool.

Moz comes with the Keyword Explorer.

Both tools are effective keyword researchers with accurate keyword metrics.

Users can sort out the keyword suggestions based on various parameters.

Semrush and Moz can come up with recommendations for optimizing site content.

They tie in keyword research and content optimization.
Bottom Line Up Front: My high level take is the better all-around SEO suite for most users is definitely Semrush here. That said, Moz is a decent option to consider if you are a large agency. Other than that Semrush just has more features that are more usable, user-friendly, better priced and up to date.

You can try Semrush completely FREE for 7 days with this link!
---
Frequently Asked Questions about Semrush & Moz:
Is Semrush good for small businesses?
Yes, Semrush is good for small businesses, and you can use a free trial to start up your business and find out the perfect SEO strategy that will work for you.
Can Semrush easily show me keywords that have organic clicks?
Yes, Semrush will easily show you the keywords that have organic clicks and you will be able to attract more audiences in a natural way.
Is Moz or Semrush better?
Moz and Semrush are both good, but clearly, Semrush wins because it provides not only SEO data to the customer but also PPC as well, and also, Semrush provides better keyword research and backlinking options.
I use a LOT of tools, but there's only one that is truly indispensable: Semrush. I use it to analyze my website in every aspect. Keyword searches, technical audits, competitor analysis? It does it all. Try it out for free!
It's Your Turn Now!
Click on the Blue Button below and Get Started: