---
GreenGeeks — Overview
GreenGeeks was founded in 2008 by Trey Gardner, and they've now shot up to hosting over 300,000 websites (with data centers in the U.S., Canada, and the Netherlands).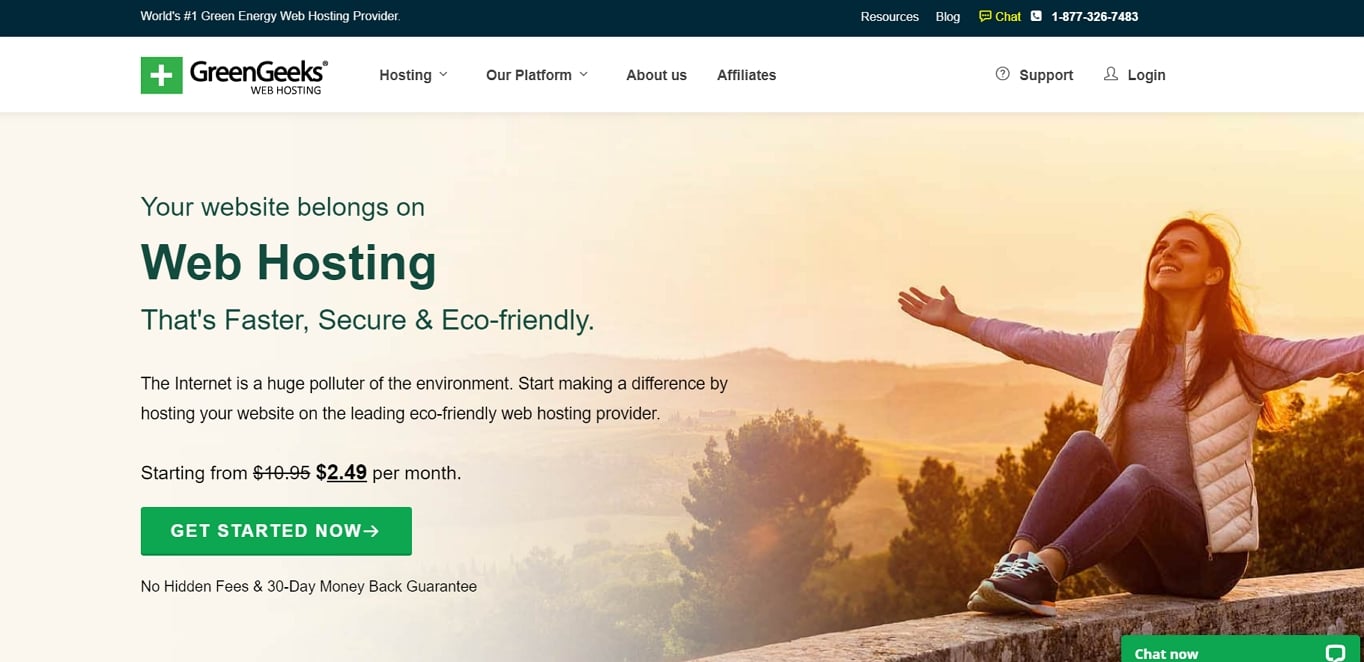 Trey's background is important, as he's worked with eight different web hosting companies, including WP Engine, InterServer, BlueHost, HostGator, Kinsta, A2 Hosting, LiquidWeb, and now GreenGeeks.
On their website, GreenGeeks goes on to make two bold claims:
99.9% uptime
100% customer satisfaction
So what's the verdict? Do they have excellent, wind-powered uptime and support? Or are their promotional claims just full of hot air?
To see for ourselves, we purchased the GreenGeeks 'Shared Plan' and set up a basic WordPress test website to run performance tests for over 12 months.
Read on to find out if GreenGeeks got our recommendation.
GreenGeeks In-Depth
*swipe to the side if you are on a mobile device ↓
| | |
| --- | --- |
| | |
| | 451 ms (December 2019 to November 2020) |
| | 99.95% (December 2019 to November 2020) |
| | |
| | WordPress, Joomla, PrestaShop, and WHMCS |
| | Unlimited bandwidth, storage, and email accounts, free domain 1st year, backups, free SSL |
| | Shared, WordPress, and Reseller |
| | Single Free Site Transfer |
| | Starting at $2.49/mo (renews at $10.95/mo) |
---
Pros of Using GreenGeeks Hosting
GreenGeeks has a lot of good things going for them. This includes solid uptime, support, and important mission-driven service. Here are the details:
1. Solid Uptime Performance
GreenGeeks has made the bold claim of guaranteed 99.90% uptime.
Have they been able to live up to that claim?
Yes. Our in-depth, 12-month analysis backs this up, showing an average uptime of 99.95%.
During the 12 months of tracking, GreenGeeks had a total of only a bit over four hours of downtime (and 113 outages).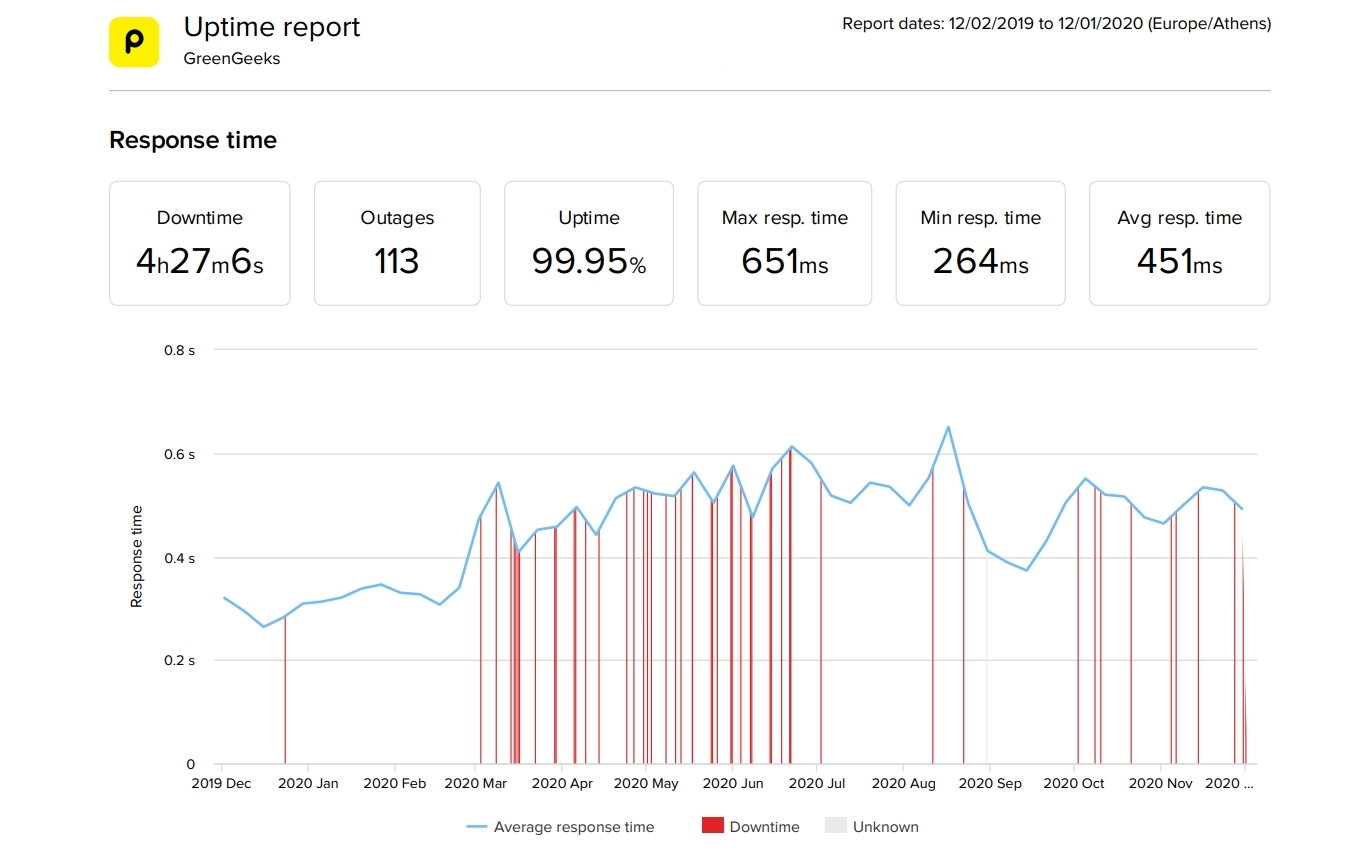 Last 12-month average uptime:
September-2022: 99.94%
August-2022: 99.90%
July-2022: 100%
June-2022: 100%
May-2022: 99.99%
April-2022: 99.99%
March-2022: 99.99%
February-2022: 100%
January-2022: 99.96%
December-2021: 100%
November-2021: 99.78%
October-2021: 99.85%
2. Good Page Loading Time (451 ms)
We also tested GreenGeeks' page load times during our 12-month review process.
Their speed is better than the industry average, clocking in around 451 ms.
Even though GreenGeeks' speed has gone slower over the year, it's still fast enough to get our thumbs up.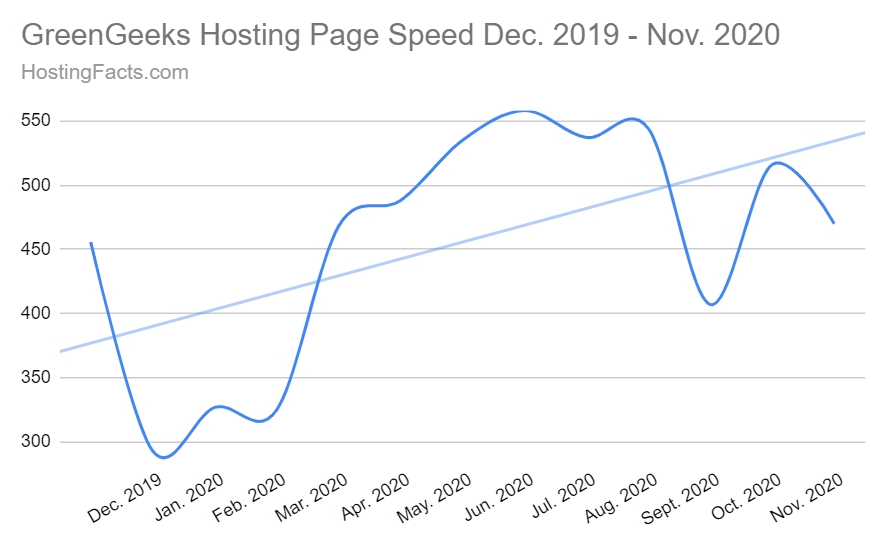 3. Good Support with Quick Answers
Customer support was the final 'big' element to review.
We tested out GreenGeeks' live chat and were connected to a customer support agent within a minute, who then answered questions quickly and concisely.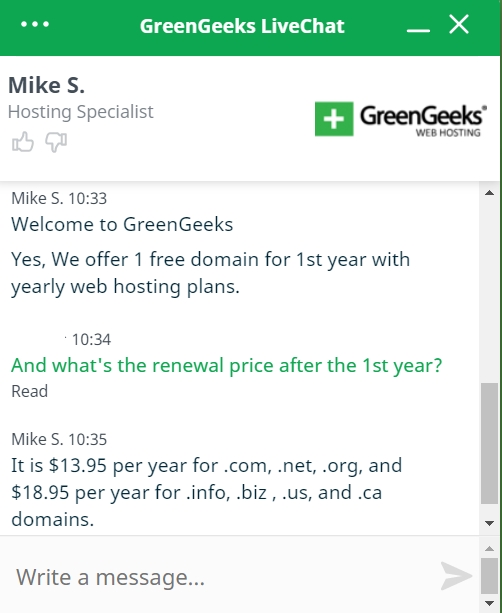 ---
GreenGeeks also has an extensive knowledge base where users can search for answers to their questions.
That's a great perk if you prefer self-help over asking a customer service representative for assistance.
GreenGeeks has a ton of different article categories and subcategories to select from, including sales questions, general hosting, reseller hosting, VPS hosting, billing questions, video tutorials, and more.
You can use the search bar in case you can't find your solution within the above-mentioned categories.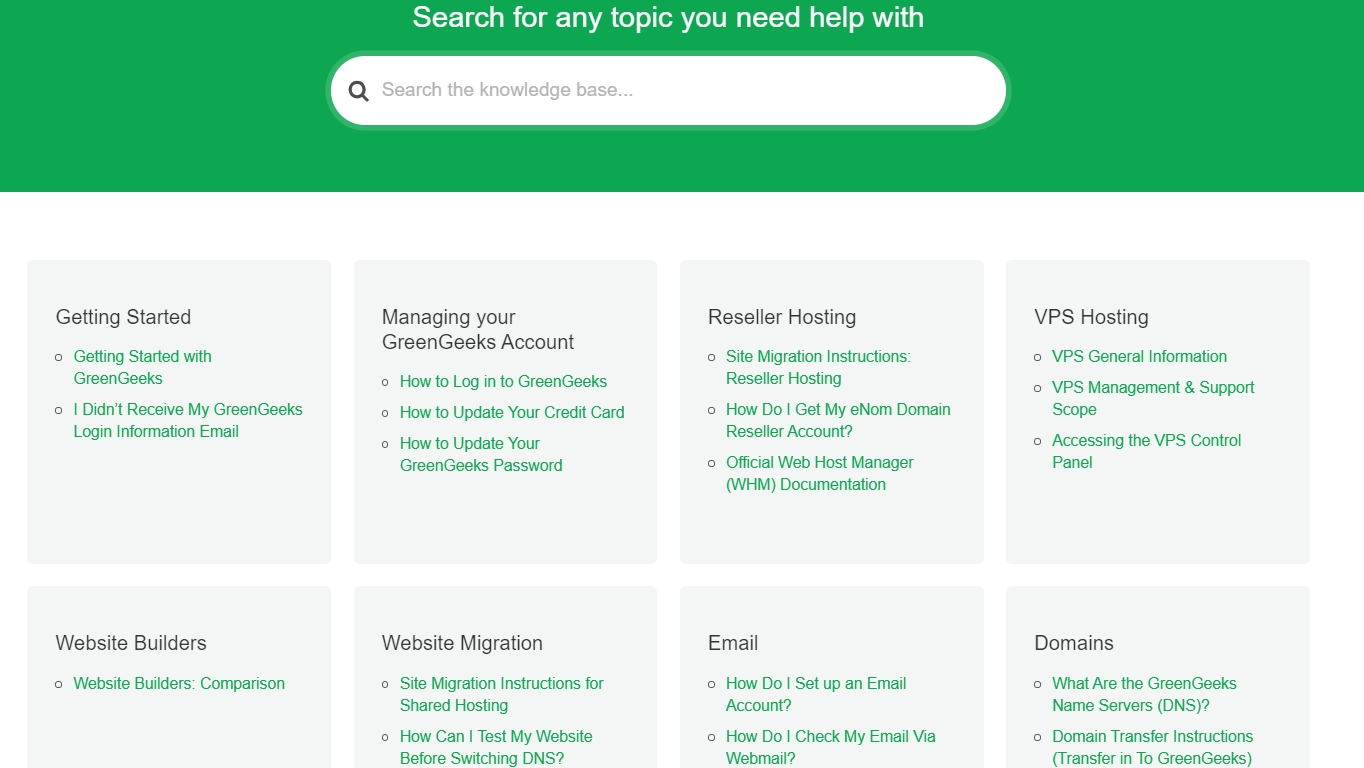 ---
That way, you always have access to the help you need, even if GreenGeeks' live chat feature is offline for some reason.
Besides live chat and knowledge base, GreenGeeks also have phone support.
4. Free Domain Name & Website Migration
GreenGeeks offers free domain name registration and transfer. If you get your domain name through them, they will keep it free for as long as you use their services – kind of. See the Cons section for the details.
However, it's also worth mentioning that the domain name is free for the first year only. After that you'd have to pay the renewal price, starting from $13.95 per year for .com, .net, .org domains.
If your website is already hosted elsewhere, they can help you transfer your site to their servers for free.
5. Environment-Friendly
GreenGeeks claims to be – well – green. What does that mean exactly?
Here's how they explain it:
GreenGeeks will purchase 3 times the wind energy credits to make up for the energy used by their services to power your website.
They replace more than 615,000 kWh a year. To put that in perspective, the average American consumes 12,000 kWh of electricity per year.
GreenGeeks is a recognized Green Power Partner with the United States Environmental Protection Agency (EPA), too.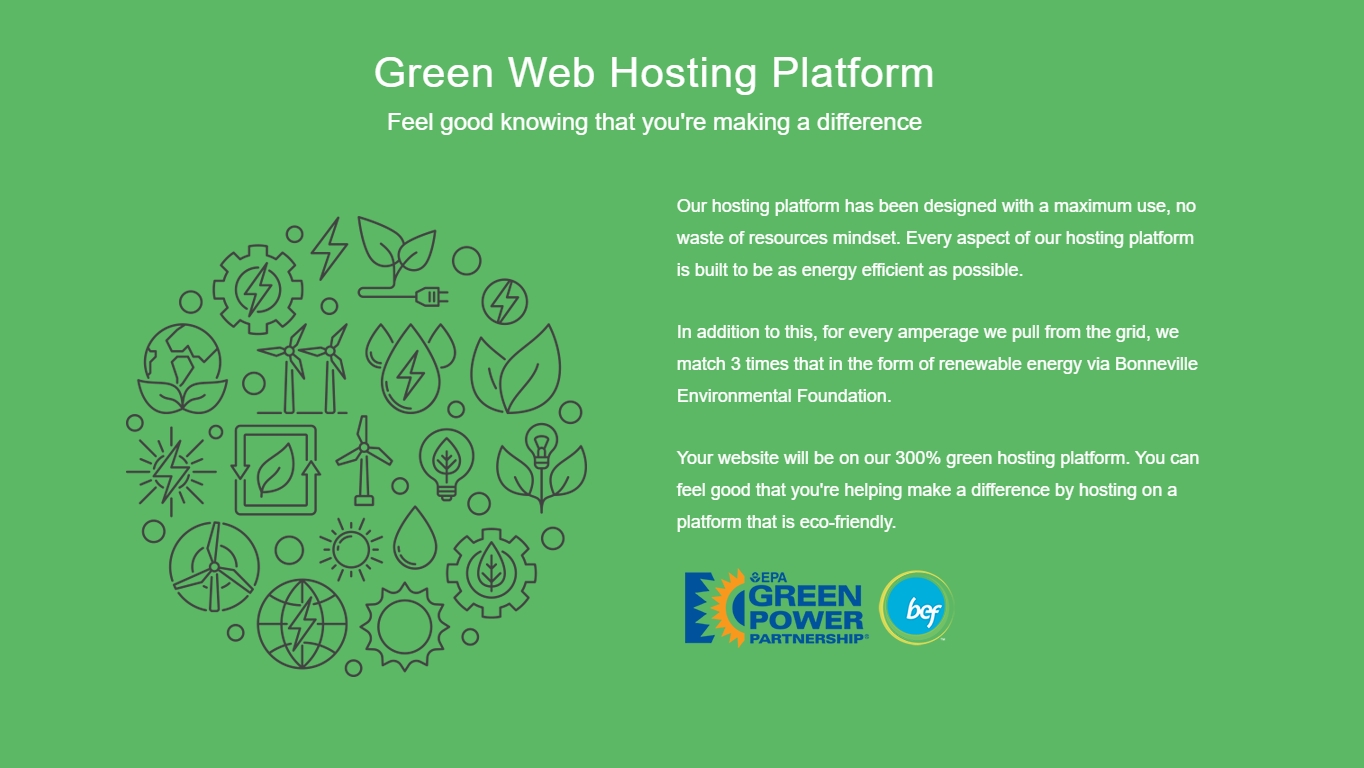 ---
6. 30-Day Money-Back Guarantee
If you're unhappy with moving over to GreenGeeks, they have a full 30-day, 'no-questions-asked' money-back guarantee on most hosting plans.
There are a few exceptions, though. Read more in the Cons section.
7. Nightly Backups
Sometimes, bad things happen.
Maybe it's self-inflicted, or it could be someone with malicious intent trying to hack their way in. Regardless, GreenGeeks provides free nightly backups (in addition to SSH access). This way, you can sleep soundly, knowing that even if something goes wrong, your data is backed up regularly.
For additional security measures, they also offer real-time security scanning, automatic brute force detection, Spam Assassin protection, SSL secure server, and the ability to password-protect your directories.
8. Multiple High-Quality Server Locations
GreenGeeks offers data centers in four locations:
Chicago, US
Phoenix, US
Montreal, CA
Amsterdam, NL
Choosing the right server location can have a huge, positive impact on your website's SEO. Plus, if you pick a server closer to you, you'll experience faster speeds.
GreenGeeks also promises customers that they will keep servers up to date with the following specifications:
Never oversold
Gigabit Connectivity
Minimum of 64 GB DDR3 ECC-Registered Memory
No desktop hardware whatsoever
BGP4 Gigabit connectivity to several Fiber GigE Tier 1 Backbones
Name brand server parts
RAID-10 SSD Storage Arrays to give you maximum performance & redundancy
Solid State Drive (SSD) Acceleration
So you can be sure with GreenGeeks that your data is stored on high-quality, state-of-the-art servers.
9. Free CDN
Everyone interacts with a Content Delivery Network (CDN) on a daily basis if they browse the web, whether they're looking at news sites, social media pages, or shopping online.
GreenGeeks offers a CDN to users that are powered by Cloudflare. That's great news for your site optimization, especially if you've got a global reach.
The best part? It's absolutely free.
Cloudflare allows users to cache content and use servers closest to website visitors to get it delivered. As a result, web surfing is much faster for those who come to your website.
Cons of GreenGeeks:
Unfortunately, all that glitters is not gold.
Despite all of the upsides to GreenGeeks, there are a few things you should be aware of before making a final decision.
Industry-Standard Pricing (Higher Renewals)
GreenGeeks follows the tried-and-true industry-standard practice of advertising a very low monthly rate of $2.49 on their website, only for you to find out that you actually have to sign up for three years in advance to get it.
Otherwise, if you want to pay monthly, it'll set you back by $10.95 each month.
---
GreenGeeks Pricing, Hosting Plans & Quick Facts
Here's a quick overview of the shared hosting plans offered by GreenGeeks:
WordPress Hosting: Their WordPress hosting is basically the same as their shared hosting plan, but it seems to be especially enhanced for WordPress. We haven't tested it yet but will do it soon.
Quick Facts
Free domain? Yes.
Ease of Signup: Easy signup process.
Money-Back: 30-days money-back guarantee.
Hidden Fees and Clauses: Your account must not use more than 100 percent of 1 CPU core and/or 1GB memory, or 20 concurrent connections, or 75,0000 files, or you will risk account suspension. If a due invoice is not paid within four days, your account will be suspended and you will need to pay a reactivation fee of $15 to have your account back online.
Upsells: No upsells.
Account Activation: Quick account activation.
Control Panel and Dashboard Experience: cPanel.
Installation of Apps and CMSs (WordPress, Joomla, etc.): 1-click install tool to easily install popular apps and CMSs.
Do We Recommend GreenGeeks?
Yes, we do.
GreenGeeks has a bigger mission than just simply providing web hosting, and we like that.
They're not necessarily the best we've seen, but they do provide solid speed, uptime, and good customer support.
For those reasons, you should consider giving them a look.
Just be aware that you'll need to sign up for the long-term if you'd like their lowest rate. And that your 'free domain' and 'money-back guarantee' might not be so iron-clad if you decide to ask for a refund.
It's Your Turn Now!
Click on the blue button to get started or check out our Top 5 Hosting Providers below:
---
Our Top 5 Hosting Providers:
| | | |
| --- | --- | --- |
| | | |
| | | |
| | | |
| | | |
| | | |
*swipe to the side if you are on a mobile device ↑