---
What is Builderall?
Builderall is an all-in-one web design and digital marketing platform that will enable you to create and grow an online business. Whether you are an entrepreneur just beginning a business venture, a startup or small business, or a company looking to grow on a global scale, Builderall has the tools you need for online success.
In this Builderall review, we discuss in-depth the features Builderall has to offer and look at how to get this advanced solution quickly up and running. By the end of the reading, you will know whether Builderall is the best fit for your next project. Let's get started…
Builderall — Overview
Whatever your business idea, Builderall can help you bring it to life with its complete online business builder and marketing platform. Builderall boasts it contains all the tools and features you need to create a successful business, so you won't have to look anywhere other than the Builderall platform.
So what can you do with Builderall? …
Build Websites and Blogs
Run eCommerce Stores
Design and Sell Learning Courses
Build Membership Sites
Create Videos, eBooks, Webinars, and More
Run Social Media Campaigns and Ads
Create Sales Funnels with Pre-Built Templates
Capture Leads and Send Email Campaigns with the Email Marketing Platform
Split Test Designs and Track Your Analytics
As you can see, by choosing Builderall, you will be able to create and grow your business from one central platform. This will save you time and money researching and investing in a wide assortment of tools that don't necessarily integrate, and that all need to be learned and run separately.
But is Builderall really as impressive as it sounds? Let's now take an in-depth look at its top features to see what exactly it is offering…
1. Builderall Top Features
Builderall is for anyone who wants to create an online business. Whatever your design skills and experience, this intuitive platform, accompanied by its extensive support material, will enable you to quickly design and promote your products or services.
All of the features mentioned below are available on the Builderall Business plan. However, if you are considering either the Web Presence or the Digital Marketing plan, then you need to check which features and tools are available with these packages before making a purchase. (Prices and plans will be covered further on in this article).
So, let's have a look at some of the top features Builderall has to offer…
Dedicated Servers
Builderall provides dedicated local servers to host your websites, sales funnels, videos, webinars, and all other elements you create and publish. The Builderall CDN network also boasts servers in five continents, ensuring fast loading speeds and high uptime.
As Builderall is a hosted solution, all maintenance, security, and backup issues are taken care of for you, so you can focus solely on your business. You can also register up to 15 domains and unlimited bandwidth and visitor numbers are included in each plan.
Drag and Drop Website Builders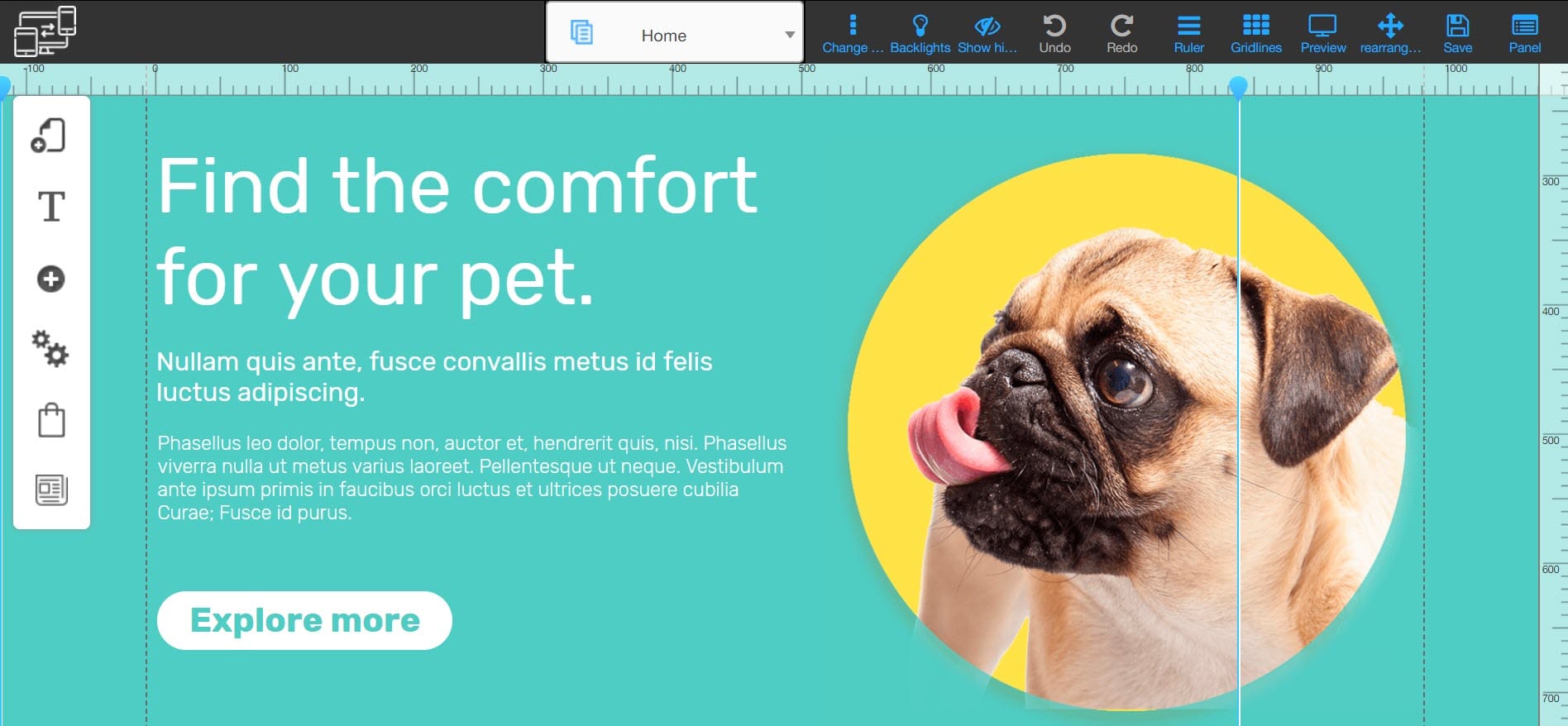 ---
Builderall offers a number of website builders, including…
Drag and Drop Pixel-Perfect Builder
Drag and Drop Responsive Builder
Mobile First Drag and Drop Builder
The Pixel Perfect Builder enables you to create your website in three different formats, so you can control how your site looks on mobile, desktop, and tablet. This gives you control over the appearance of your site across all devices but does mean that you need to spend extra time designing your site's layout for each appliance.
If you would rather design your site once, and let Builderall take care of ensuring your site is responsive on all devices, then you should use the Drag and Drop Responsive Builder. Both Builders work in the same style, allowing users to drag and drop elements around the page, change colors, text, add extra elements, and much more.
The Mobile-First Drag and Drop Builder also provides the same user-friendly experience as the two previously mentioned builders, so you can quickly create your mobile-friendly site without touching a line of code.
Templates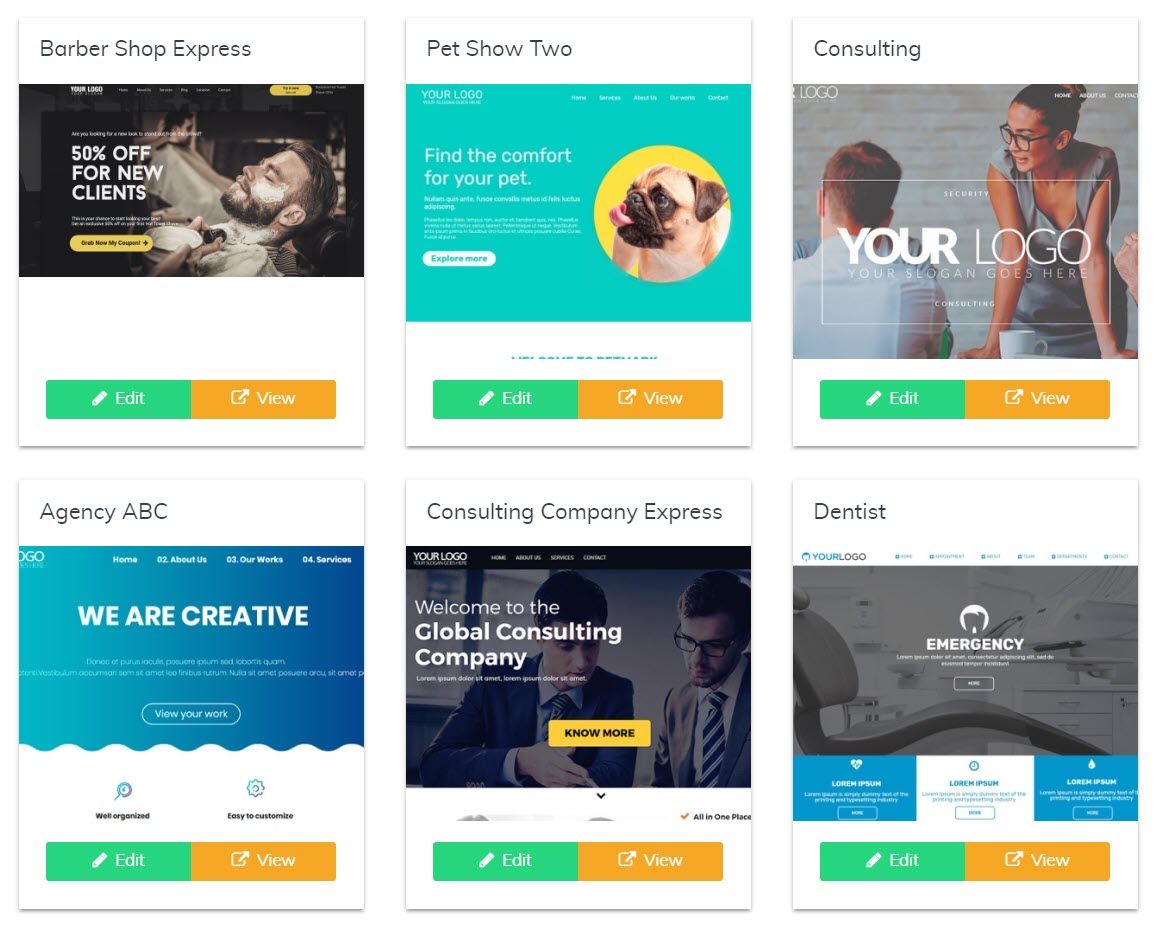 ---
One of the particularly impressive features of Builderall is the huge range of templates that it provides for its users. Whether you are looking to create a whole website, a sales funnel, a standalone landing page, or something else, Builderall provides a selection of beautiful and fully optimized templates that you can use to design your final piece.
Templates also cater to a wide assortment of niches and industries. Categories include…
Events
Music
travel
Health and Beauty
Design Agency
News
Education
Once you have chosen your template, it can then be fully customized within one of the Builderall Builders. These templates provide a great starting point, and can be especially useful for those who either lack web design experience, creativity, or time. Builderall also provides a number of blank templates, enabling users to start their creations from scratch.
Sales Funnels
---
The sales funnel templates are worthy of further mention. These are designed with a sole focus on increasing sales and conversions. Templates come with a variety of options, integrations, and checkout possibilities, including two and three-step checkouts. You can also enable cross and up-selling at checkout too.
Design
Builderall provides a number of design tools and features to ensure your images, videos, and other media and visual elements make an impact. Design tools include…
Design Studio – Create amazing images and videos for your website, products, courses, eBooks, social media, and more.
Photo Studio – Edit your photos, add effects and text, change the size and backgrounds, and more.
Builderall Image Spinner – Create attractive 3D images for your products to help increase sales.
Video Editor – Produce animated videos, add animations, text, and sound, and then publish them on the channels of your choice.
Floating Videos – Grab the attention of your audience with floating videos on your web pages. Simply design your video, install a pixel to the page you want the video to be displayed on, and then let the video run.
As you can see, whatever your design needs, Builderall has the functionality to cater for your project.
eCommerce
Builderall enables you to create your own eCommerce store and sell your products online. Simply add your products in the Builderall Marketplace, and then select your payment and delivery options. You will also find easy access to useful eCommerce features like coupons, pop-ups, a streamlined checkout process, and much more.
You can also then set up an affiliate programme, so other individuals can sell your products for you. Equally, you can use Builderall to set up an affiliate website yourself, simply promoting products and earning commission, instead of dealing with sales.
Also worth a mention is the Builderall Business affiliate programme. Once you sign up on the Builderall Business plan, you can promote Builderall and earn commission from any sales you make.
eLearning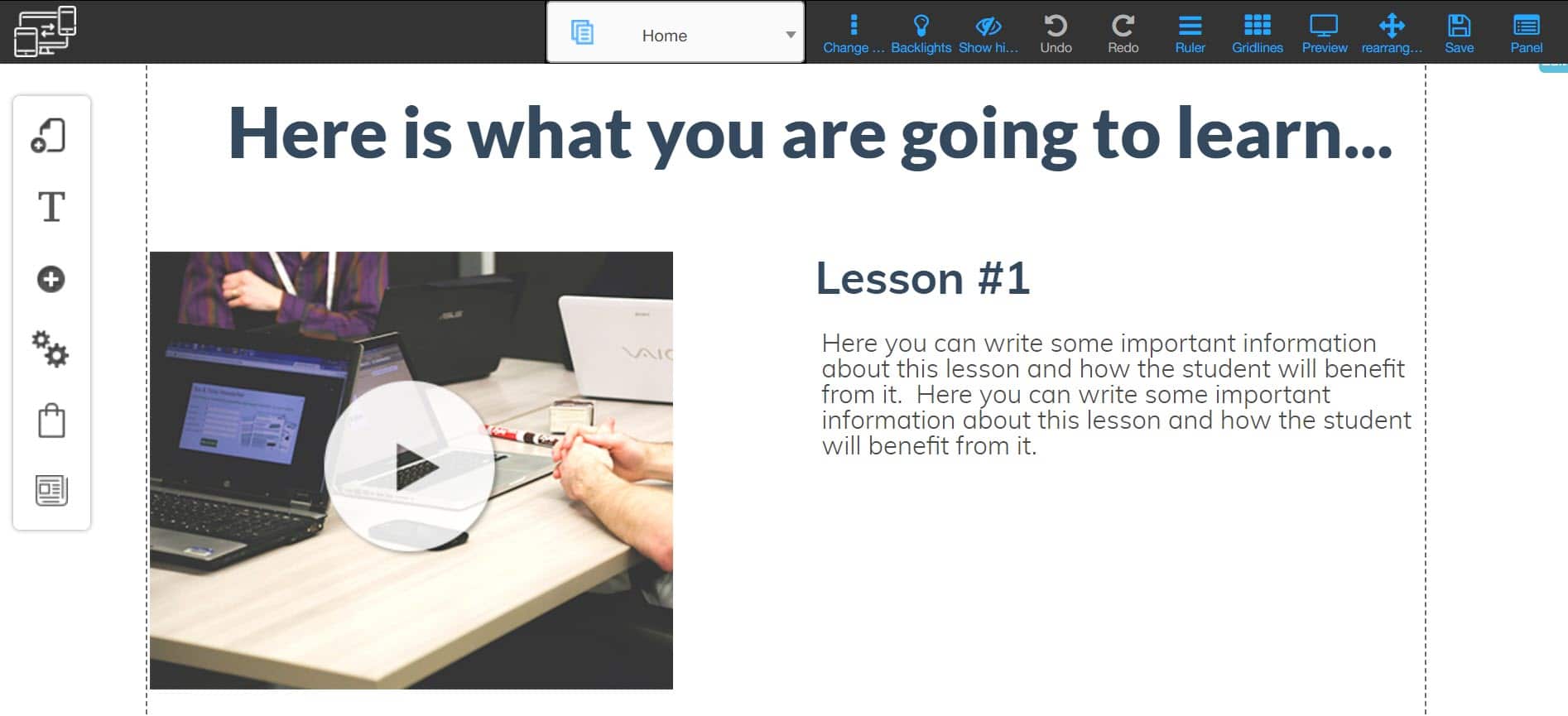 ---
The eLearning app from Builderall is an effective tool that will enable you to create courses and lessons, manage students and teachers, and much more. With the Builderall eLearning platform you can…
Create Videos
Design Quizzes
Upload Course Material
Produce Tests
You can also set triggers, preventing students from jumping ahead and only allowing them access to parts of the course once they have completed previous lessons. Builderall allows you to create and sell an unlimited number of courses and lessons, making it a great choice for those that want to grow their online eLearning business.
Membership Sites
With Builderall you can turn some or all of your website into a membership site. To do so, you simply create a restricted area within one of the Builderall Builders and then configure the registration and login settings to suit your project.
Membership to your site can be free or you can charge a premium. This is an effective way to monetize your website and collect a monthly subscription fee from your members.
Webinars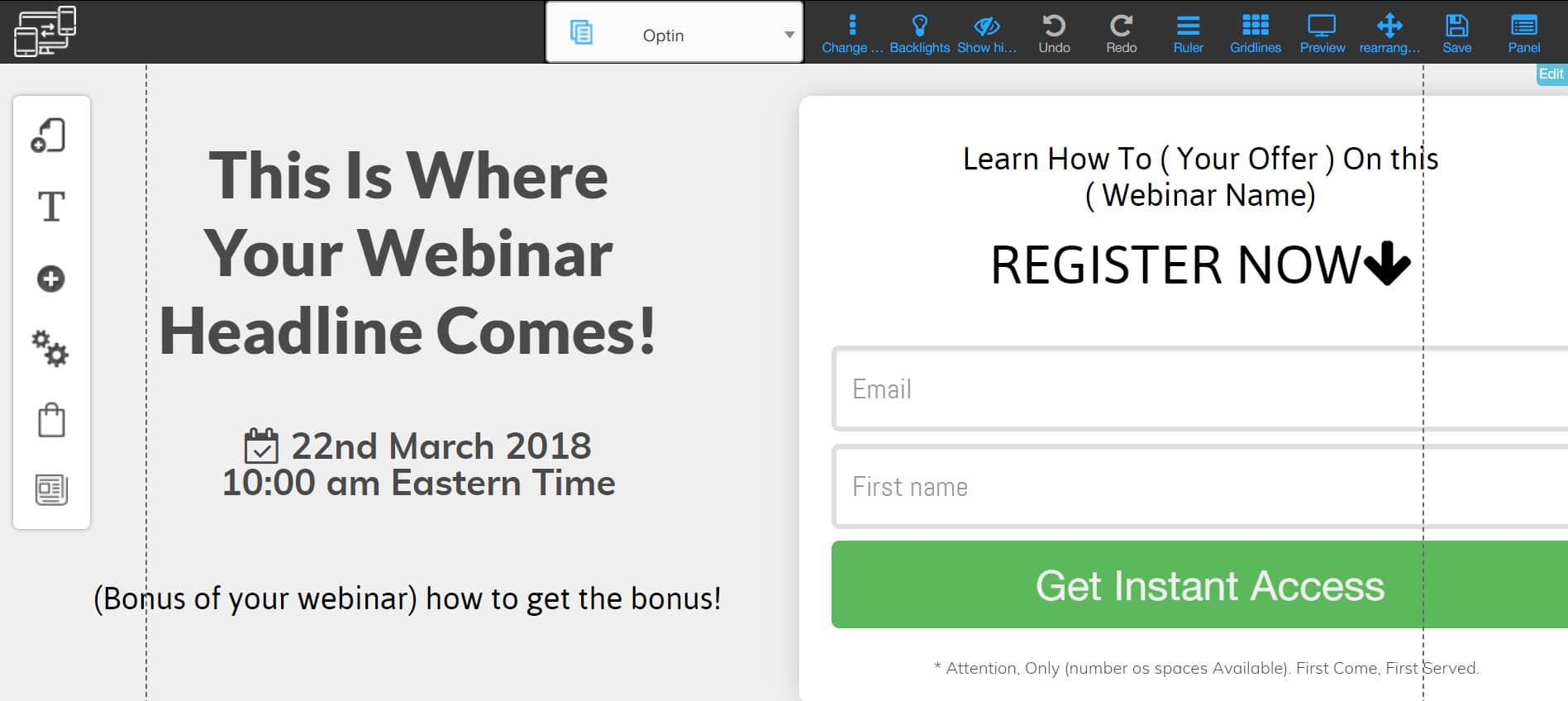 ---
Running webinars can be an extremely successful way of connecting with your target audience and encouraging them to regularly visit your site. Builderall provides a webinar tool, enabling users to create high-quality videos that will engage your audience. Features of the Builderall webinar platform include…
Upload content from your desktop, YouTube, and more.
Schedule webinar start times
Enable chat
Password protect webinars
Monitor webinar statistics
Integrate with Mailing Boss
With a range of video tools available, you will quickly be able to record high-end webinars to promote your products and services, helping to increase sales and conversions.
Email Marketing
Another impressive tool from Builderall is the email marketing autoresponder, named Mailing Boss. Builderall has no limits to email campaigns, allowing you to send unlimited numbers of emails to unlimited numbers of recipients.
So let's have a look at what you can do with Mailing Boss…
Manually add new subscribers
Track new subscribers from your website or landing pages
Create email campaigns
Monitor your campaign statistics and analytics
New campaigns in Mailing Boss are quick and easy to set up and again pre-designed elements and templates are provided to help you design professional and eye-catching emails. You can also target your emails at particular groups of users, helping to personalize the emails your subscribers receive and increase conversions against your campaign goals.
Analytics, Heat Mapping, and Split Testing
Builderall lets you split test your website, landing page, and sales funnel designs. This allows you to find the designs that most appeals to your potential customers and that achieve the highest results.
Builderall also provides a Heat Mapping app, called Click Map. This will enable you to see where your audience has been clicking on each page, helping you understand how your visitors are navigating your site.
Builderall also integrates with Google Analytics to enable you to further monitor and track who your audience is and how they are behaving on and engaging with, your site.
Integrations with Other Platforms
Builderall integrates with a wide assortment of other platforms and tools. These include…
PayPal
Stripe
Shopify
Amazon S3
Cloudinary
Aweber
So whatever your business, you will be able to use the solutions that work best for your project.
Extensive Support Documentation, Community, and Help Options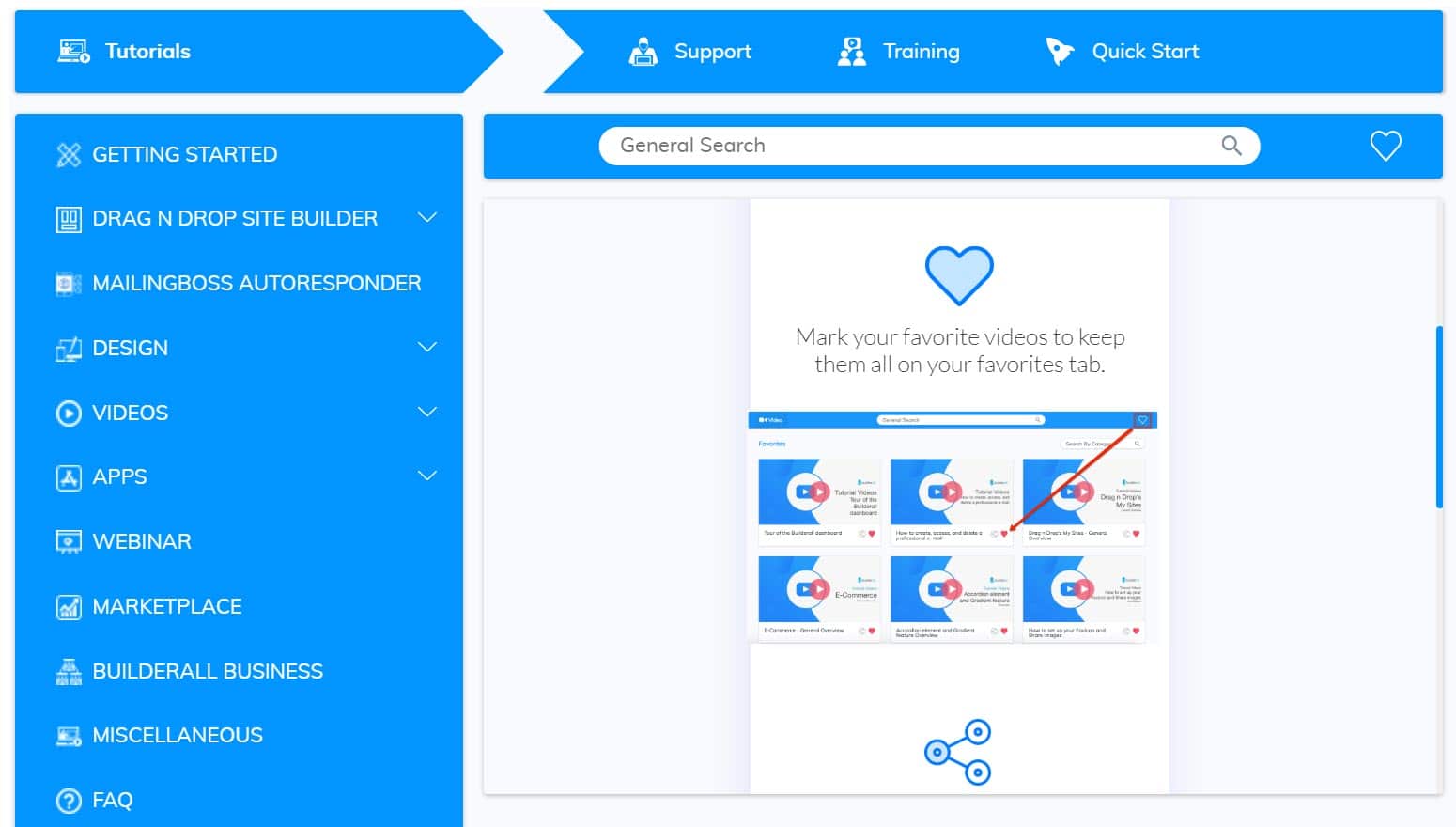 ---
Builderall has an extensive knowledge base, helping users to learn how to use its plethora of tools. Select from over 400+ training and tutorial videos that walk you step by step through the different processes and stages of setting up a website, email campaigns, sales funnels, and more.
One useful area of the Builderall knowledge base is QuickStart. Created for new members, these videos aim to welcome individuals and onboard information quickly, so anyone who has just joined the Builderall family can immediately get started.
There is also a YouTube channel, providing yet more videos. These include further Builderall tutorials, as well as tips, tricks, and inspiration for creating and growing a business on this platform. Furthermore, a weekly meeting is aired on YouTube, where Builderall users can ask questions and discuss the platform's numerous features.
Another impressive community element is the Builderall Facebook page. Here you can connect with other Builderall users, discuss problems, ask questions, share ideas and learn from the wider community.
And lastly, if you haven't managed to solve your query by using any of the above avenues, then there is a robust support team ready and waiting to help. On the Support page, you can open a ticket and explain your problem. One of the Builderall support team members will then get back to you as soon as possible.
2. Other Features of Builderall
Builderall provides an extensive features list, and although we have covered the majority of the top features that this platform provides, there are plenty more that are worth a mention. Let's take a look…
SEO – All Builderall templates are fully optimized for the search engines, and you can also make full use of the Builderall SEO on Page Report Tool to help analyze your content for those all-important keywords.
Blog Builder – Quickly add blog posts using the intuitive Builderall blog builder.
Browser Notification System – Builderall provides unlimited browser notifications to help you promote events, new blog posts, videos, webinars, and much more.
Facebook Messenger Chatbot Integration – Create and automate entire conversations with Facebook messenger chatbot, leading your potential customers to convert against your goals.
Autopost – This tool allows you to schedule your posts on social media.
Facebook Pixel – Install the Facebook pixel on your website in just a few clicks, giving you greater insight into your audience.
Share Locker – This useful tool enables you to block access to certain pages of your site until users have shared your content on social media.
Social Proof Tool – This application enables you to add social proof to your checkout pages, sharing info on recent customers who have made a purchase. This will help you to build trust with other potential customers, resulting in further sales.
Presentation Builder – Create online presentations to wow your clients.
Script Generator Tool – Builderall's scriptwriting tool will write your site's copy for you. Use this feature to produce strong copy for your sales letters, web pages, videos, emails, and more.
Evidently, Builderall is packed full of features and functionality, containing all the tools you will need in one integrated package. So now we know what Builderall is offering, let's next find out a bit more about its user experience, and how easy it is to get started using Builderall…
---
3. Getting Started with Builderall
Builderall is a premium digital marketing platform, but it does offer a 7-day free trial (you will find the link at the end of this review), so if you are interested in signing up to this platform you can do so for free and give it a try.
To get started with Builderall, you will first need to register your information.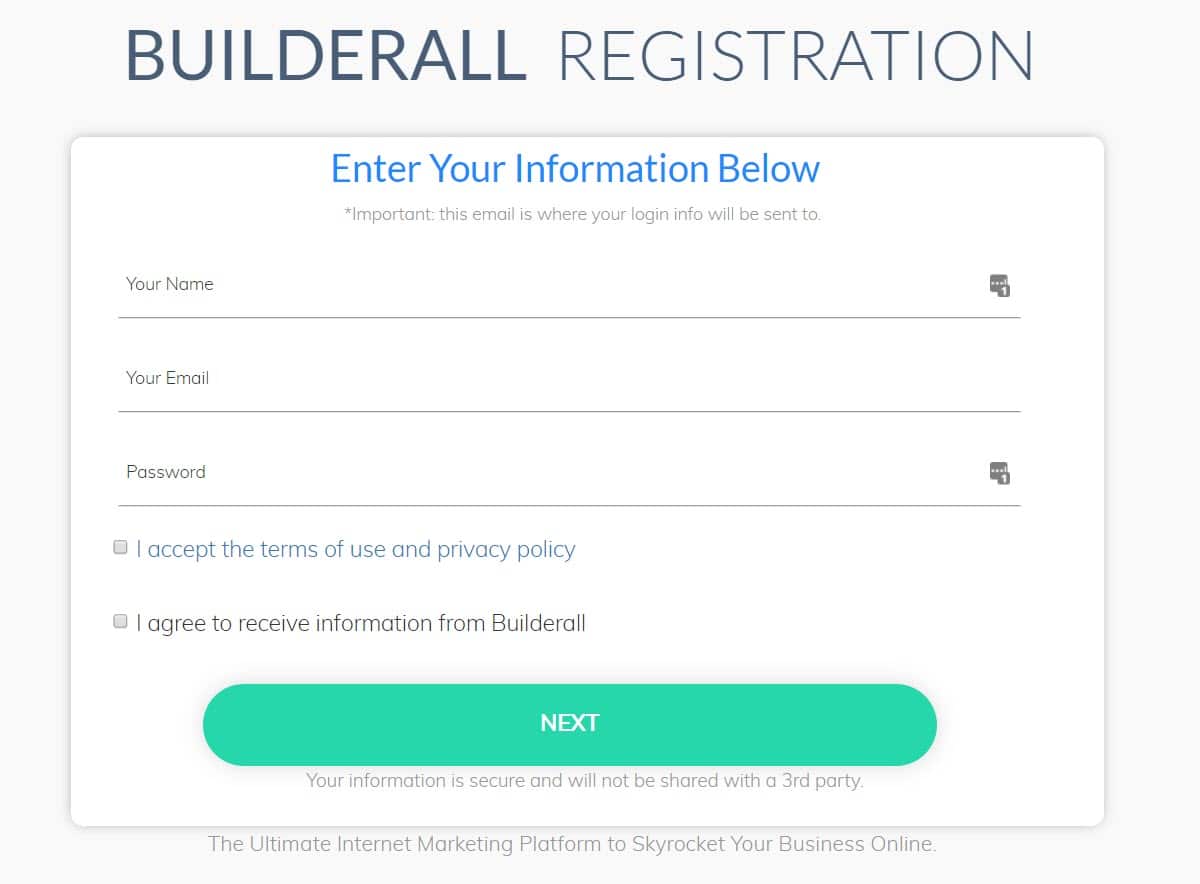 ---
Once you have completed the signup process, you will arrive at the Builderall dashboard, where you will be greeted by a 'Welcome to Builderall' video.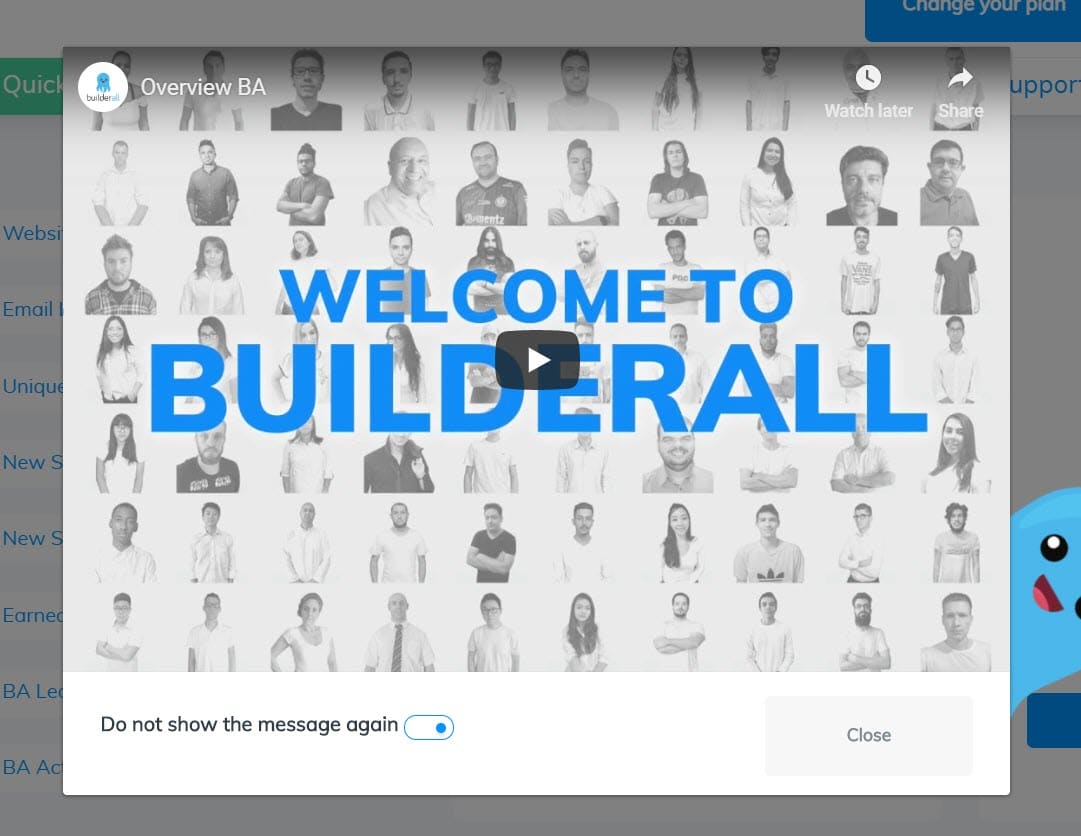 ---
This video is worth a watch as it gives you a brief overview of what you can expect to find in the Builderall dashboard, it introduces you to the tools available, and helps you become familiar with navigating this platform.
Once you have watched the video, scroll down the homepage. Here you will find the key apps and tools that you will need to create your new online business. These tools can also be accessed through the menu on the left-hand side of the page.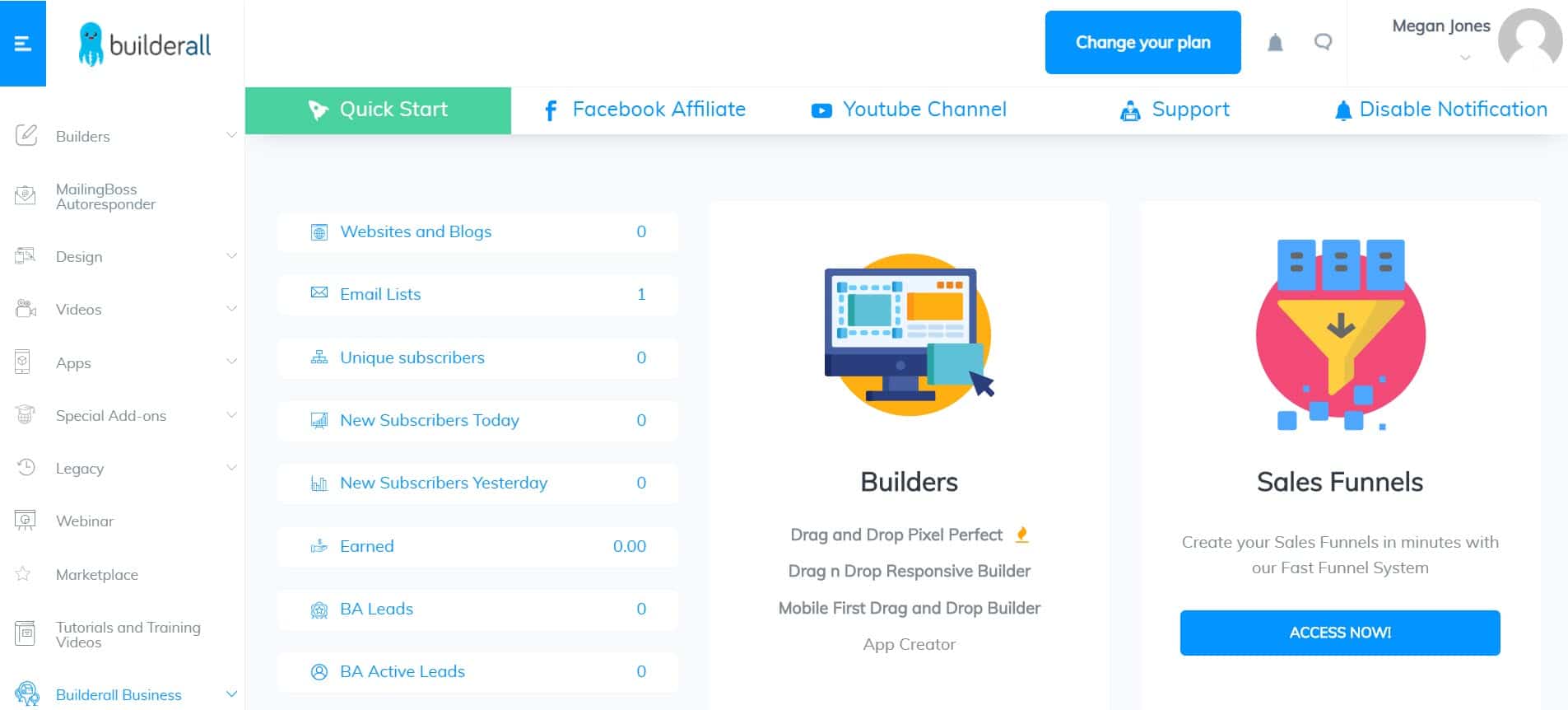 ---
As we have learned so far, there is much you can do with Builderall in respect to creating websites, sales funnels, webinars, and more. Therefore, we will now look at how to use some of the most important features to create a number of different outcomes.
4. Designing a Website with Builderall
Designing a website with Builderall is a very quick and easy process. Firstly, from the left-hand menu select Builders > Drag and Drop Responsive Builder > New Responsive Site.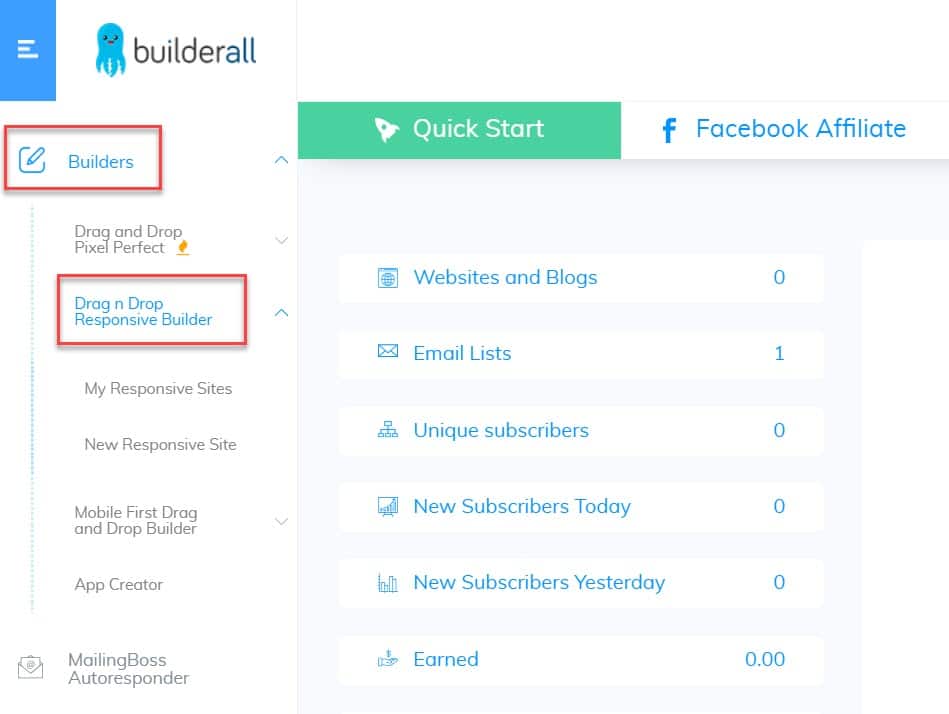 ---
If you want more control over the visuals of your website on different devices select Drag and Drop Pixel Perfect. Similar in usability to the Responsive Builder, this tool will allow you to configure the formats of your website for desktops, tablets, and mobiles, as separate entities.
You will now find a wide assortment of templates to choose from, and a Categories menu on the left-hand side of the page so you can filter the results.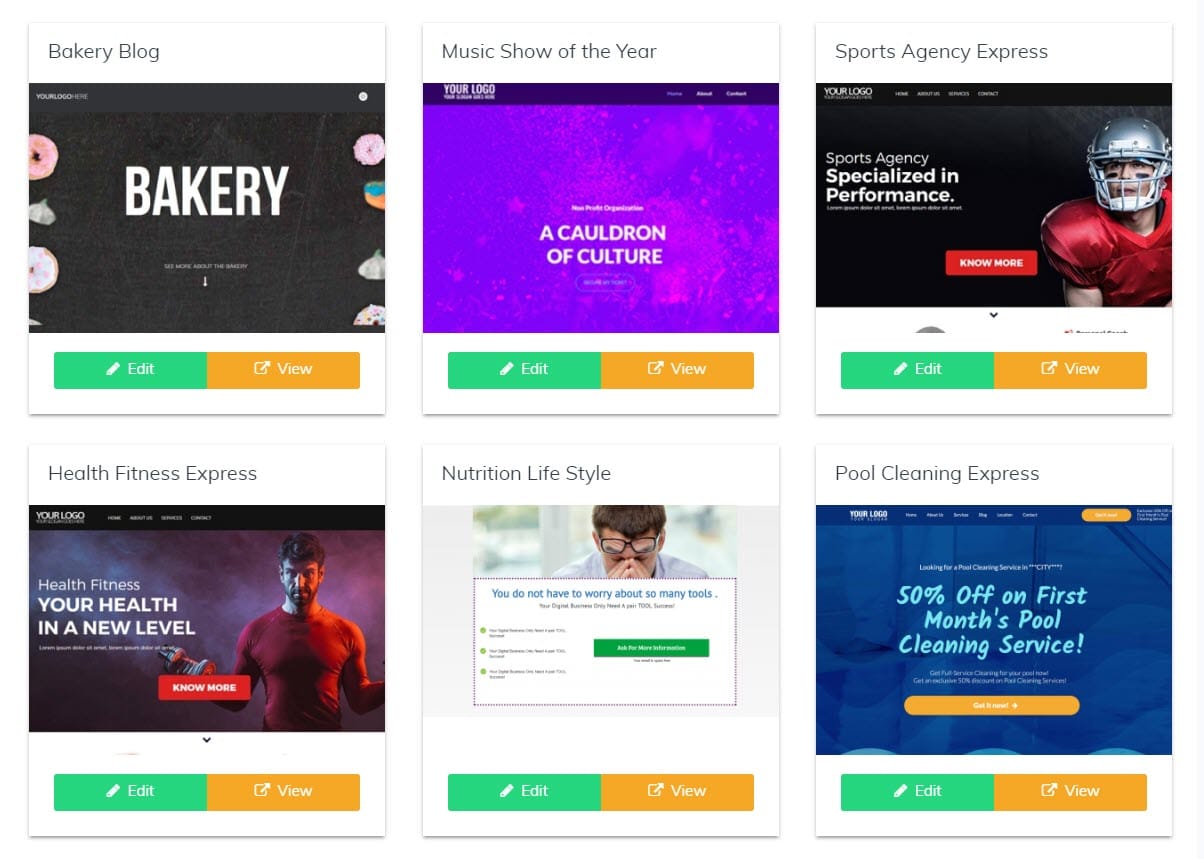 ---
Here you can view each demo website, and when you have found a suitable template for your website, select Edit. If none of the templates grab your attention, then you can also choose to use a blank template and design your site from scratch.
Once you have made a selection, the template will open within the Builderall Drag and Drop Responsive Builder.
5. Using the Drag and Drop Responsive Builder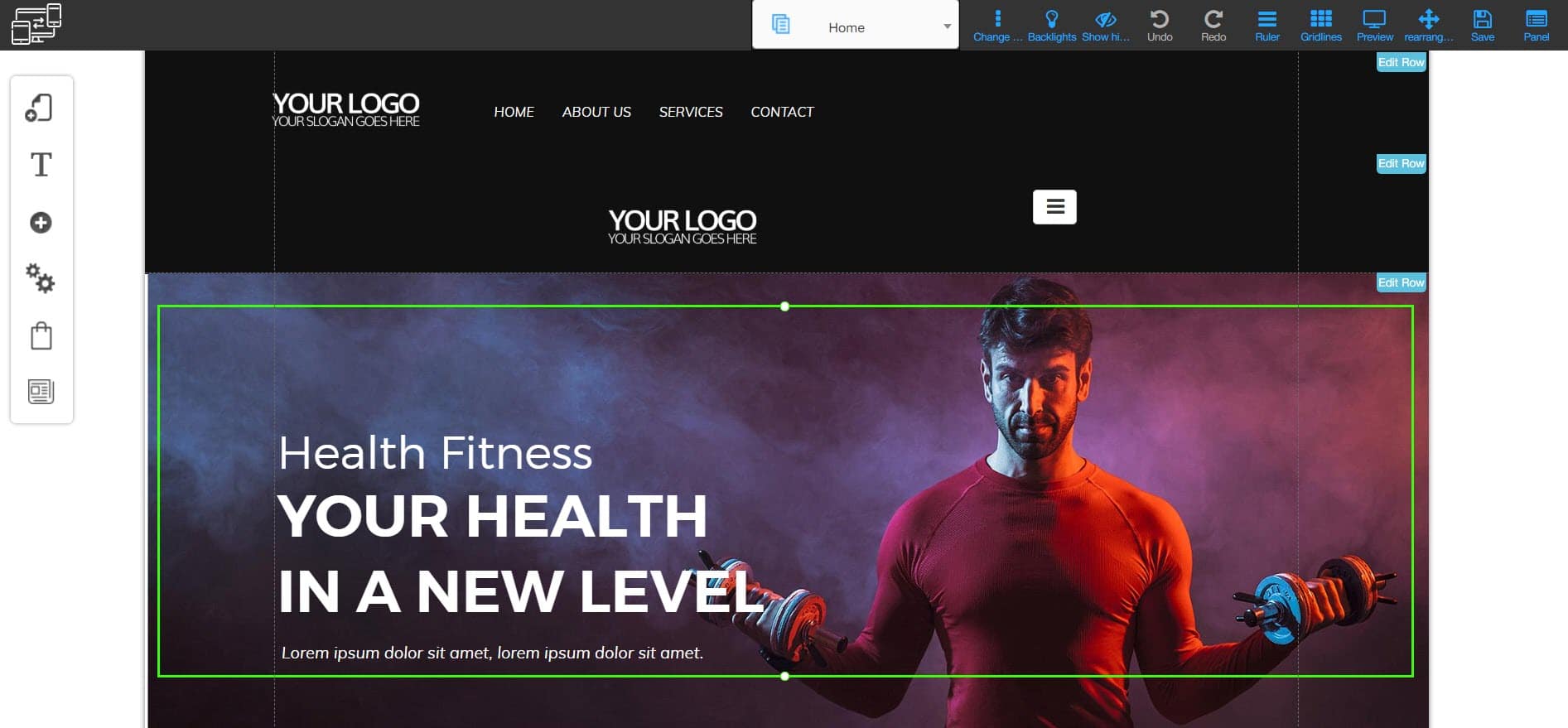 ---
The Responsive Builder is extremely easy to use, allowing you to simply drag and drop elements around the page. The left-hand menu provides access to any extra features and configurations that you may need, including layout, page, and menu customizations, blog and eCommerce functionality, numerous design elements, and much more.
Let's take a look at some of these…
Layout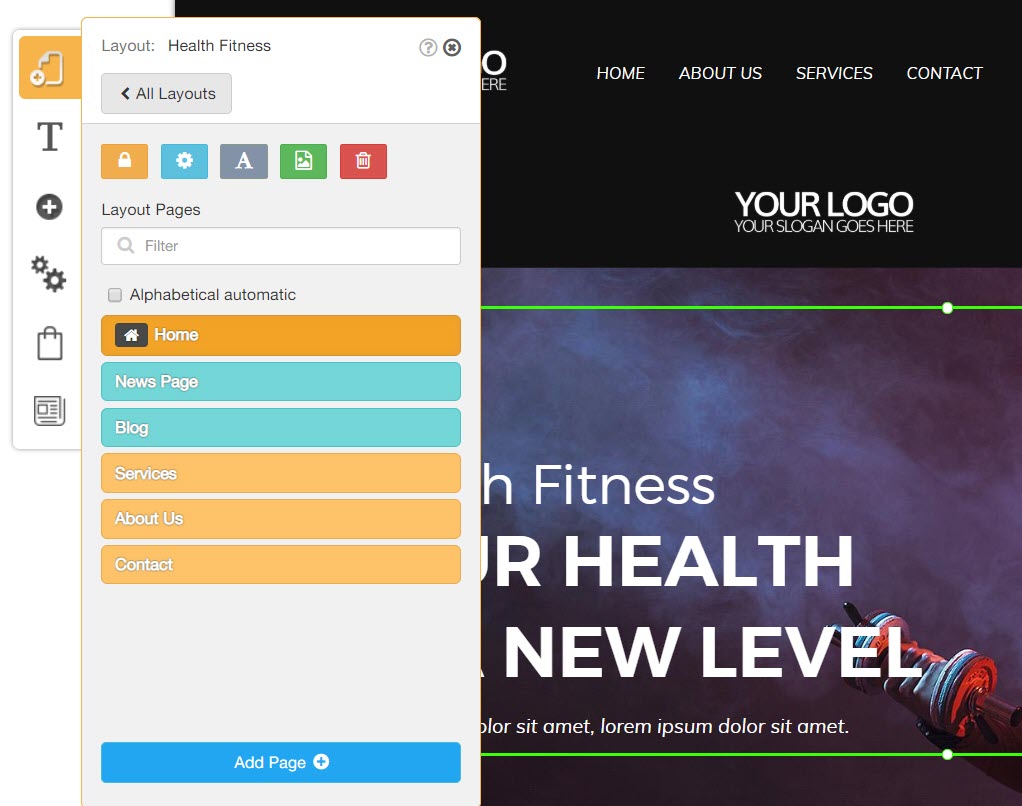 ---
By clicking on the top Layout icon in the left-hand side menu, you can change your site's template, add extra pages, change the order of your site's menu, and add a site title and favicon. Other global settings can also be applied across your whole website, like changing the background color or image, altering the font styles, and adding that all-important SEO information.
Text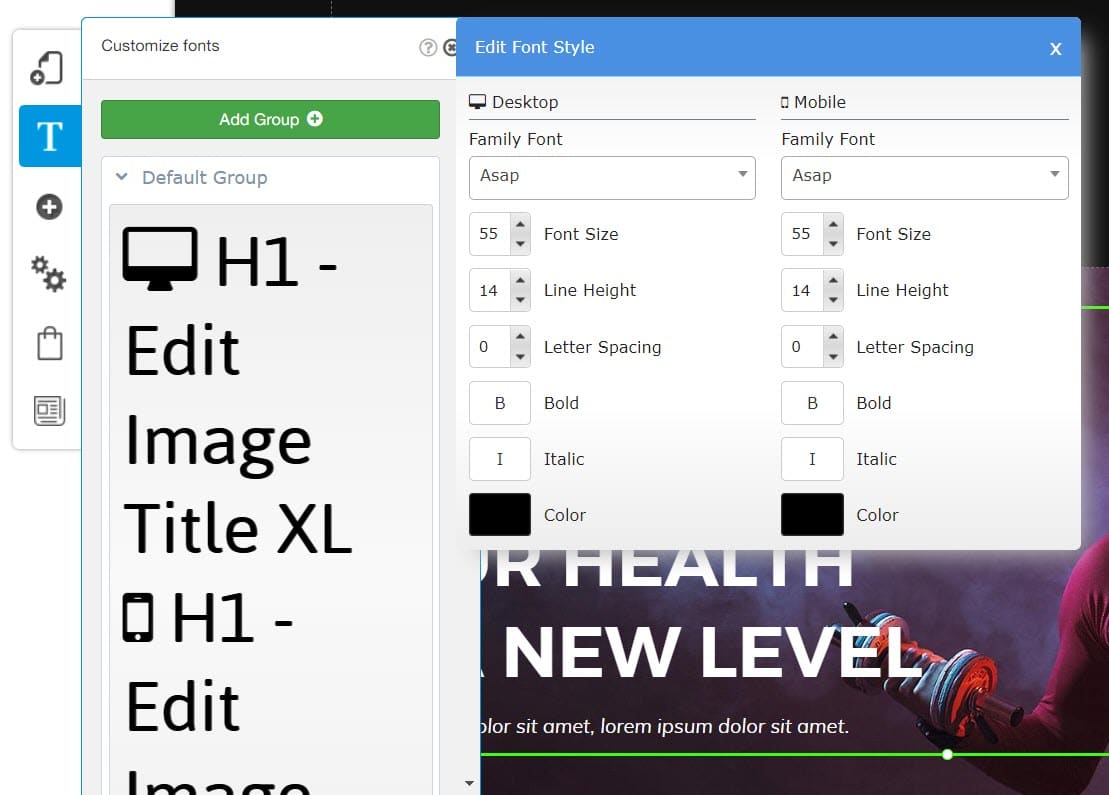 ---
The next icon in the menu bar deals with text. Here you can manage text layout groups and how they appear on your website. Options include configuring font style, size, and color, as well as applying bold and italic effects.
Elements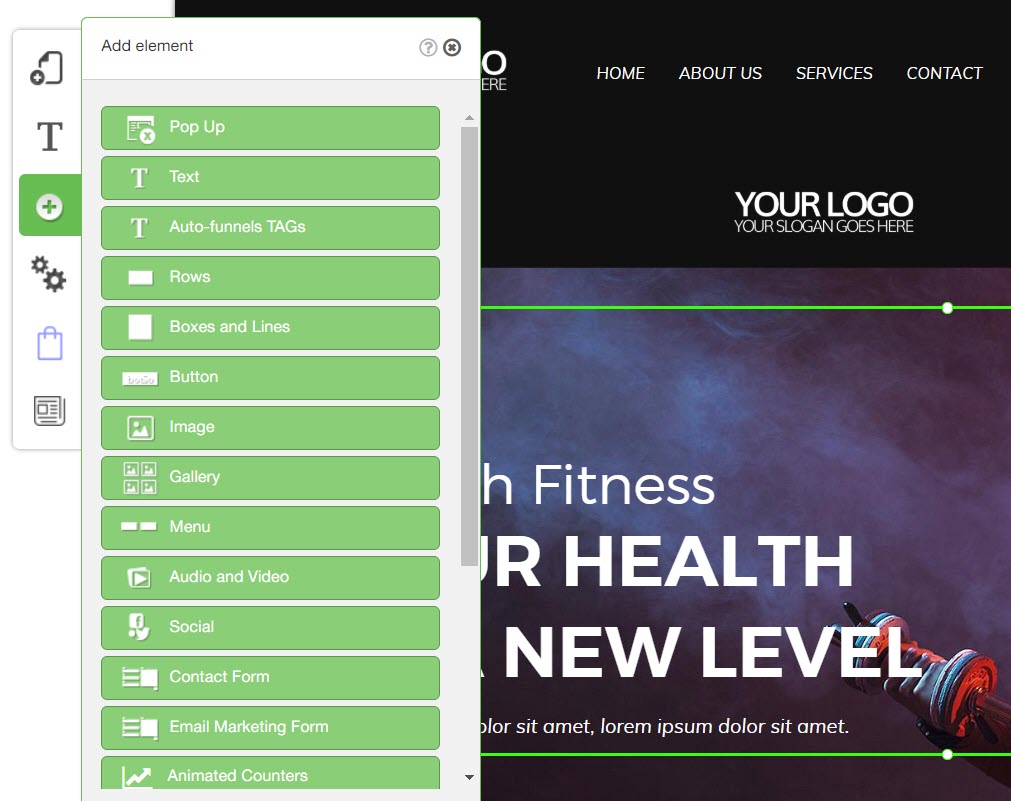 ---
Under the + icon, you will find a list of all the design elements you can add to your website. This is an impressive number of elements that include…
Pop-ups
Auto Funnels
Images and Galleries
Audio and Video
Social
Contact and Email Marketing Forms
Sales Funnels and Checkout
These design elements can be selected, customized, and then drag and dropped onto your website in the appropriate position.
Blog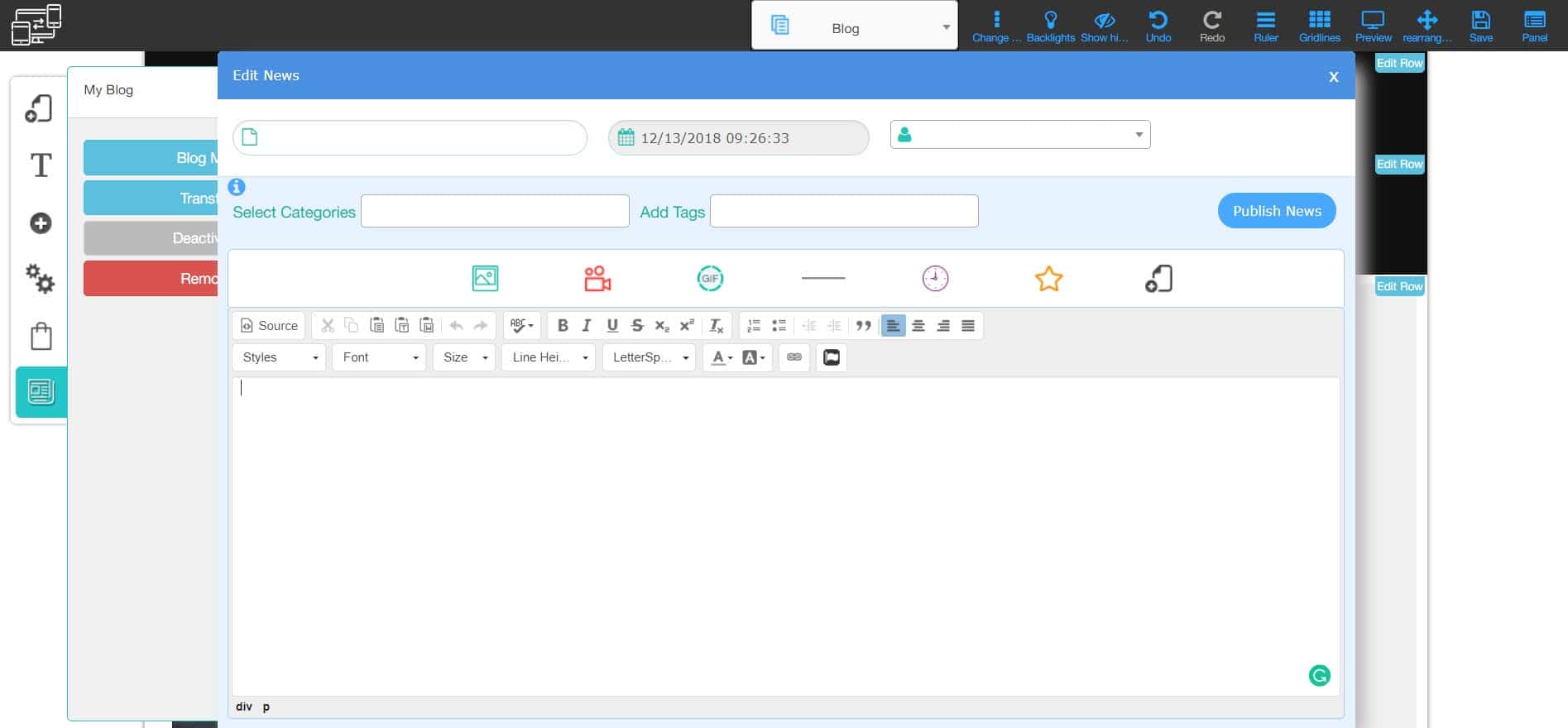 ---
The Blog Manager icon is the last icon in the left-hand side menu bar. Templates don't initially have blog functionality until you select Blog Manager > Add Blog.
Within the Blog Manager, you can view your published posts, write new articles, add categories and tags, and schedule articles to be published. You can also add images, videos, GIFs, and more to your articles to help them connect with your audience.
6. Connecting a Domain and Publishing Your Website
Take your time to familiarize yourself with the Responsive Editor, then customize your site to your exact specifications. At any point, you can preview your design by clicking on the Preview icon from the top menu bar. You will also find the Save icon in the same icon bar.

Once you are ready to publish your website, return to the Builderall dashboard and select Builders > Drag and Drop Responsive Builder > My Responsive Sites.
Here you can select to…
Create a Subdomain Name (For example https://mysitesname.builderall.net)
Connect a Domain (Builderall doesn't provide a domain registrar service. If you want to create and purchase your own domain, use a third-party registrar like WP Engine).
For any of the above options, simply follow the Builderall instructions. Once published, open your live website to check it is working smoothly.
7. Creating a Membership Site
If you are looking to create a membership site or restricted area within your site, you can do this within the Responsive Builder.
Open the Responsive Builder with the template of your choice. If you haven't chosen a membership template then select Elements > Buttons to add a Login – Register button to your site.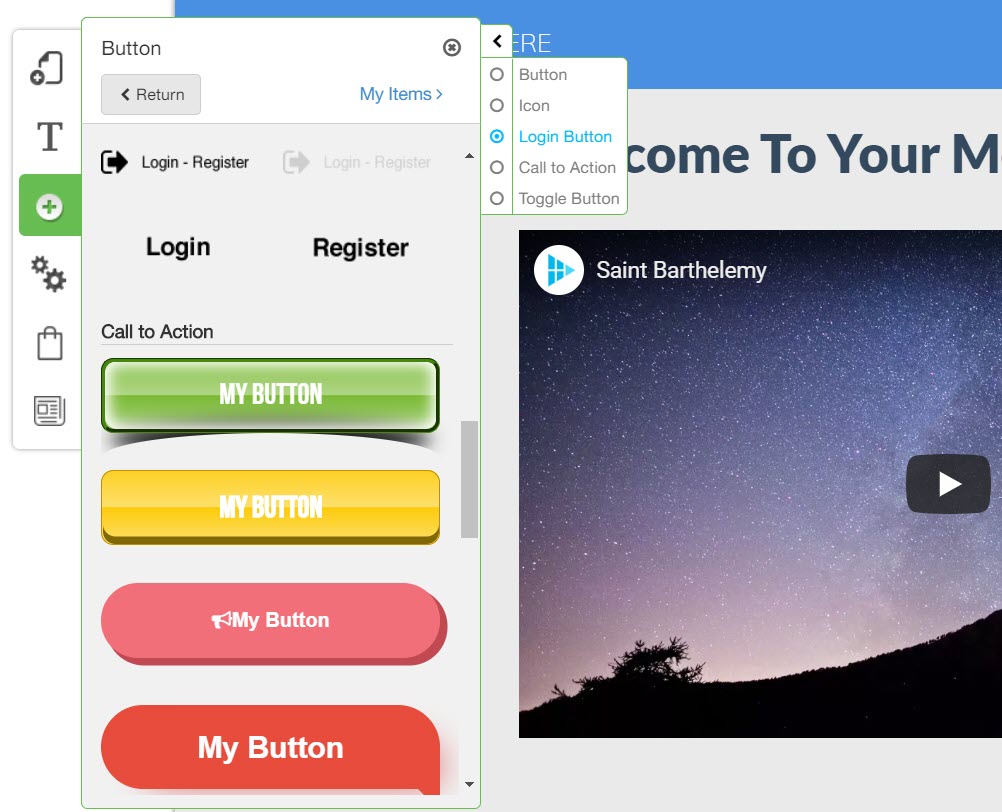 ---
Now create your membership area using the Responsive Builder tools. Once finished, click on Layouts > Restricted Membership Settings. You then need to give your membership area a name and select the access procedure. You can also select to register new subscribers onto one of your Mailing Boss mailing lists.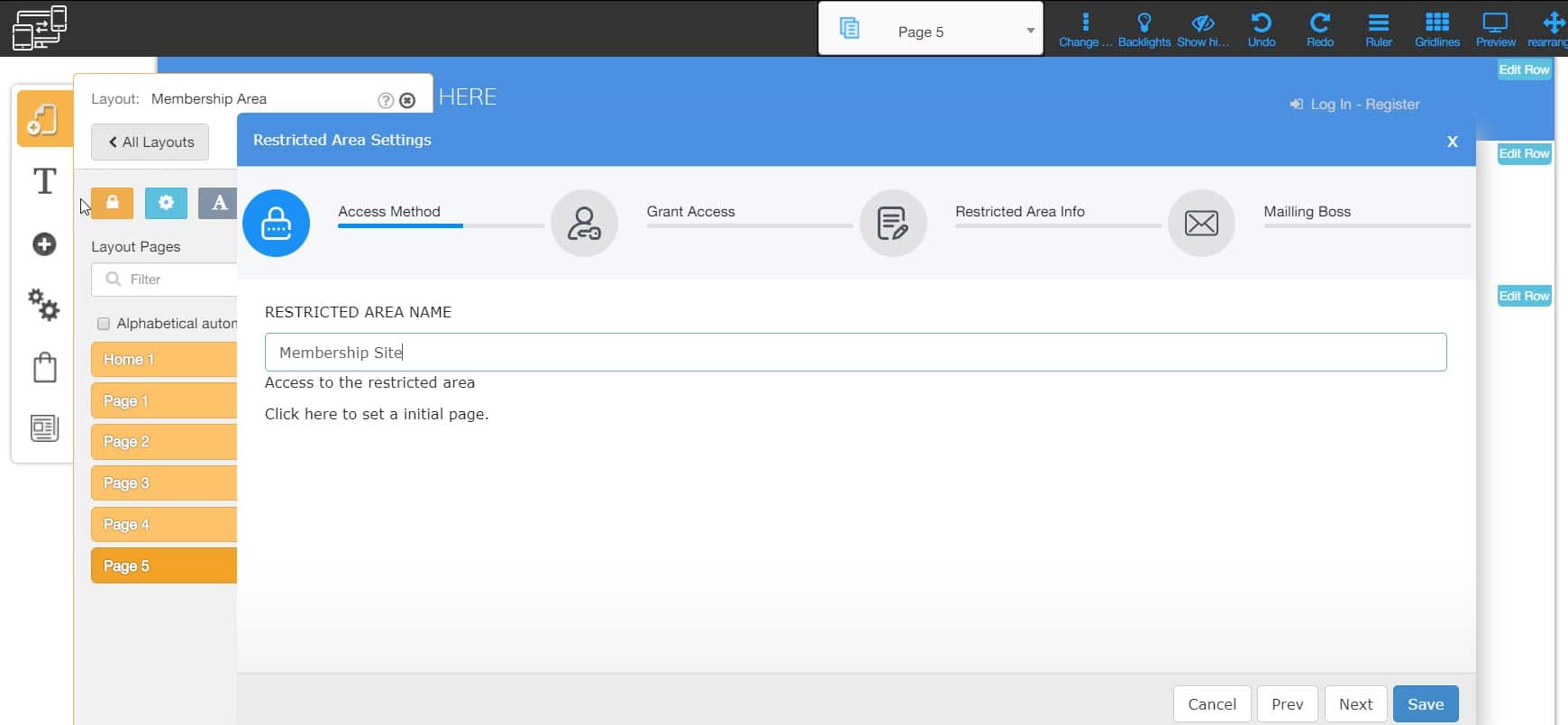 ---
Your membership site will now be set up. Switch back to your Builderall dashboard, Publish your site, and then check the membership area is working smoothly.
8. Creating an eLearning Course
To create an eLearning course, you will need to familiarize yourself with the Builderall eLearning platform. Within the Builderall dashboard, select Apps > eLearning.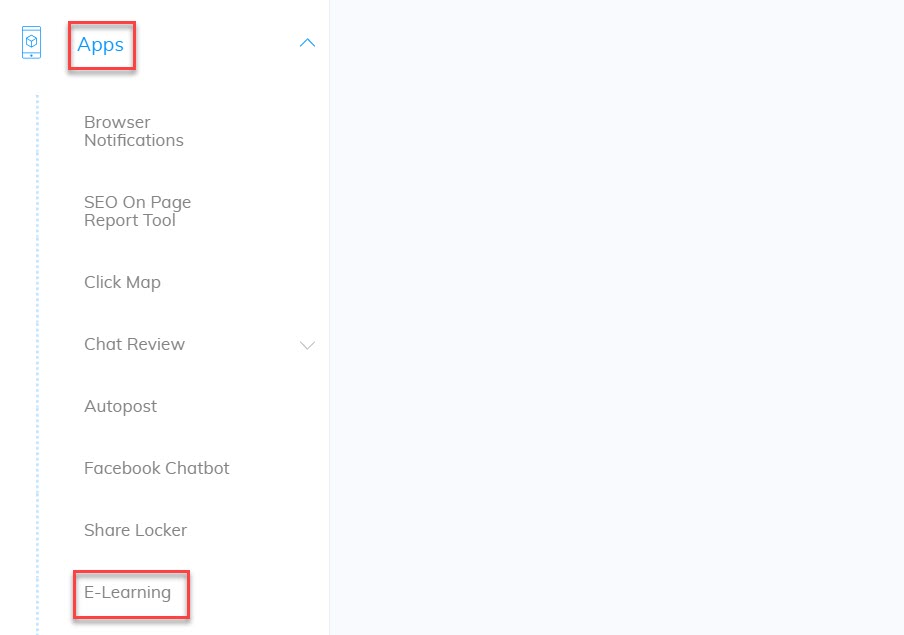 ---
Builderall will now take you to its eLearning dashboard where you can create your courses.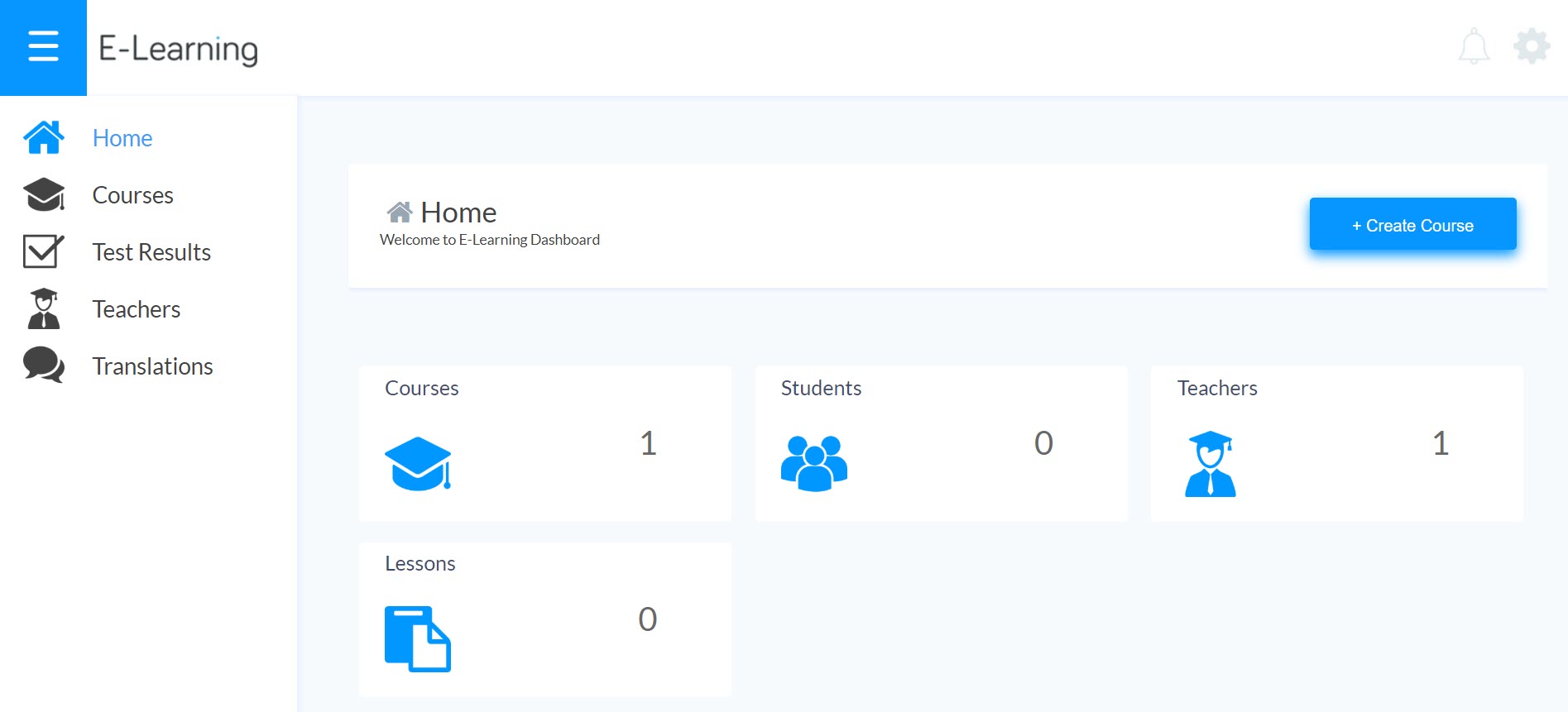 ---
Once the eLearning platform has loaded, select Create Course. You then need to create a new category for your course and give your course a name.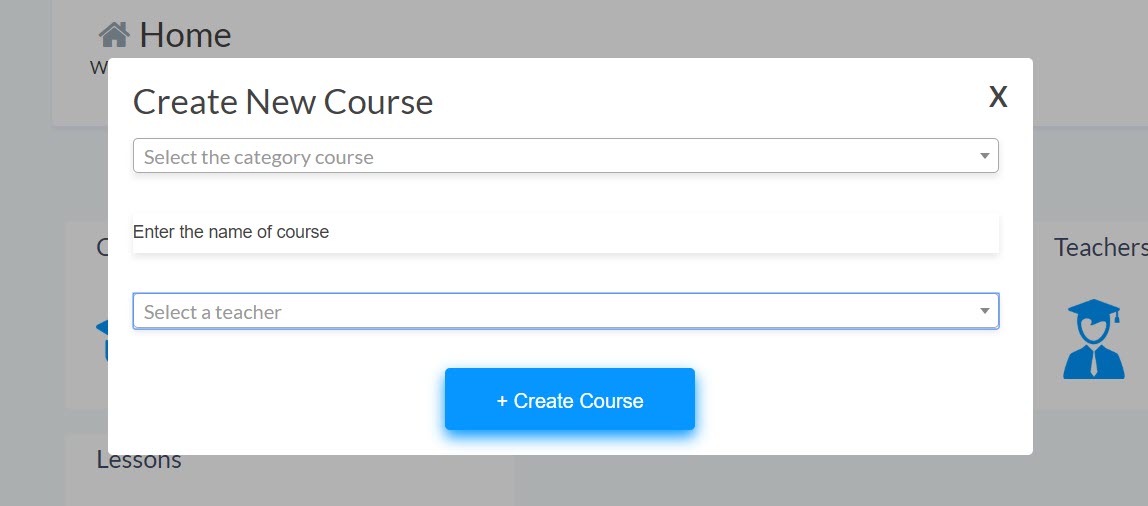 ---
You will also need to add yourself as a teacher, upload a picture and write a brief introduction of who you are and your qualifications or experience in the field in which you are teaching. This will help you build trust and connect with your students.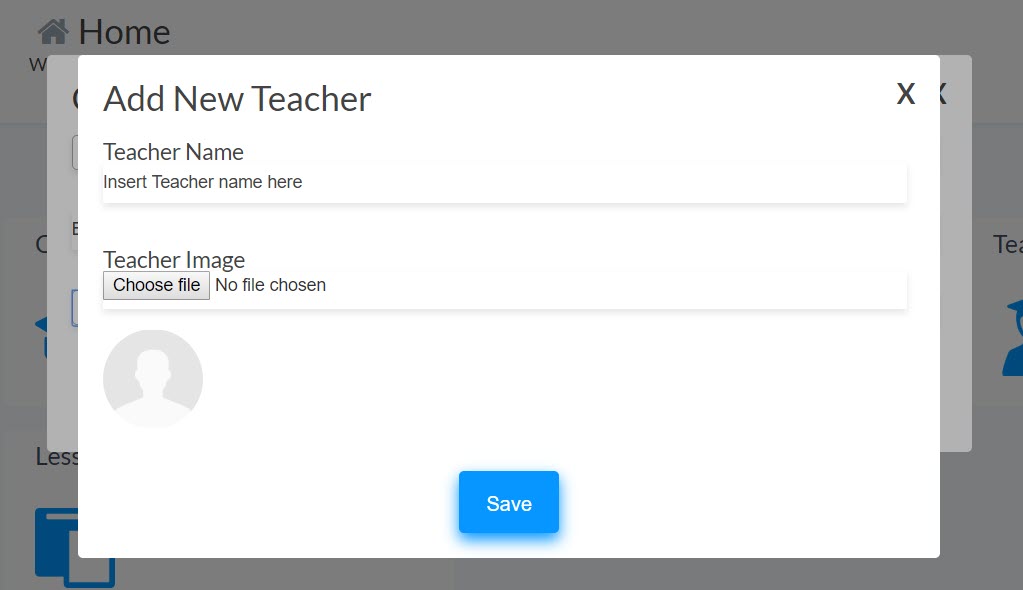 ---
Once you have created a course, select Courses from the left-hand menu. Here you will find a list of the courses you have created. Under Options, from the drop-down menu, click on Edit to design your course.
You now have multiple options as to how you set out your course. You can…
Create modules and lessons to break down the course into bite-sized chunks.
Add content from YouTube, Vimeo, or upload files from your desktop, to name a few options.
Create tests.
Select an eLearning Theme.
Add an FAQ section.
After you have designed your course and saved it, you can then choose to share it on social media or embed your course into a page on your website. To do so, reselect Course from the left-hand side menu, then select the Options icon next to your course name. Click on Share and Embed, then either choose to share on Facebook or Twitter, or copy the embed code.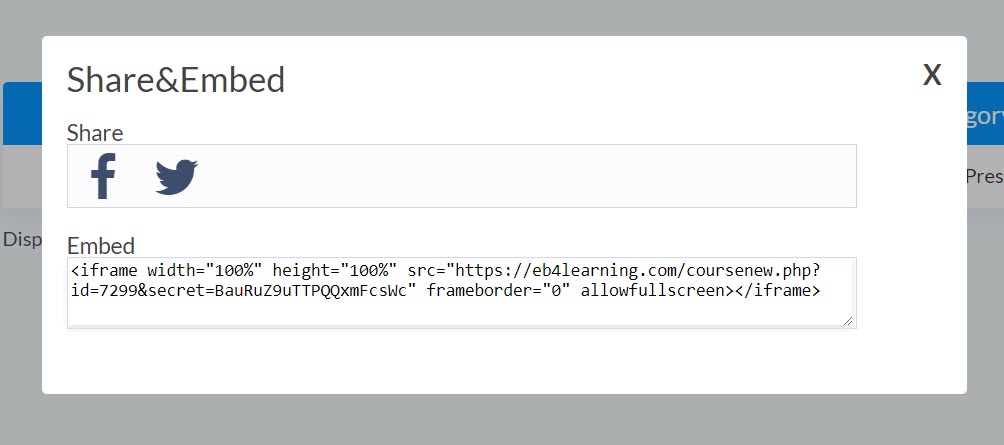 ---
If you want to embed your course into a web page, go back to the Builderall dashboard and open your website in the Responsive Builder. Select Elements > Apps > HTML, and you will now see a grey box displayed on your screen.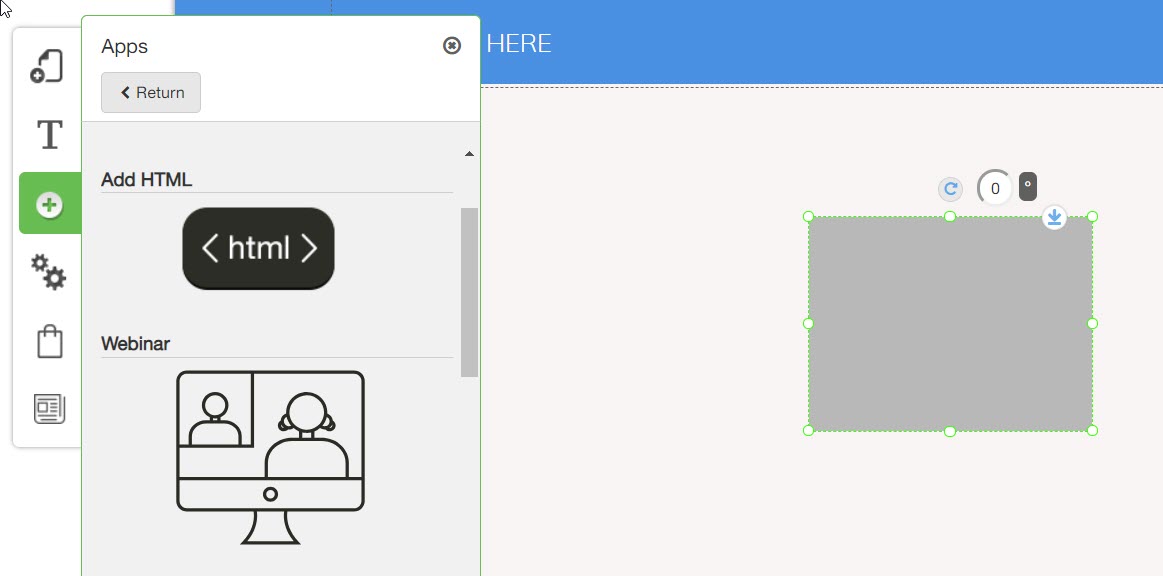 ---
Right-click in this grey box, select Edit and then paste your embed code into the Insert HTML panel.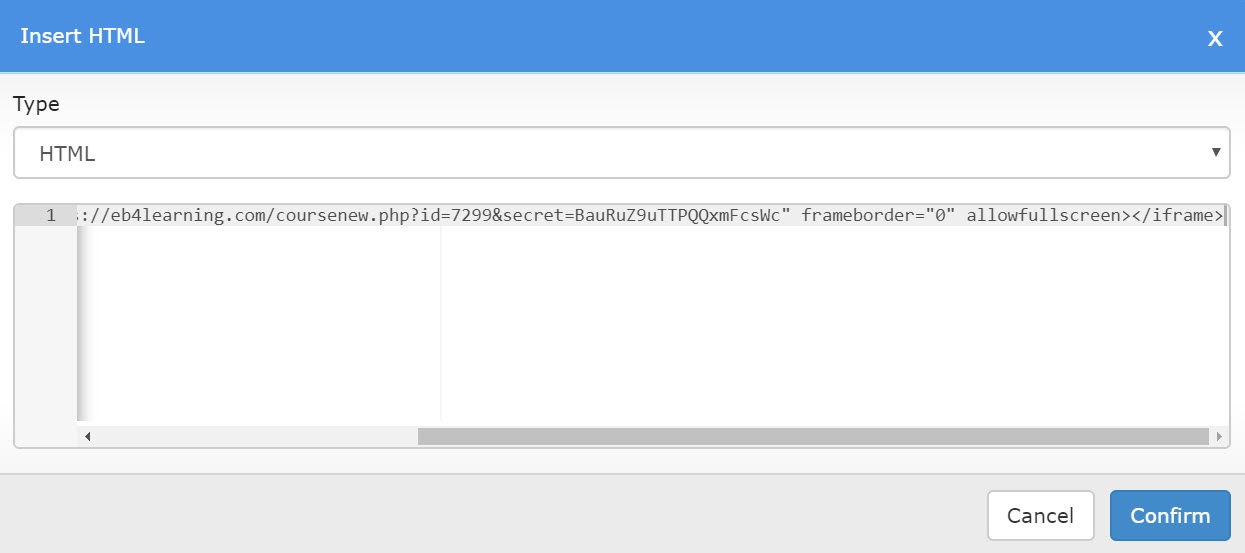 ---
Now simply resize the course box, and then Preview and Save your website. Your e-Learning course will now be live.
9. Running a Webinar
Another useful feature that Builderall offers is its webinar platform. This is extremely easy to use and takes little to no time to customize the settings and begin recording.
To get started with this tool, select Webinars from the menu in the Builderall dashboard and then click on + New Webinar.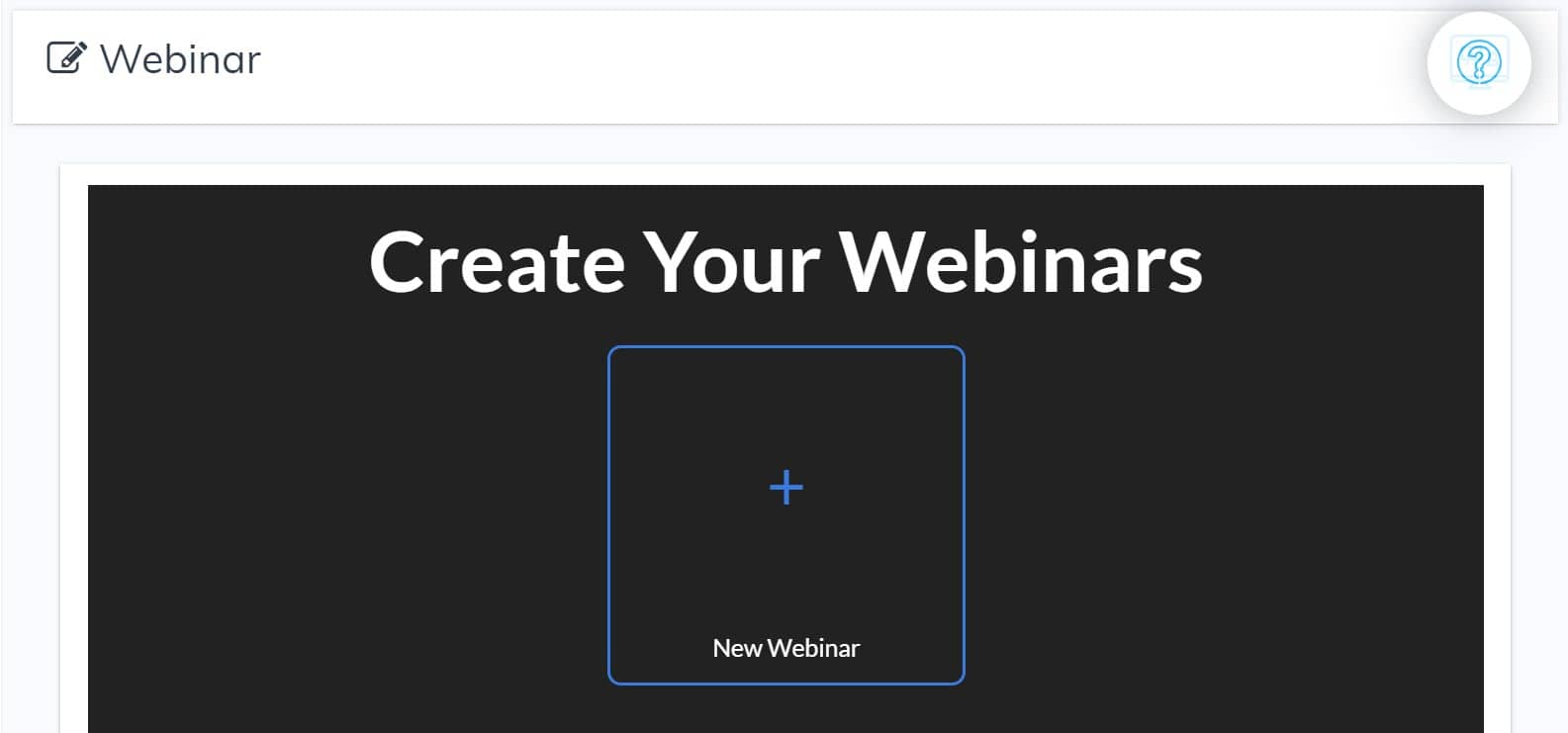 ---
You will now be asked to give your webinar a name and description, and you can also protect it with a password of your choice if you so wish.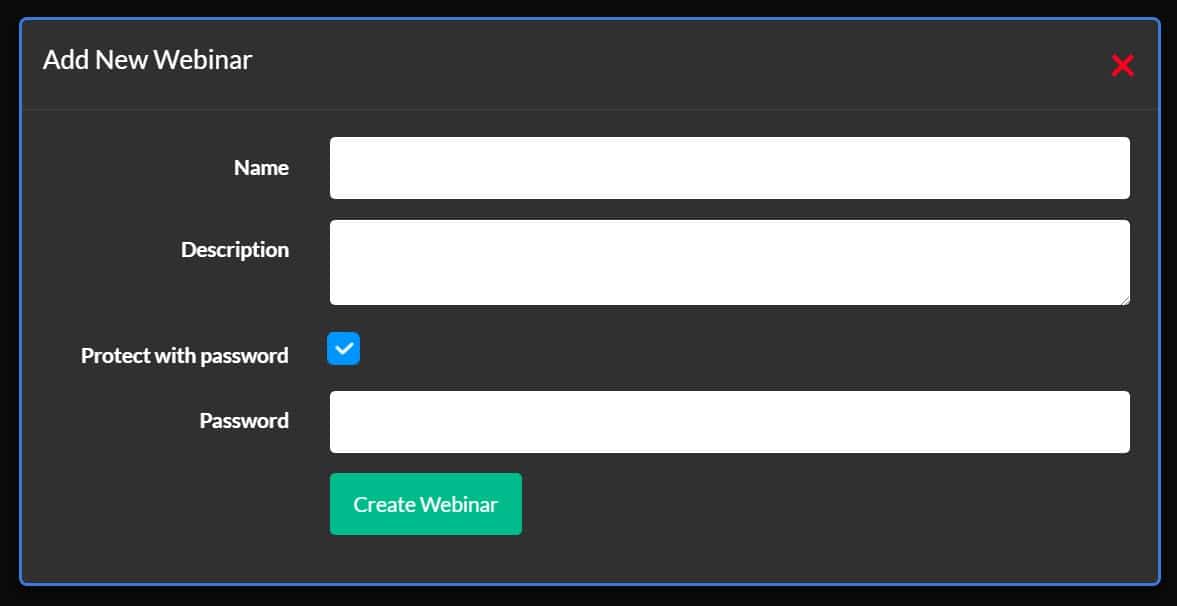 ---
Next, you need to configure your webinar settings. Here you can schedule a start time, enable chat to run underneath the webinar, and much more. Importantly, it is here that you select where your webinar content will come from, whether that is YouTube, your desktop, or live from your webcam.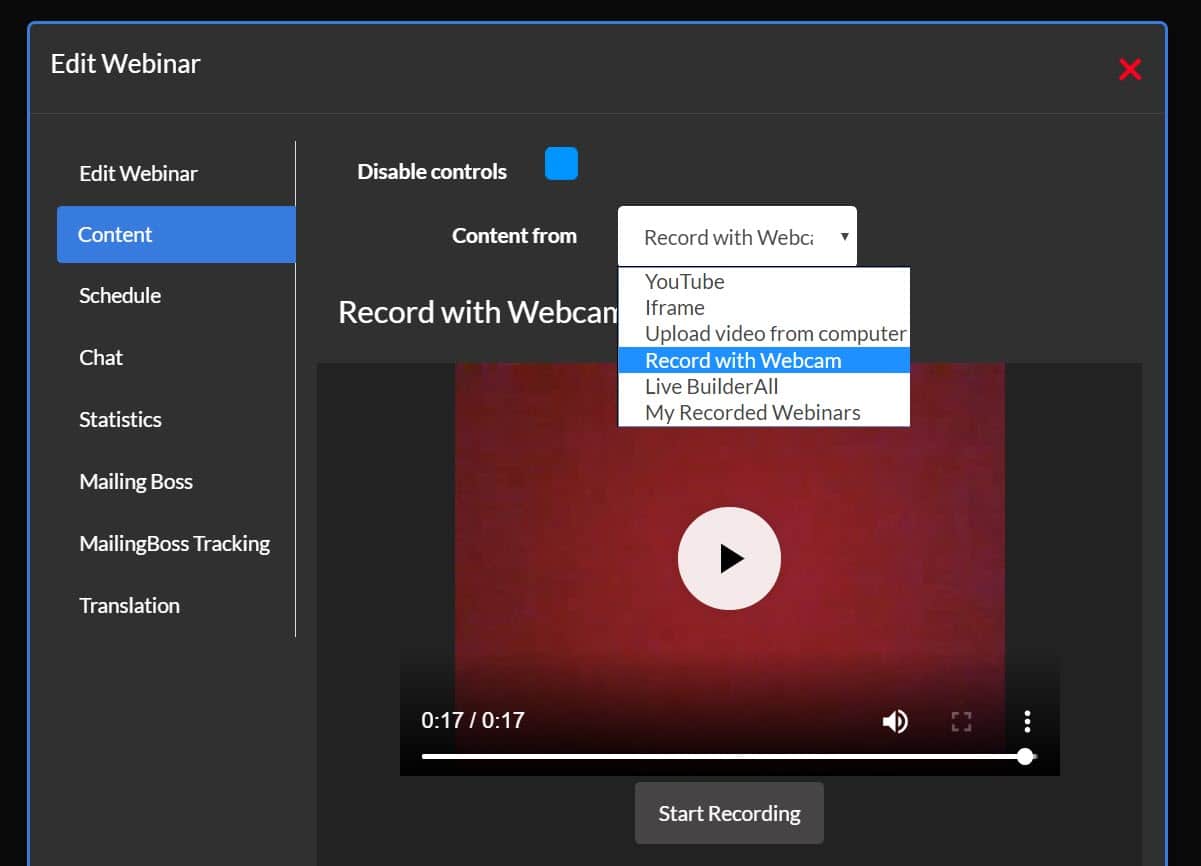 ---
Once your webinar has been created and the settings customized, the last step is to embed the webinar into your website. To do so, select the code icon.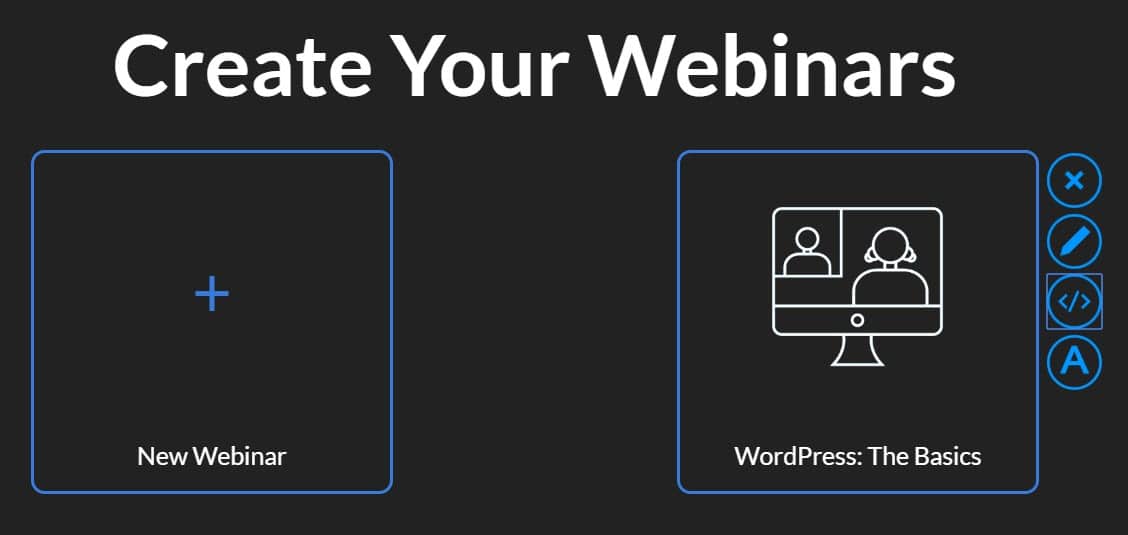 ---
Then copy the code ID and Secret provided.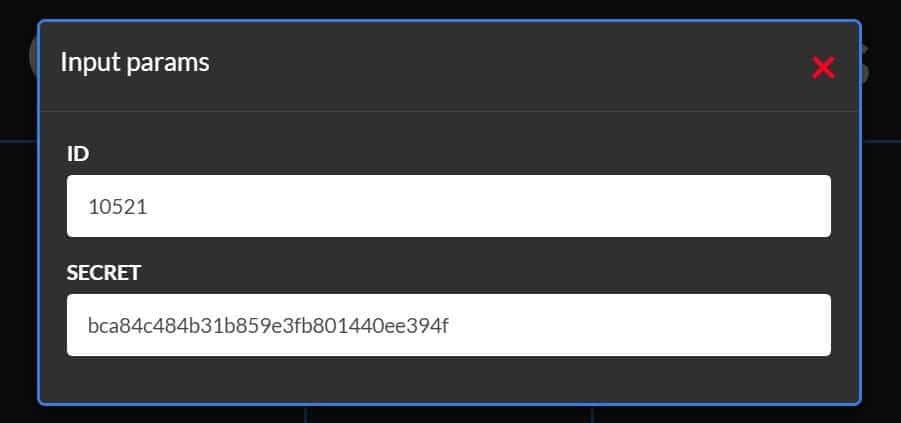 ---
Switch over to your website in the Responsive Builder and click on Elements > Apps > Webinar. A grey box will now appear on the screen, as it did when we embedded our eLearning course.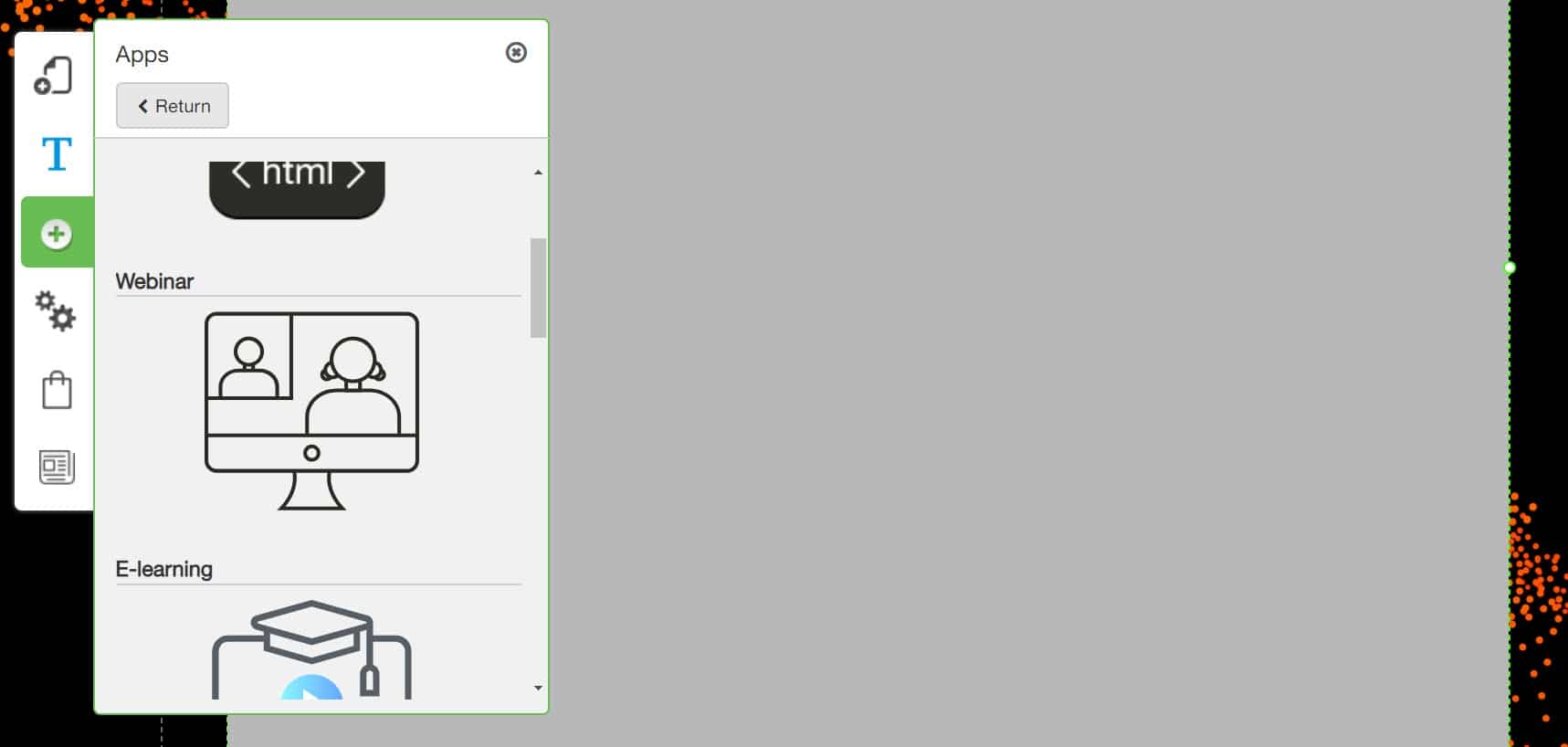 ---
Right-click on the grey box, select Edit and then enter the webinar code.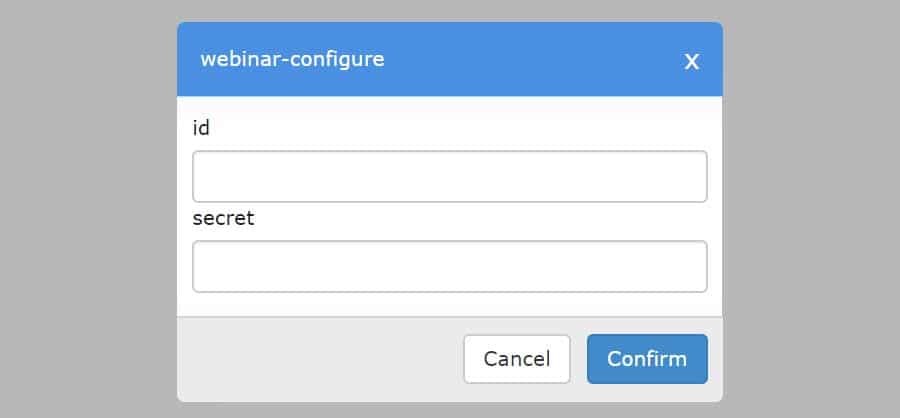 ---
You will now find your webinar displayed on your screen, ready to be viewed by your audience. You should now have a good understanding of how to get started with Builderall and use a few of its powerful features. So before we finish off this Builderall review, let's check out the pricing options…
10. Builderall Plans & Pricing
---
If all those features sound good, and you're keen to try Builderall out, next you're going to need to know about the pricing tiers. Builderall offers a selection of different payment plans to suit your needs and budget.
There is also a Builderall free trial on offer, so you can try the platform's features out to make sure it's right for you before you take the plunge and sign up for a plan.
Let's take a look at what's included in Builderall's pricing plans.
| Plan | Features | Price |
| --- | --- | --- |
| Builder | 3 domains, 100 subscribers, disk space – 2 GB, 24 features | $29.90 per month |
| Premium | 15 domains, unlimited subscribers, disk space – 10 GB, 55 features | $69.90 per month |
| Funnel Club | 15 domains, unlimited subscribers, disk space – 10 GB, 64 features | $99.90 per month |
Is there a Builderall free trial?
If you want to try out Builderall without committing to a price plan, you have a great option in the form of its "30 days for $1" offer.
With this 30-day trial, you get to try out all of Builderalls many features, you are essentially signing up for the Premium plan, but are only being billed $1 dollar for the first month. If you like the service and feel you want to continue on the full price, you don't have to do anything – just keep using Builderall and once the first month has elapsed, you'll start being charged $69.90 each month.
However, if your trial month is drawing to a close and you decide you don't want to continue with builderall, that's fine too. You can easily cancel your subscription before the month is up by heading to the Invoices section in the dashboard and selecting the Cancel option. It's that simple, you don't have to get in touch with the support team or anything.
What do you get with the free trial?
According to Builderall, you get all of the following:
Drag and drop website builder
Hundreds of features
Graphic sales funnel builder
Vídeo host
Member sites
e-learning tools
Email marketing tools
CRM tools
Email automation system
Chatbot and SiteBot tools
Bookings and reservations calendar
e-commerce options
Super checkout builder
Wide range of payment integrations
 Start an affiliate program
 Auction sales builder
 Magazine builder
 Design editor
3D image builder
 Site pop-ups and notifications
 Blog and chat builder
 Vídeo tutorials
The Builderall 30-day trial is a really good option to get a feel of the entire platform with no commitment. Even if you're already set on signing up to Builderall, you might as well go with the trial first as you'll end up getting a month for just $1.
Builderall Premium plan
---
The Premium plan costs $69.90 per month. You get access to a range of great features for your money and both small and larger businesses will find it useful. And gives you access to some of the newer features.
You'll be able to use all 38 of Builderall's main features including the drag-and-drop website builder, sales funnels, e-learning and webinar builders, social media video streamer tool and more.
You can also add an unlimited number of subscribers to your site and have up to 15 domains.
A full list of features included with the Premium plan is: 
Cheetah website builder
Cheetah sales funnel builder
Sales funnel simulation
Video content manager and host
Calendar and bookings app
Chat builder
Email marketing builder
Email timer
CDN servers
Site backup
Access to membership
Checkout tools
Speedy mobile page loader
Popup messaging
Timer tools
CRM tool
Telegram tool
SMS tool
Messenger tool
Magazine builder
Webinar building tool
Social media streaming
Integration
Cheetah templates
Half price affiliate fees
Builderall Funnel Club plan
---
Builderall's Funnel Club plan is the next payment option. And while it's usually priced at $99.90 a month, you can cut that down to $69.90 a month if you also pay a one-off upfront fee of $199.
This is a pretty good deal, especially if you have the cash for that upfront charge, as you'll then have a host of features on top of the Premium plan but with the same monthly charge.
We recommend taking Builderall up on this offer if you can afford it as you get some impressive digital marketing features that can truly help your business develop.
So you get all the same features listed above with the Premium plan, as well as the following extra features:
Advertising
30+ chatbot options
50+ sales and leads funnels
Marketing tools
50+ agency funnels
20+ list funnels
10+ premium funnels
300+ Cheetah strategy funnels
Automatic affiliate approval
More funnels added weekly
More Cheetah themes added weekly
Builderall Builder plan
The Builder plan is an interesting option, it costs just $29.90 per month, and it gives you a range of 24 different tools and features to help you build a website and business. Features include the standard drag-and-drop website builder, sales funnel builder, ability to runA/B split tests, email marketing, and more.
You also get three different domains, and tech support to fire questions at.
At less than half the price of the Premium plan, it's an incredible deal and will really suit people who are starting a business on a limited budget. However, you can only sign up through a Builderall affiliate.
The features you get are: 
Drag-and-drop builder
Video host
Membership websites
E-learning system
Unlimited email marketing
CRM and automation
Chatbot
Sitebot
Booking calendar
Super checkouts
Independent affiliate programs for your business
Auction checkout
Magazine builder
Mockup editor
Image editor
Video wrapper
Browser notifications
Browser notifications
Blog tool
Chat building tool
Google and Adsense-friendly builder
Over a hundred video tutorials and a large knowledge base
Ticket support
11. How to use Builderall
---
You might want to use Builderall if you're starting out as an entrepreneur, if you have an online business you're looking to launch, or if you need help getting a new digital idea up online.
With its many tools and features, Builderall can be a great asset for budding business starters. But how do you get underway?
First of all, you'll need to pick your payment plan – Premium or Funnel Club. Premium will suit most beginners, but if you have a bigger eye on the marketing element then Funnel Club might be the plan to go for.
If you sign up for the 30 days for $1 trial you can even try out the service and all its features before you commit to the full price.
Once you've signed up, load up the dashboard and get started. A good entry point would be to try out the Builderall website builder and explore some themes and templates that you think will be a good place for your business. From there you can use the drag and drop functions to easily add components to your template and you'll be on the road to building a website.
---
Frequently Asked Questions about Builderall:
What is Builderall?
Builderall is a website builder and digital marketing all-in-one platform. It's great for entrepreneurs and people starting a new online business. It offers over 30 features, ranging from a drag-and-drop website builder to a sales funnel builder. It also offers a webinar creator, design editor, email campaign creator, and SEO tools.
Is Builderall worth the money?
Yes. With the entry-level plan of Builderall starting at $69.90, Builderall represents good value when compared to competitors and alternate services. Builderall is an all-in-one platform and it also serves as a host for your website.
Can you create an app with Builderall?
Yes, you can. One of Builderall's 30+ features is its App Creator, and you can use it to build an app for your website and business. You can then make the app available for customers to download on all the major app stores including Apple, Google and Amazon.
Does Builderall have a free trial?
Builderall's free trial has now been replaced by its 30 days for $1 offer, which is not that far removed from a free trial. For that $1, you get full access to all of Builderall's Premium plan features, and you can cancel anytime you want.
Builderall Review: Summary
Builderall is a complete online business platform and digital marketing system. It provides all the tools you will need to launch and run a successful business, ensuring you don't need to spend time and money sourcing and purchasing numerous stand-alone products.
Furthermore, Builderall is constantly evolving, enabling it to stay up to date with its users' needs. So if you are looking for a fully integrated platform to create and manage your new or existing online business, it's time to check out Builderall, it's definitely one of my favorite landing page builders.
It's Your Turn Now!
Click on the blue button to get started or check out our Top 5 Landing Page/Funnel Builders below:
---
Our Top 5 Landing Page/Funnel Builders:
| | | |
| --- | --- | --- |
| | | |
| | | |
| | | |
| | | |
| | | |
*
swipe to the side if you are on a mobile device ↑