---
A2 Hosting — Overview
A2 Hosting is a web hosting company founded by Bryan Muthig in 2001 under the original name of Iniquinet.
It was originally designed to handle a small number of clients. However, by 2003, the company had gained a lot more clients than anticipated.
The name was changed to A2 Hosting, named after Ann Arbor, Michigan, the town where it all began. The company continued to grow rapidly.
Superior Site Speeds and World-Class Support
A2 Hosting's core goal is to create and maintain such a good web hosting company that the staff want to use themselves.
These are the four main aspects they focus on: lightning-fast loading times, the best developer tools, 99.9% uptime, and a first-class, dedicated guru support team available 24/7/365.
1. About A2 Hosting

---
A2H is a green hosting company, partnered with Carbonfund.org (a major company working to reduce the effects of climate change worldwide).
Since 2007, A2 Hosting has proudly claimed to be 100% carbon neutral. Its Icelandic datacenter has no carbon footprint due to its geothermal cooling system.
2. Features
A2 Hosting is one of the most reliable web hosting providers available. For more than a decade, this hosting company has delivered:
High-speed performance
Top-quality developer tools
Reliable uptime
Top customer satisfaction
This company is known to be reputable for its ultimate speed performance.
The single most important feature demanded by companies today is super-fast site loading times. A2 Hosting's SwiftServer platform has been developed over the last 10 years by the company's IT gurus.
To explain all of the features offered by A2 Hosting would take hours or pages of notes. That's actually a major feature in itself because it demonstrates that you'll get a great deal of value for your money.
Features to Boost Your Small Business Site
Here's how A2 Hosting stands out from the competition to make sure your small business site performs optimally:
SSD Drives to enhance speed and performance
Cloud Hosting increases reliability
Cloudflare CDN improves site loading time
Multiple back-ups
Unlimited storage and data transfer
24/7 support on all hosting plans
A 99.9% uptime guarantee
A range of SSL certificates to keep your site secure
Advanced technology to make your site load 20 times faster
They offer both the latest and traditional options to balance all the services to perfection.
Although they have few features that are offered by most other internet hosting companies, they still seem to get ahead of the curve.
Solid-State Drives
A2 Hosting uses solid-state drives in almost all hosting packages it offers. Compared to traditional hard disk drives, SSDs perform much faster and better.
SSDs store information such as read and write requests in microchips, while traditional HDDs use a mechanical arm to process information from a certain location to another. SSDs contribute a lot to the speed and load time of your site.
Cloud Hosting Solutions
Security and lack of control over specific data are two of the most common issues in every web hosting company.
With the power of advanced technology, A2 Hosting is supplemented with Cloud Hosting, a special hosting service provided for customers to help them solve each and every issue at hand.
This is another feature that makes A2 Hosting much more reliable. Customers never worry about their sites going down or becoming unresponsive.
RAID-10 Storage
RAID (Redundant Array of Independent Disks) 10 is a storage configuration that stores all the data in multiple hard drives. This is to ensure zero data loss in case one hard drive fails.
The lost data in the corrupted drive automatically stores to other drives and the corrupted drive will just be replaced. This unique backup feature really makes A2 Hosting reliable amongst the others.
Modern Developer Tools
You get access to the most up-to-date developer tools available. You'll have instant access to all newer versions as they become available. If you want the latest and best but don't want to manage it all, choose a plan where A2H looks after everything for you.
Green Web Hosting, Strong Infrastructure, and Backups
Because A2 Hosting doesn't want to be seen as "just another hosting company," you also gain access to their green hosting, a quadruple redundant network, and regular backup services.
A2 Hosting also offers additional features to add further value to their hosting plans, including increased support and several support options.
What Are the Perks?
These extra features also show how this web host will make your website load faster:
Guaranteed 99.9% uptime
Risk-free money-back guarantee
Free support via phone, live chat and email – 24/7/365
Prime or Prime+SSD (Solid State Drive) choices
SSDs boost site loading speed up to 300% faster
The average load time of pages is 1.9 seconds
Unlimited bandwidth/data transfer and storage
Unlimited email accounts
Free server rewind back-ups (for added security)
3. Plans
A2 Hosting offers a wide range of plans to suit everyone from simple blog owners to the most advanced corporate sites.
All options give you super-fast performance choices. You can choose from: shared, reseller, managed VPS and managed dedicated hosting options
The chart below breaks down the different shared hosting solutions A2 Hosting offers by feature.
Compare A2 Hosting Shared Hosting Plans
| | LITE | SWIFT | TURBO |
| --- | --- | --- | --- |
| Websites | 1 | Unlimited | Unlimited |
| Disk space | Unlimited | Unlimited | Unlimited |
| Bandwidth | Unlimited | Unlimited | Unlimited |
| Email accounts | 25 | Unlimited | Unlimited |
| Extras | Free SSD. Free Site Migration. | Free SSD. Free Site Migration. | Free SSD. Free Site Migration. Turbo Server. Site Accelerator. |
| Regular Price | $7.99/mo | $9.99/mo | $18.99/mo |
| Discounted Price | $3.92/mo | $4.90/mo | $9.31/mo |
There are a lot of features included in the three sharing plans.
Features include server rewind backups, 24/7/365 full support, quadruple redundant network, numerous developer features, 25 separate emails, WordPress hosting, cPanel, eCommerce features and much, much more.
Shared Hosting
Shared Hosting is the most common web hosting that the majority prefer to purchase. It is a kind of web hosting used for most entry-level sites. All plans have the same features like the shared hosting plans as well as some extras.
The main benefit is that you have the privacy usually given only to dedicated servers but you only pay the low shared hosting prices.
Additional features include 24/7 network monitoring, European and U.S. options for server locations, full network control, 10 GB redundant network, SSD option and a lot more. If up to three U.S. servers go down, you'll still be up.
VPS Hosting
VPS or Virtual Private Servers are usually used for medium or large-sized websites. This hosting service is basically a virtual machine that can run a copy of its own operating system.
Most of the same features as the VPS server but it has the following extras:
Dedicated RAM from 2048 MB – 4096 MB
Two dedicated IP addresses
Cloudflare content network delivery
Dedicated Servers
You have your own server, everything that VPS has and much more.  Naturally, you'll have to spend more on this server but it's worth it.
Dedicated servers are typically recommended for large enterprises.
Flex Dedicated Server
This is ideal for experienced system administrators and developers. You configure the server and have a Linux OS option, root access, 24/7/365 monitoring of your server and hardware maintenance.
Managed Flex Dedicated Server
Ideal for people wanting a solution that's managed for them. It's already configured, has free cPanel, a user-friendly management level and HostGuard comprehensive management of the server.
---
4. Uptime and Performance 
A2 Hosting promises a 99.9% uptime guarantee. However, there can be instances like outages and problems beyond their control.
They mentioned they are not responsible for instances like Distributed Denial of Services and issues with browser caching and ISPs.
The issues mentioned above are just oftentimes caused by a lack of maintenance and upgrades. Before claiming an issue as a part of their shortcoming, professional staffs from A2 Hosting run routine maintenance and installation of upgrades first.
If issues are still present even after performing the said tasks, A2 Hosting will then take full responsibility and will try to work things out again, professionally responding to the promised guarantee.
Correct Pre-Cautions in Place
Moreover, these issues still don't beat the fact that A2 Hosting really is worth going through.
What A2 Hosting lacks in some aspects, they make up with SwiftServer. SwiftServer is the latest advanced technology with the maximum level of specification that ensures indisputable hosting performance.
Here are some of A2 Hosting's top performance features:
20x Faster Turbo Server
This special feature from SwiftServer enables a high-speed performance in every user's server. Driven by Turbo Drives, sites will load 20 times faster. Your great side will finally have a perfect and fast hosting match.
Speed Tests and Uptime Guarantee
Choosing a reliable web host is the first step towards making your site ridiculously fast.
To test the performance of A2 Hosting's hosting servers for our A2 Hosting review, we've created a test site with WordPress, using the default Twenty Eighteen theme and dummy content for theme development, including images.
We used 3 different testing tools – Pingdom, Load Impact, and Bitcatcha – to see whether A2 Hosting lived up to their promise.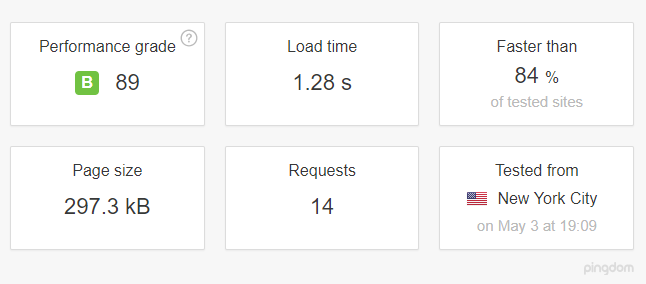 ---
According to our Pingdom's website speed test, we found that our test site loads in just under two seconds for a user based in New York. That means the site is faster than 84% of all tested sites.
We also wanted to analyze whether A2 Hosting could handle a traffic surge during peak load.
For our traffic surge test, we used a popular testing tool, Load Impact, and sent some virtual users (VU) to our site. They gradually built up to 50 visitors at a time to see how the server handled it.
In the chart below, you can find blue (VUs active) and green lines (VU load time) which represent the number of virtual visitors sent to the testing site and the time it took to load the web page for the respective number of users on the site.

Our test site performed consistently until there were around 40 visitors on the site. It slowed down for a while and then returned to normal
---
5. Customer Support and Help
A2 Hosting firmly believes in the best possible customer service 24/7/365. While some companies claim to offer a similar service, you're most likely have to leave a message if you need help at 3 am because staff from other companies don't actually work at night.
A2H offers a personal touch. If you do ring at 3 am, you may be asked to leave a message if they're inundated with calls at the same time but (and this is a significant difference) you'll get a call back as quickly as possible. If you read testimonials from existing customers of A2H, you'll see this actually happens.
More About the Staff
All A2H staff speaks fluent English. This means you don't have to explain complicated problems five times because the support person has no idea what you're talking about. Support staff are never outsourced at A2H.
Many competitors believe they're saving money by outsourcing their support services to overseas, cheaper centers.
The support staff is regarded as friendly and helpful, regardless of how easy or hard your request may be.
---
6. Money-Back Guarantee
If your website goes down for any reason, it can cost you a great deal in terms of revenue and potential new clients.
A2 Hosting provides a 99.9% uptime guarantee and the technical experts work tirelessly to ensure your online business remains live at all times.
A2 Hosting uses the most advanced data centers and industry best practices to make sure your site has all the latest security patches.
Try A2 Hosting for yourself. If you decide that, for whatever reason, A2 Hosting isn't ideal for your needs, you'll receive a full refund within 30 days or a pro-rata refund on the unused services if you cancel after 30 days.
7. Extra Features from A2 Hosting
You receive some interesting freebies which are worth noting. These are:
A free Website magazine subscription
$50 Bing/Yahoo Ad Credits,
Your site listed in Google in 24 hours with Attracta
Additionally, you get a free iContact email marketing trial. You get discounts on WordPress themes from TeslaThemes.
SSL Certificates
An SSL Certificate (Secure Socket Layer) is a digital certificate that verifies a website's identity and encrypts data sent between the website and their server. This offers an added layer of security that is vital for sites accepting payments. It also changes your site address from "http://www.example.com" to "https://www.example.com."
A2 Hosting offers several SSL certificates to fit your site's needs, including a basic SSL for free and an Advanced SSL with top-level business protection.
Cloudflare CDN (Content Delivery Network)
Cloudflare is a popular CDN, or content delivery network, which works to help reduce site load times. It does this by having a group of servers that are geographically distributed and used to cache content.
So, instead of having to pull files from your main server every time a page is loaded, the CDN pulls the cached files from the closest server.
Cloudflare comes with all hosting plans for free. This is just one more way A2Hosting offers faster site load times than its competitors.
cPanel
A2 Hosting uses cPanel, which is the industry standard for hosting control panels and will be familiar to many users.
This graphical interface makes it intuitive to do a variety of tasks, including change your password, view promotions, and use Softaculous Apps Installer, which is extremely fast and allows you to preview applications before installation. The ease of use is a big plus.
---
8. Pros and Cons
There are lots of pros and cons to weigh up when considering A2 Hosting as your new web host. So, is it the right choice for your hosting needs? Before you decide, consider the pros and cons.
Pros
24/7/365 high quality, English-speaking, expert support staff available via phone, email and live chat.
Choose a server location from Europe, the USA or Asia.
Unmanaged and managed plans with plenty of options.
Shopper Approved reviews reveal that 96% of the reviews posted on their site certainly would suggest friends and family use A2H.
Ideal for users of WordPress and loads pages six times faster.
High-speed load performance. Compared to several hosting providers, A2 Hosting performs at high speed. There may sometimes be unresponsive pages, but they only happen once in a blue moon. Lags and load delays are also present but they're only like a 1-second delay or so.
Reseller hosting options for hosting startups and expert website designers.
Installation of programs can be done automatically, quickly and securely.
10 GB Quadruple redundancy network offers good peace of mind.
A2H is 100% carbon neutral.
Cons
Mod_perl, Plexum, HTMLDoc, PDFLib, MS SQL or ColdFusion not supported.
Limited hosting plans for Windows hosting.
Slightly more expensive than other hosting plans (but prices are still competitive)
---
Frequently Asked Questions about A2 Hosting:
Having helped thousands of users choose a web hosting plan and start their websites, we've answered just about every question you can think of. Here are some of the most frequently asked questions about A2 Hosting:
Why should I choose A2 Hosting to host my site?
A few advantages of hosting on A2 Hosting over its competitors are:
Choose from Linux or Windows hosting
Anytime money-back guarantee
99.9% uptime commitment
Free site migration
Which A2 Hosting plan should I get?
The answer depends on your individual hosting needs. When you're just getting started with a brand new website, we recommend starting with A2 Hosting's shared hosting plan. As your need evolves, you can easily upgrade to a higher plan.
Where are A2 Hosting's servers located?
A2 Hosting exclusively owns all their web hosting servers. Their data centers are located in Michigan, Arizona, Amsterdam, and Singapore.
Can A2 Hosting handle high traffic?
A2 Hosting can most definitely handle high traffic. If you're hosted on a shared hosting plan and consume more resources than you're allowed to, you'll be asked to upgrade to a higher plan.
Can I upgrade my A2 Hosting plan later?
Yes, it's highly recommended to start with a smaller plan and upgrade it as needed. A2 Hosting makes it very easy for you to upgrade.
Does A2 Hosting offer a month-to-month payment option?
Yes, A2 Hosting offers a month-to-month payment option. The best thing is that you don't have to pay any setup fees even if you're selecting a month-to-month payment option. That being said, it's worth noting that they offer a significant discount for longer-term deals.
Will A2 Hosting help me migrate my website?
A2 Hosting offers free site migration. If you use cPanel with your current host, they will migrate your site for you, for free. If your current site is not on cPanel you should contact their support team for website transfer assistance.
Do I have to register my domain name with A2 Hosting?
No, you do not necessarily have to register your domain with A2 Hosting. You can use Godaddy, NameCheap, or any of your preferred domain name registrars.
Do I really get unlimited resources with A2 Hosting's hosting?
Even though the plans are advertised as "unlimited" disk space and bandwidth, the reality is that they're not actually unlimited. It simply means "unlimited" usage based on the Terms of Service of the company.
If you're running a small website or blog, there's nothing to be concerned with because you'll get enough system resources to operate it. If you exceed usage, you'll be requested to reduce your usage or upgrade to a higher plan.
Does A2 Hosting offer free SSL?
Of course, A2 Hosting offers free SSL with all of their plans.
Can I install WordPress?
A2 Hosting gives you the option of either having WordPress auto-installed and configured with your order. Once you have purchased your hosting account, you'll receive an email with the login information. The other option is to use Softaculous 1-click WordPress installer that comes with your cPanel control panel.
---
A2 Hosting Review Summary:
A2 Hosting offers plenty of diversity in the types of plans and the various inclusions available. Plans can be used for a huge variety of purposes and you can manage your own site or have the A2H gurus do it for you. It's already optimized for WordPress users when you open your account.
While you may pay a bit more for hosting and the additional benefits and features, you're getting high-quality, premium hosting that has 99.9% uptime and genuine 24/7/365 support from people on the phone if you have problems of any sort.
It's Your Turn Now!
Click on the blue button to get started or check out our Top 5 Hosting Providers below:
---
Our Top 5 Hosting Providers:
| | | |
| --- | --- | --- |
| | | |
| | | |
| | | |
| | | |
| | | |
*swipe to the side if you are on a mobile device ↑